Coach McKenna Selected Members of USA Hockey National U22 Squad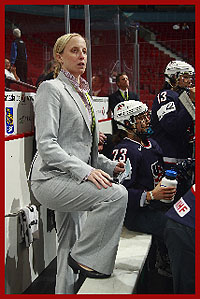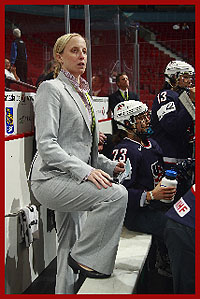 Wesleyan women's ice hockey coach Jodi McKenna was among the coaches charged with selecting the team members for the USA Hockey National U22 squad that competed in a three-game series with Canada Aug. 21-24. The U.S. team won all three contests. The games were considered a friendly series that begins the next ramp up to the 2018 Olympics, which will be held in South Korea in February of that year.
McKenna has been involved in Team USA coaching since the first call came in 2008.
"It's an honor to be chosen and tremendous for my professional development but it can't be at the expense of my commitment to Wesleyan and my family," McKenna explained. She and her husband, Kevin Cunningham, an assistant men's ice hockey coach at Connecticut College, have an infant son, Brayden. "I was quite surprised and extremely proud to be chosen."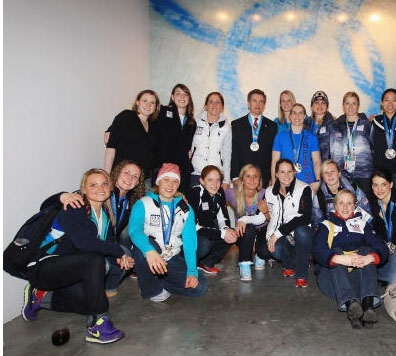 McKenna was an assistant coach for the 2010 Olympics under Mark Johnson, the legendary head coach at the University of Wisconsin who played in the National Hockey League for 10 years and was part of the U.S. gold-medal winning men's ice hockey team during the 1980 Winter Olympics in Lake Placid, N.Y. The 2010 U.S. women's ice hockey team secured a silver medal. McKenna had served as an assistant for the World Championships, also under Johnson, in 2009, and was part of the Team USA selection group in both 2008 and 2011. She took a leave-of-absence during the 2009-10 season for her Olympic assignment.
McKenna had worked some junior development camps prior to 2008 and had been an assistant coach at St. Lawrence University before taking over the reins at Wesleyan for the 2007-08 season. Her 2013-14 squad posted an overall record of 8-11-6, the team's best mark in 11 seasons. With a 5-6-5 record in NESCAC play, the team's best ever winning percentage in conference action, Wesleyan earned the fifth seed in the NESCAC tournament.
While it can be a bit demanding juggling all her responsibilities as a head coach and mother, McKenna sees her opportunities with Team USA as a positive.
"I always come away from the experience with some new ideas, a fresh perspective that allows me to apply what I've learned to my own players."
For the future, McKenna has the Cardinals ready to become a force in the NESCAC. Last year, Wesleyan had at least a win or tie against every NESCAC rival.
"What I'm looking for in 2014-15 are some more complete weekends and for us to be more of a threat in the later stages of the NESCAC tournament," she said. "We need to build on our success and make it a habit, not just a flash."