Volleyball Coach Lackey to Retire After 37 Years, Hundreds of Victories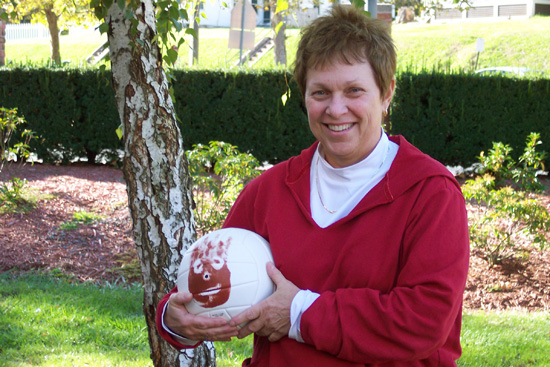 Wesleyan head women's volleyball coach Gale Lackey, the senior athletics department member with 37 years of service, will retire in June. In her 30th year coaching volleyball, Lackey is also the senior woman administrator in athletics and an associate athletics director.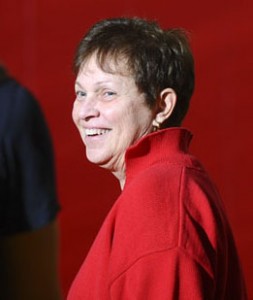 Lackey began coaching at Wesleyan in 1978, handling both field hockey and women's lacrosse and leading the field hockey squad to its only undefeated campaign — and a subsequent berth in the Wes Athletics Hall of Fame —  in 1980.  She took over as volleyball coach in 1985.
"The time is right," Lackey said. "Coaching and teaching here has been a blessing.  Wesleyan has given me the opportunity to pursue a variety of endeavors and ongoing support to grow professionally throughout my career. The energetic passions of my colleagues, the students, faculty, staff and alumni make Wesleyan a very special place."
Lackey has the distinction of coaching Wesleyan women's teams to Little Three championships in three different sports (volleyball, field hockey and lacrosse). With 464 career women's volleyball victories at Wesleyan (and 477 in total) heading into the 2014 season, Lackey was named New England Small College Athletic Conference (NESCAC) Coach of the Year in 2001. That year she led the Cardinals to a NESCAC regular-season crown and runner-up status in the post-season tournament behind a best-ever 30-6 record. Her 2001 team earned an NCAA Division III tournament bid. Her 2000 troops captured an ECAC New England Division III title. In 2010, Lackey was inducted into the Connecticut Women's Volleyball Hall of Fame in the collegiate coach category. She has coached three NESCAC Players of the Year (Alexis Keeler in 2001 and Lisa Drennan in both 2006 and 2008).
"For the past 37 years Gale Lackey has been a leader in our athletic department and the greater Wesleyan community," said athletics director Mike Whalen. "During her tenure at Wesleyan, Gale has served as head coach of three sports and has positively impacted the lives of hundreds of student-athletes. Gale has been a tremendous advocate for our women's programs and has served on a number of committees at both the NCAA and NESCAC level.  On behalf of President Roth and the rest of our administration, I want to thank Gale for her loyalty and commitment to Wesleyan and wish her all the best as she begins the next chapter of her life."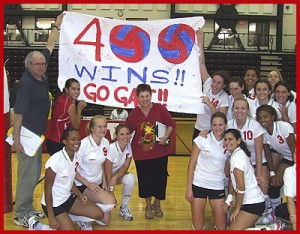 Lackey, an adjunct professor of physical education since 1989, also served as an affiliated professor in women's studies (now FGSS) for more than 20 years. A 1970 graduate of West Chester State College (now West Chester University), where she earned both her BA and M.Ed. degrees, Lackey spent seven years teaching and coaching field hockey and volleyball at Spring Grove (Pa.) High School before coaching a year of volleyball at the University of Bridgeport in 1977-78.
"I am excited and optimistic about the future of our volleyball program," Lackey said. "The direction of our athletics department is one to watch under the competitive leadership of Mike Whalen."