Writing at Wesleyan Announces Spring Russell House Series on Prose and Poetry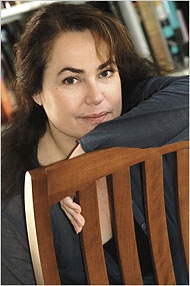 Writing at Wesleyan announces the Spring 2015 Russell House Series on Prose and Poetry.
Writer/authors in the Spring 2015 series include Ron Padgett on Feb. 25, Millett Fellow Caryl Phillips on March 4, Sadia Shepard on March 25, Rowan Ricardo Phillips on April 1 and Ruth Ozeki on April 8.
All events are free and open to the public. For more information on these talks visit the Writing at Wesleyan website.
Support for this series is provided by Writing at Wesleyan, the English Department, the Annie Sonnenblick Fund, the Joan Jakobson Fund, the Jacob Julien Fund, the Millett Writing Fellow Fund, the Center for the Arts, and the Shapiro Creative Writing Center.
The 2014/2015 Series organizers include Lisa Cohen, associate professor of English; Elizabeth Willis, the Shapiro-Silverberg Professor of Creative Writing; Amy Bloom, the Kim-Frank Family University Writer-in-Residence; and Anne Greene, director of Writing Programs.