Student Programmers Compete in 48-Hour App Competition, Tech Bootcamp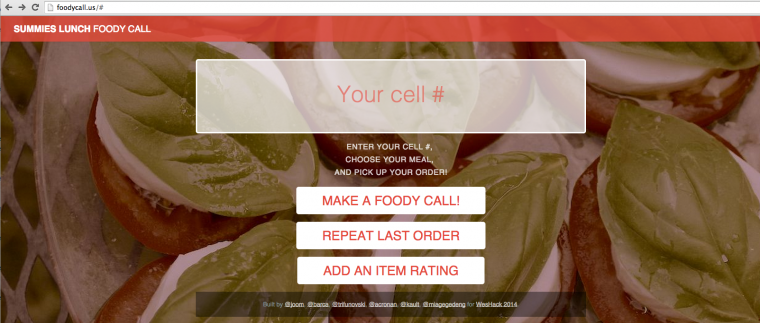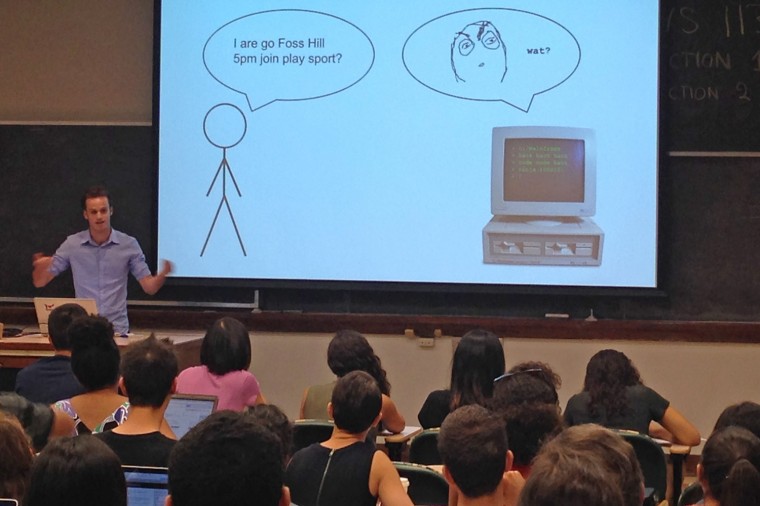 Experienced programmers and tech newbies alike gathered Sept. 5-7 for WesHack 2014, a two-part conference that included a daylong tech crash course for students, alumni and friends, and a 48-hour "Hackathon" app-development competition.
WesHack was founded in May 2013 by Julian Applebaum '13, Evan Carmi '13 and Anastasios Germanidis '13, who, shortly before graduation, "decided Senior Week would be even more fun if they stayed awake for 36 hours writing software to solve the pressing problems of Wesleyan students," according to the WesHack website. In fall 2013, WesHack 2.0—a second Wesleyan-themed Hackathon and day-long intro tech bootcamp for students and alumni—was organized by students with Instructional Media Services and the Patricelli Center for Social Entrepreneurship. The dual-track approach was repeated this year, and the organizers hope to make it an annual event.
Applebaum, now a software engineer at Squarespace, the presenting sponsor of WesHack 2014, returned this year to present at the Bootcamp, along with about a dozen other recent alumni, students, and faculty. See all presenters here.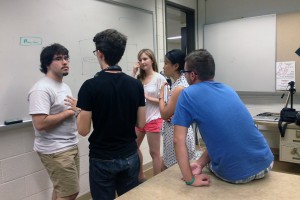 According to Makaela Kingsley '98, director of the Patricelli Center for Social Entrepreneurship, "There is an alumni affinity group called Digital Wesleyan that is extremely active, engaged, and supportive of students." Some of the presenters came from that group, while others were people Kingsley has worked with over the past few years.
Seventy-three people attended the Bootcamp, which covered basic tech skills such as creating a website from scratch and graphic design and video production. Kingsley said most who attended had limited or no tech skills, though the event also drew students who are aces with hardware, highly-regarded bloggers, and those who have a background in one specific skill, such graphic design or data analysis.
"I talked to one student who told me that he has a lot of friends who are advanced programmers, which always made him feel like he'd never be able to develop skills that could compete. The Bootcamp taught him that even entry-level tech skills can be applied effectively, and you don't need to be a professional coder to launch a website, design a logo, make a video, or even build an app," said Kingsley. "It's a great message for students to hear: Don't be intimidated by the complexity of technology. Watch some Lynda.com videos, Google some tech terms and read the basics, and play around with user-friendly software like Squarespace to get hands-on practice and build your confidence. Sooner or later, you'll be enrolling in comp sci classes or landing a job with a tech startup!"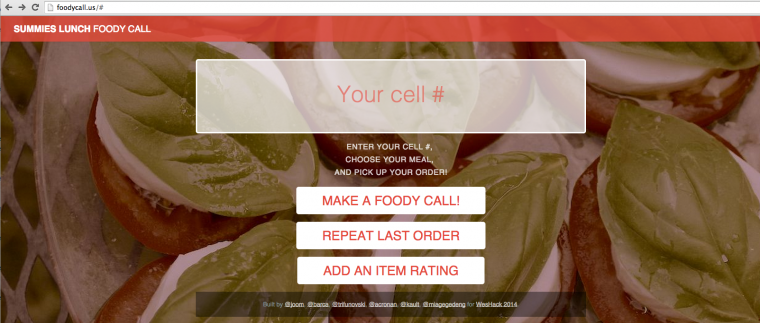 This year's 48-hour Hackathon featured a competition between five teams, each with between three and six students. Submissions were judged on a scale of 1-11 on their creativity, technical difficulty, and polish. The seven judges were all recent alumni who work at tech companies; their bios can be found here.
Apps developed in the competition included "Bounce" (to locate your friends and parties popping up); "WesPlan" (to visually track your graduation, major and gen-ed requirements); and "StudyBuddy" (to create and find study groups in classrooms).
In contrast to past years, apps that were primarily map-related were not allowed.
"While we've had some awesome map-related apps in the past, they were starting to get a bit stale. By disallowing map-related apps, we saw some cool new ideas that weren't thought of before," explained organizer Ted Kim '15.
Voting ran through Sept. 8 at midnight. The winning app, which received 152 out of 180 possible points from the judges, and also won the public vote, was "FoodyCall," developed by Tyler Harden '17, Max Trifunovski '17, Cumhur Korkut '17, Kevin Ault '17, and Allison Cronan '17. It allows users to order meals from Summerfields and Usdan Late Night. Second place went to StudyBuddy, and third to WesPlan.
Trifunovski described the inspiration behind FoodyCall.
"A lot of people know that you can text order at Summies, but not many know that you can do it at Late Night too. Furthermore it is easier to decide what you want to eat when you have the whole menu in front of you and you have food ratings left by other users who had a specific order before. That's why we wanted to make an app which will give all of this to the user in a friend presented interface," he said.
Added Harden, "Knowing how popular GrubHub is for people my age, I believed we could emulate its model in manner relevant to all Wesleyan students. This app addresses something I saw as an obvious need: Lines at Summerfields sometimes take half an hour, and the presence of Zingle does little to alleviate this issue."
FoodyCall is a website anyone can open on a computer or smart phone. The user types in his or her cell phone number, then selects the "Make a Foody Call!" button. He or she is then re-directed to the menu of either Summerfields or Late Night, depending on which is open at the time. Orders can be placed during lunch or dinnertime at Summerfields, or from 9:30 p.m. to 1 a.m. at Late Night. The website then sends the message, and the user receives a text back with their order number. Students can also share their opinions about the food they order with other students through the app.
"You can even get the last order you made with a single click if you are feeling too lazy to go through the menu!" said Trifunovski.
The winning team received a variety of prizes, ranging from a computer processor to Outdoor Tech gear, headphones and Google "swag," said Kim. He added, "The real prize though is probably knowing you created an awesome app that people found really useful."
WesHack 2014 was presented by the Patricelli Center for Social Entrepreneurship, Instructional Media Services, the Department of Mathematics and Computer Science, Information Technology Services, the Career Center, the Cardinal Technology Store, and Digital Wesleyan. Squarespace, a company that helps anyone to create an exceptional website, was the presenting sponsor, and additional corporate partners included JooMah, SkillEd, Texts.com, Google, AIGA, Lynxsy, Venture for America, and Independent Software. Weswings and Mondo donated food for the Hackathon.
Read about past WesHack events here.