Wes Media Project Analyzes Campaign Advertising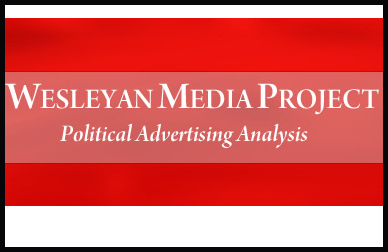 Dems dominate advertising in most media markets; 2014 opens more negative than 2012 or 2010
The Wesleyan Media Project is back with a new analysis of campaign advertising in this year's midterm elections. As Vox reports, WMP's new analysis shows Democrats holding a clear advertising advantage in Senate races in many key states. The story explains:
Some of the largest ad advantages for Democrats have been in Colorado and Michigan, where they are leading, as well as Arkansas and Georgia, where GOP candidates appear to have the edge. Republicans only had a sizable ad advantage in one key state — New Hampshire, where Scott Brown seems to have recently gained a bit of ground in polls. […] Some of this advantage is because more Democratic incumbents are at risk, and incumbents usually have an easier time raising money than challengers. But Democrats are getting substantial support from Super PACs and dark money groups as well…
 The Washington Post cites the WMP report in its story on how pro-Democratic independent groups–especially, Senate Majority PAC and Patriot Majority–are playing an aggressive role in Senate races this year:
Perhaps most notably, the super PAC has held its own on the air against Americans for Prosperity, a conservative advocacy group that is the primary political organ of a network backed by the Koch brothers and other wealthy donors on the right. By the end of the summer, the two groups had run nearly the same volume of television ads nationwide, according to Kantar Media/CMAG data analyzed by the Wesleyan Media Project.
And the National Journal picked up on WMP's finding that the 2014 ad campaign is opening with more negativity than 2012 or 2014:
In U.S. Senate races, 55 percent of ads aired over the last two weeks were negative, meaning the ad only criticized the opponent. Another 17.5 percent of Senate ads aired in the past two weeks were "contrast ads," or ads that mention both the opponent and the sponsor's favored candidate. Just 27.5 percent of the ads were positive. By comparison, ads for gubernatorial and House races over that period were more than 40 percent negative. Ads for both House and Senate races have become increasingly negative since 2010. Between 2012 and 2014, the share of negative ads for gubernatorial campaigns jumped by 20 points—from 23.3 percent to 43.8 percent. "So far the 2014 midterms are seeing increased volume and increased negativity over 2010, which is going to make citizens even less happy with the tone of the airwaves," Michael Franz, the Wesleyan Media Project's co-director, said. "Evidence from political science suggests, however, that citizens may be more informed as a result of the negativity."
Read the entire new study here. Read more coverage of the study in FiveThirtyEight, USA Today here and here, The Wall Street Journal (requires subscription), The Hill, Scripps News, and The Huffington Post.