Naegele, Aaron, Student Researchers Published in Journal of Neuroscience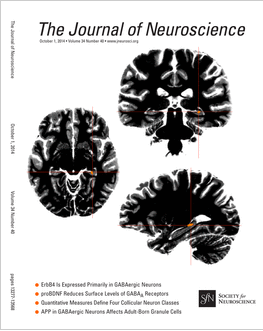 Jan Naegele, Gloster Aaron and several Wesleyan researchers are the co-authors of an article titled "Long-Term Seizure Suppression and Optogenetic Analyses of Synaptic Connectivity in Epileptic Mice with Hippocampal Grafts of GABAergic Interneurons," published in the October 2014 edition of The Journal of Neuroscience, Issue 34(40): 13492-13504.
Naegele is professor of biology, professor of neuroscience and behavior, and director of the Center for Faculty Career Development. Aaron is associate professor of biology, associate professor of neuroscience and behavior. The article is co-authored by Diana Lin '15; graduate students Jyoti Gupta and Meghan Van Zandt; recent alumni Elizabeth Litvina BA/MA '11, XiaoTing Zheng '14, Nicholas Woods '13 and Ethan Grund '13; and former research assistants/lab managers Sara Royston, Katharine Henderson and Stephanie Tagliatela.
Studies in rodent epilepsy models suggest that GABAergic interneuron progenitor grafts can reduce hyperexcitability and seizures in temporal lobe epilepsy (TLE). Although integration of the transplanted cells has been proposed as the underlying mechanism for these disease-modifying effects, prior studies have not explicitly examined cell types and synaptic mechanisms for long-term seizure suppression. To address this gap, the researchers transplanted medial ganglionic eminence (MGE) cells from embryos into adult mice two weeks after induction of TLE.
The researchers found that TLE mice with bilateral MGE cell grafts had significantly fewer and milder electrographic seizures. These findings suggest that fetal GABAergic interneuron grafts may suppress pharmacoresistant seizures.