Neuroscience Major Russell '15 an A Cappella Singer, Organic Chemistry TA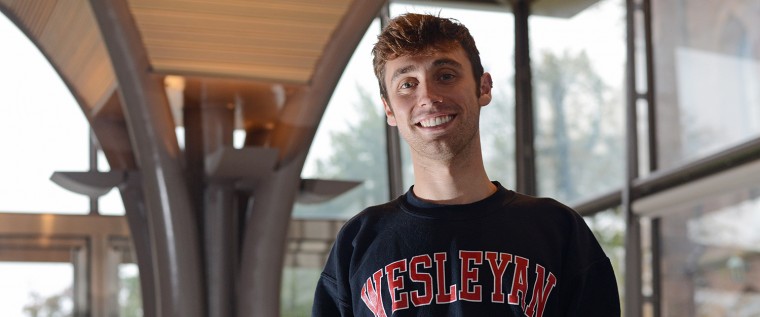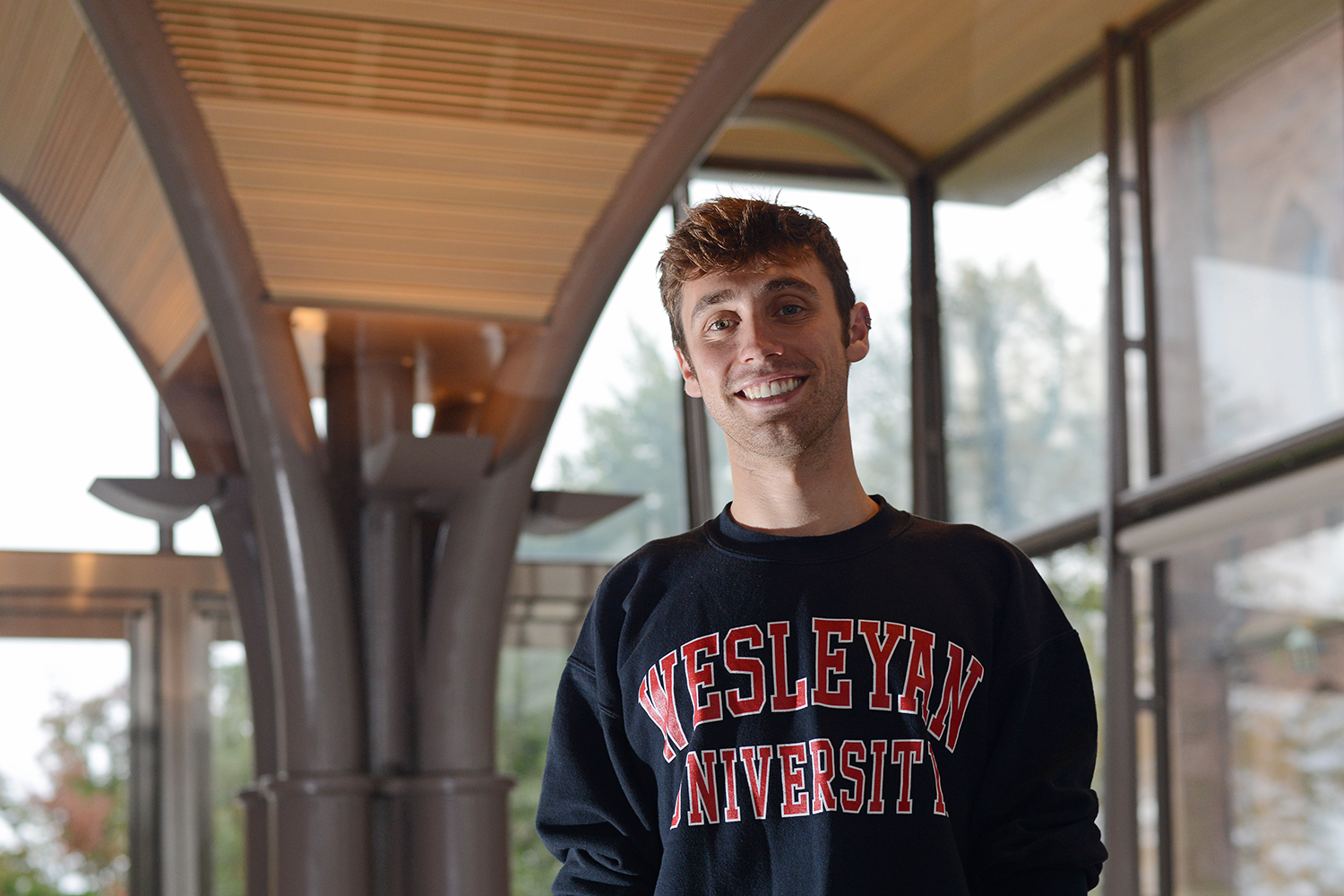 #THISISWHY
In this Q&A meet Colin Russell from the Class of 2015.

Q: Colin, what are you majoring in? What have been your most instrumental courses so far?
A: I am majoring in neuroscience and behavior while also on the pre-medical path. Two of the most instrumental courses in my journey through Wes have been Organic Chemistry and the Organic Chemistry Lab that is paired with the lecture course. The reputation of Organic Chemistry was extremely intimidating prior to taking the course, and I was nervous that I would not like this subject that is the basis for so much of the biological world. However, I soon learned that I enjoyed the structure of subject, not just in the way it was taught, but in the way that my brain began to process information. The concurrent lab course, while extremely difficult, also allowed for hands-on application of the processes and reactions that we were learning in the lecture class. I enjoyed the course so much that I became a Teacher's Assistant for the lab, and I will be starting my fourth semester as a TA for the lab in the spring. Not only has the information from these two courses been crucial for my studies, but the process of meeting the challenges of these two classes has also been extremely important in my academic journey.
Q: You're currently a Senior Interviewer in the Office of Admission. Please describe that role.
A: Joining the Office of Admission team has critically shaped my senior year and outlook on Wesleyan. I have learned much not only about the admissions process, but also a ton about Wesleyan and her students. As Senior Interviewers, we are expected to know about the various corners of campus life, and so I found myself seeking out ways to soak up random tidbits, information about majors and programs, and individual experiences regarding this school. As an Interviewer, my goal is to personalize a student's application as much as possible, and it has been a joy to meet so many accomplished high school seniors. Two of my favorite questions to ask during these conversations involve a social, political, or global issue that the students would like to educate their peers on, and the topic of their own 'Wes Thinks Big' talk (similar to a TED talk topic).
Q: You're also musically gifted, singing with two a cappella groups, Notably Sharp and Wesleyan Spirits. Did you sing before you came to Wesleyan?
A: Singing with two a cappella groups has definitely provided me with some of the best memories of my college career. Prior to Wesleyan, I was a part of the San Francisco Boys Chorus, beginning at the age of 7. There, I was classically trained and had the opportunity to perform in several SF operas and tour internationally. In high school, I joined my school's advanced choir, Colla Voce. Arriving to Wesleyan and immediately plugging into two a cappella groups has definitely been one of the smartest decisions I made at Wes. The Wesleyan Spirits, the oldest all-male a cappella group, was founded upon musical ability and to uphold the singing tradition of the 'Singing College of New England.' This group is steeped in tradition and I am blessed to get to sing with friends at an extremely high musical caliber. Notably Sharp is one of Wesleyan's newer, coed a cappella groups and thus is automatically different by being coed. Traditions are just being formed and thus many aspects of the group are more malleable. Having a hand in the formation and longevity of a group has provided numerous insights and many close friends.
Q: Where are you from and what attracted you to Wesleyan?
A: I am from Alameda, California, a small island off of Oakland in the Bay Area and attended a small private school in Oakland. During my senior year, the senior class was given a week off in the middle of October to either travel or catch-up on writing our Common App essays. During this "senior week" my dad and I had planned a packed excursion back East to visit over a dozen New England colleges. While looking for a school to visit in between Brown and Vassar, my college counselor recommended that I check out Wesleyan. On this whirlwind week of colleges, I spent a night with a member of the Wesleyan varsity crew team, toured the school, and instantly fell in love with Wes. Besides the academic excellence of the school, the enthusiastic passion for learning inside and outside of the classroom, the opportunity to be involved with a myriad of clubs, and the general affable nature of the student body is what sealed the deal in applying Early Decision to Wes.
Q: Did you end up rowing crew at Wesleyan?
A: I was recruited to row on the varsity crew team, and had a fantastic two years with the team. After rowing at an extremely competitive club in high school for four years, I wanted a college where I would be able to focus on my academics and my college experience, but also row at a very high level – for me, Wesleyan met this criteria. I was on the water beginning the first afternoon of my freshman year, and had the opportunity to train with the team in Florida over Spring Break, stroke a four at the Head of the Charles, and win many medals along the way. During my stint with the team, I toed the line of my physical and mental limits daily, and only have gratitude, calluses and fond memories.
Q: For anyone considering Wesleyan, what would you recommend to them? Why Wesleyan? Was Wes the right choice for you?
A: For any prospective student considering Wesleyan, I definitely recommend trying to get to know the student body before making your final decision. Whether that is by perusing The Argus and reading student columns, asking current students about their various experiences, spending a night on campus, strolling through the Zilkha Art Gallery, or stopping by an a cappella concert, getting to know the vibe of the campus will be the closest way to determine if you will enjoy being a part of Wesleyan's campus. Wesleyan is a university of diverse and eclectic interests, both academic and social. Students aren't afraid to speak their minds, are willing to fight for change because they care deeply about this institution, and strive to forge a distinctive path through Wesleyan. Upon receiving that acceptance letter in December, I have never once regretted or questioned my decision about calling Wesleyan my Alma Mater.
Q: You've recently interned for a biotech company. What was that experience like?
A: I interned for two summers at Theraclone Sciences, a biotech company in Seattle, Washington during the summers following my freshman and sophomore years. I analyzed market data to support fundraising and a Federal grant proposal, and ran experiments in the oncology department. During the summer after junior year, I studied for and took the MCAT, and was concurrently a Pediatrics Intern at Kaiser Permanente, a hospital close to home in Oakland. At the hospital, I shadowed a variety of doctors, spending the majority of my shadowing in the Pediatric ICU, Neonatal ICU and the OR. I also conducted research in the afternoon with the Labor and Delivery team on C-Section data, opening my eyes to the world of obstetrics. The experience at the hospital was more than I could have ever asked for, and truly solidified my aspiration of becoming a physician. I plan on applying to medical school this coming spring.
Q: What are your plans after graduation? 
A: After graduation, I hope to have my applications for medical schools completely ready to be sent. I am planning on taking a year in between Wesleyan and medical school to gain some work experience in the medical field. Most likely, I will move home, save some money, and be there for my brother's senior year of high school. Traveling is also high up on my to-do list, but I have not made any specific plans for this gap year other than to enjoy myself before diving back into academia.
Q: What will you miss most about your four years here?
A: There are way too many aspects of Wesleyan that I already know I will miss, but as of right now, the facet that I will miss most about my four years will be being surrounded by brilliant, passionate and interesting people my age. I know that I can, at any time of day, sit down with a Wesleyan student and have an intellectual conversation, whether that be about the food on the table, religious beliefs, or connecting two fields of study that I didn't believe could be connected. I hope that the company and conversations will continue post-Wesleyan, but the assurance of stimulating discussion and a welcoming community is something that can be unquestionably expected while at Wes.