Wang '16 Advocates for Asian American Civil Rights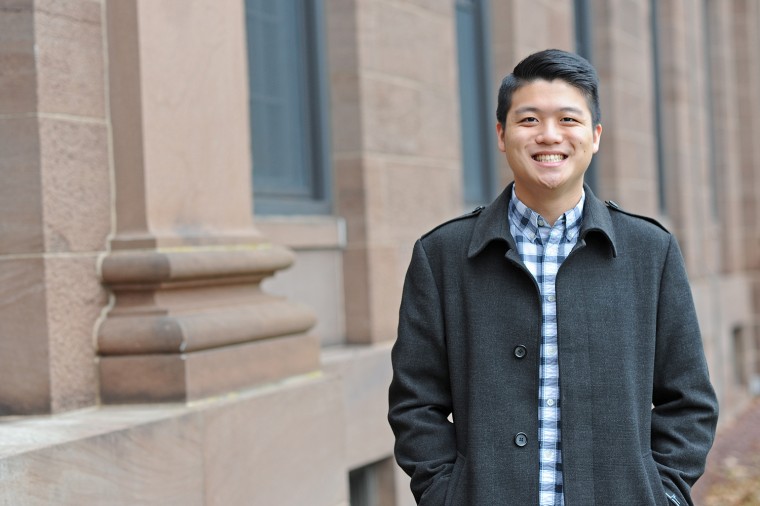 <div class="at-above-post addthis_tool" data-url="https://newsletter.blogs.wesleyan.edu/2014/12/01/altonwang/"></div>Alton Wang '16 is a sociology and government double major who plans to enter public service after graduation, advocating for the rights of the Asian American and Pacific Islander community.<!-- AddThis Advanced Settings above via filter on get_the_excerpt --><!-- AddThis Advanced Settings below via filter on get_the_excerpt --><!-- AddThis Advanced Settings generic via filter on get_the_excerpt --><!-- AddThis Share Buttons above via filter on get_the_excerpt --><!-- AddThis Share Buttons below via filter on get_the_excerpt --><div class="at-below-post addthis_tool" data-url="https://newsletter.blogs.wesleyan.edu/2014/12/01/altonwang/"></div><!-- AddThis Share Buttons generic via filter on get_the_excerpt -->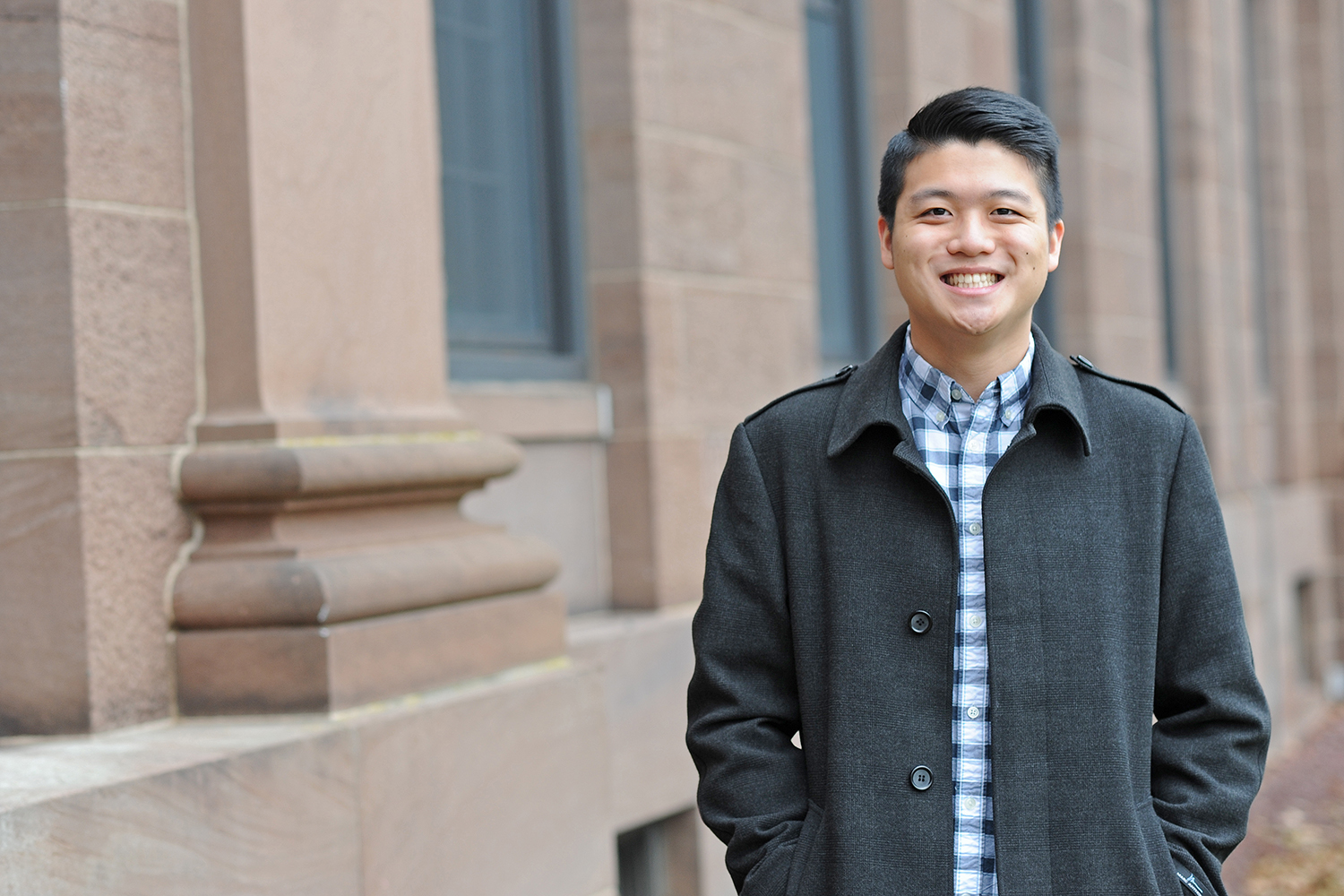 #THISISWHY
In this Q&A, meet Alton Wang from the Class of 2016. 
Q: Hi Alton! Please tell us about where you grew up and your high school experience.
A: I grew up in Arcadia, Calif., which is about 40 minutes outside of downtown Los Angeles. The community in my high school was predominantly Asian and Asian American, so most people looked like me. I personally wanted to break out from that mold and try something completely different for college. So not only was Wesleyan was far away from home, it was not a place I'd ever previously considered going to college.
Q: So how did you wind up coming to Wesleyan?
A: I discovered it by chance. A guidance counselor suggested that I might be interested in Wesleyan, so I said, "Sure, I'll add it to my list." I didn't give it another thought until the acceptances were in and I had to choose a school. When I visited Wesleyan in the spring of my senior year of high school, I fell in love with the campus. I just felt really comfortable here. It was the only campus I visited where I saw students out and about; people actually looked like they wanted to be here and were invested in their school. Then I went on a tour and learned about Wesleyan's open curriculum, and that just sealed the deal for me.
Q: What did you end up studying here?
A: I am a sociology and government double major, with a government concentration in American politics. I came to college thinking I really wanted to study international relations and international politics, and Wesleyan is the one school I applied to that doesn't offer that as a major. But I'm glad that happened because I realized that my interests really fall more in the area of American politics. I'm interested in studying how systems, people, and societies function. Government and sociology are perfect ways to do that. They sometimes seem like really different disciplines, but they complement each other well.
Q: Is it true that you have first-hand experience working in the U.S. government?
A: Yes! This past summer, I interned for U.S. Representative Mark Takano of Riverside, Calif. through a program by the Asian Pacific American Institute for Congressional Studies (APAICS). It's designed to give young Asian Americans and Pacific Islanders an opportunity to gain experience in public service. It was really enlightening to get a first-hand look at how the legislative branch works, and what it's like for a member of Congress who is Asian American (a really small minority of Congressional representatives). I also got a close-up look at how Asian American nonprofit and advocacy organizations operate at the national level. This experience in the House, and the people I was exposed to, helped solidify the notion that I want to pursue a career in public service. I'm really interested in Asian American civil rights and advocacy work. I'm planning to graduate a semester early, in fall 2015, so I can participate in Asian American voter outreach and help the community have a say in the 2016 elections.
Q: What are some of the major civil rights issues facing Asian Americans and Pacific Islanders today?
A: Affirmative action and access to education are only two examples of major issues. Right now, Harvard and the University of North Carolina are being sued by a man named Edward Blum, who asserts that affirmative action policies at those campuses discriminate against Asian and white applicants. To me, not only is this lawsuit ridiculous and unfounded, it represents a clear issue for Asian American communities in the States—used in many cases, like this one, as a wedge to divide communities of color. Not only do a majority of AAPI support affirmative action in college admissions, this is crucial to uplift certain AAPI communities that need such policies to begin to gain equitable footing in higher education.
At all levels, there's this problematic "model minority" stereotype, which says that all Asian Americans are doing really well academically or otherwise in life—supposedly all are graduating from college, getting jobs and making money. On the aggregate level, this might be true—and that's a huge problem with aggregated data. In reality, the community is so diverse that while one group—East Asians—may be doing really well, there are a lot of societal and structural disadvantages that are hurting other parts of the AAPI community, including in terms of access to education and jobs.
Another huge issue faced by the Asian American and Pacific Islander community is a language barrier. When it comes to political participation, AAPI voter turnout is the lowest of any race. A big part of that is language access and understanding how government works.
Since coming to Wesleyan, I've always explored a lot of these issues through the Asian American Student Collective.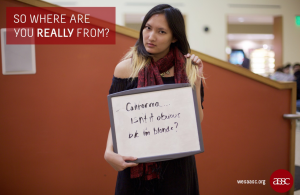 Q: Please tell us about your involvement with the Asian American Student Collective.
A: The Asian American Student Collective is an organization dedicated to advancing the socio-political realities of Asian Americans on campus to ensure they have an equitable experience and access to resources. One example of what we've done this semester is the "So Where Are you REALLY From?" photo campaign, in which we're trying to combat the stereotype of Asian Americans as "perpetual foreigners." For example, I've often been asked, "So, where are you from?" I say, "Los Angeles," and they say, "But where are you really from?" So I tell them, "Los Angeles. I've never lived anywhere else." This is a stereotype that alienates Asian Americans, and affects how they participate in politics and get involved in their communities. It's a small micro-agression that, even coming from people who believe they're on the right side of justice, can hurt.
The Asian American Student Collective is also advocating for more Asian American studies courses in the curriculum. Currently, Wesleyan only offers a couple classes each year, and they're all in the English department. We're trying to get courses that examine other aspects of the Asian American experience, especially history. I think a lot of people mistakenly think this is covered in Wesleyan's College of East Asian Studies, but that doesn't consider the diaspora of Asians in the United States. To help fill this void, my friend Jennie He '16 and I have applied to facilitate a student forum titled "History, Gender, and Sexuality Through the Lens of Asian-American Voices." Jennie would focus on the gender and sexuality piece, while I'd focus on the history piece, filling in a lot of the blankets in Asian American history left by the most K-12 history curriculums—and Wesleyan's curriculum.
Q: Wow. Sounds like you've got a lot going on! Do you also have a job on campus?
A: Yes! I work in the New Media Lab of ITS, helping to maintain the university's website, making sure online content is up-to-date, and working on some social media for ITS. I've been contributing to some aspects of the university's website redesign, which I'm personally really excited for. I love working in the NML because not only do I feel like a contributing part of the team, I also learn a surprising amount about the university by updating different department pages!