Steinberg '16 Studies Effects of Artificial Feeders on Hummingbird Diversity, Interactions in Costa Rica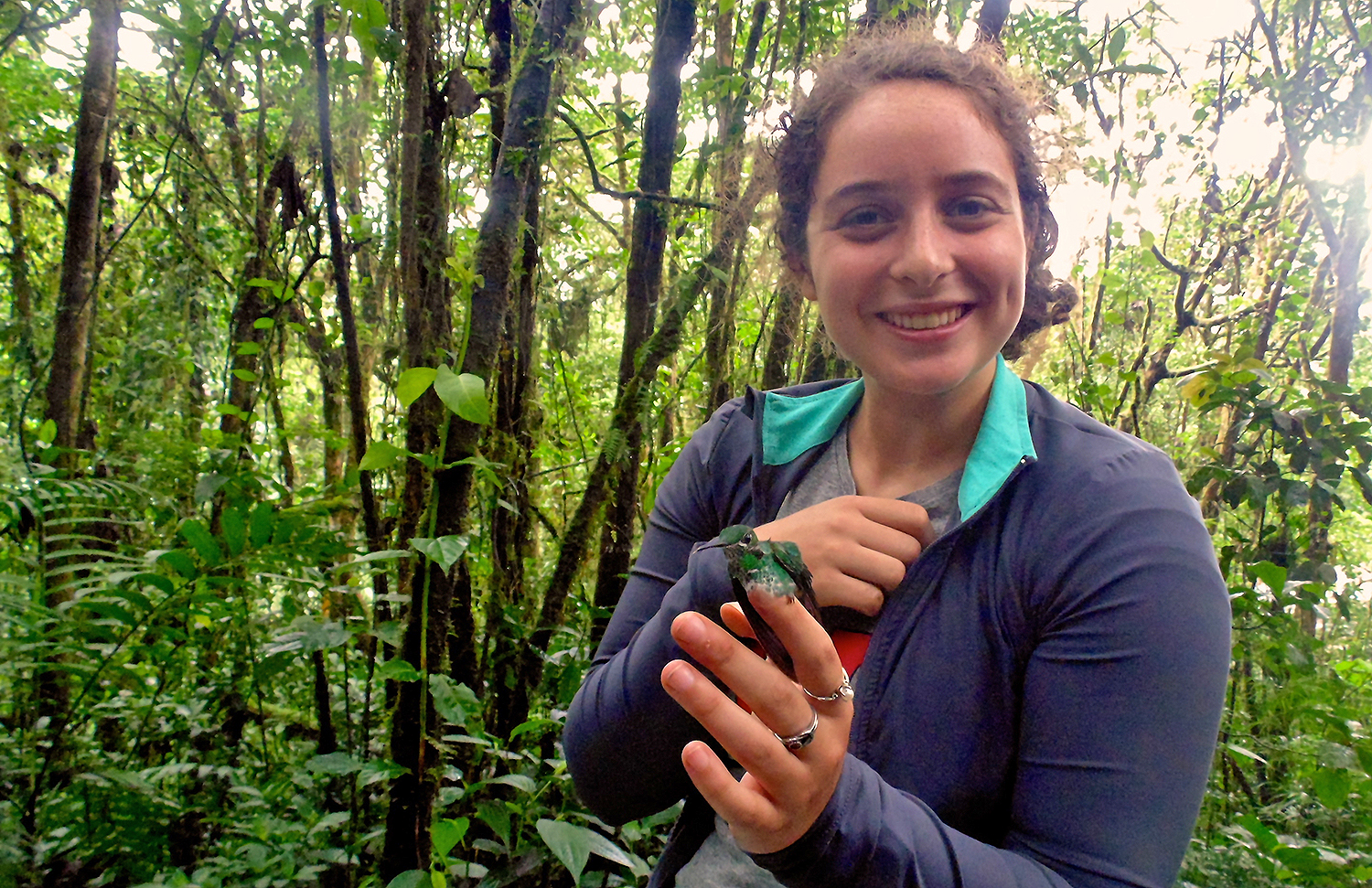 #THISISWHY
In this Q&A, we speak with Hannah Steinberg from the Class of 2016.
Q: Hannah, you studied abroad through the School for Field Studies' (SFS) Costa Rica program in Spring 2014. Why did you choose this program and why did you decide to conduct research during your study abroad experience?
A: I chose SFS Costa Rica because I wanted to go to Latin America to improve my Spanish skills and get practical hands-on experience in biological science. Another cool part of the program was that it was situated on a sustainable orange and mango farm in central Costa Rica, but also took us on field trips around the country, and even to Nicaragua for a week.
Q: You were one of six students to receive SFS's Distinguished Student Research Award this month. Please tell us about your research project, "Effect of Artificial Feeders on Hummingbird Diversity and Level of Interactions in Monteverde, Costa Rica."
A: My research project was part of an ongoing study of the ecology of hummingbirds in the cloud forests of Costa Rica, and more specifically, the various effects of artificial hummingbird feeders on their ecology. You can find what they call "hummingbird galleries" in many public national parks and private nature reserves throughout the country. These feeders can be good because they attract tourists and raise ecotourism revenues. However, they can also have many negative effects on hummingbirds and their surrounding environment. For instance, hummingbirds are important pollinators, but have been shown to feed so much at some feeders that surrounding flowers do not get pollinated. I chose to specifically focus on how these artificial feeders foster interactions between hummingbird species and affect hummingbird diversity in Monteverde, Costa Rica.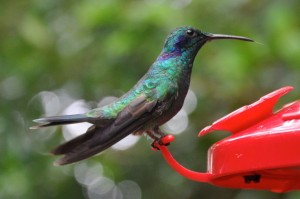 There were data that I used from the previous two semesters as well as some that I helped collect last spring from two different sites in Monteverde: one that had a permanent hummingbird gallery and one in which we set up temporary feeders each year to observe the hummingbirds not normally affected by artificial feeders. We collected data about how often, and which species and sex of, hummingbirds fed at the feeders, as well as any negative interactions that happened around the feeders (characterized by one bird chasing another away). We also set up mist nets at both sites to quantify the types and characteristics of the birds at each site.
Q: What were the findings and implications of your research?
A: My research showed that although the same species of hummingbirds were found where artificial feeders were permanent and where they were not, species evenness was much lower where the hummingbird gallery was present. The term species evenness refers to the relative abundances of each species in an ecosystem, and is a major factor in determining species diversity (along with number of species). Furthermore, I found that there were significantly more negative interactions between hummingbirds where there are permanent artificial feeders. I suggested that this is what drove more dominant species to become more abundant near the hummingbird gallery, thus decreasing the abundance of rarer species and decreasing species diversity. Biodiversity is one of the main indicators of ecological health. So in short, the hummingbird feeders that are set up in Monteverde are damaging the ecological health of an area acclaimed for its commitment to environmental conservation.
Q: Do you have any plans to continue this line of research during the rest of your time at Wesleyan?
A: It's hard to study tropical ecosystems here in Connecticut, so probably not (even though I would love to)! I am working in Fred Cohan's lab here at Wesleyan, studying bacterial spores.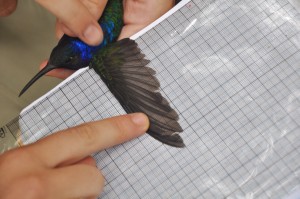 Q: What are you studying at Wesleyan?
A: I am a biology major, and am also pursuing an environmental studies certificate.
Q: What activities are you involved in outside of the classroom?
A: I am a captain of WesRugby, the women's rugby club on campus, and I work at the Neighborhood Preschool one day a week. I have also been a TA for Principles of Biology and Principles of Biology Lab in past semesters.
Q: Have you done research in any other settings?
A: I have also done research at the University of Michigan the last two summers. Last summer (2014) I was one of nine college students to participate in U of M's Cancer Research Summer Internship Program. I was studying a particular gene and its possible role as a protective mechanism against esophageal adenocarcinoma development.
Q: What do you plan to do after graduating?
A: Right now, I am thinking about attending graduate school in biomedical science and/or public health after Wesleyan. I am really interested in how the health of the environment is connected to the health of different communities of people.
Q: Do you have any advice for other students who want to conduct research abroad?
A: Do it! Doing research is a great way to fully understand the concepts that you study abroad.
All photos contributed by Hannah Steinberg.