Ulysse Guest Edits Double Issue of Journal e-misferica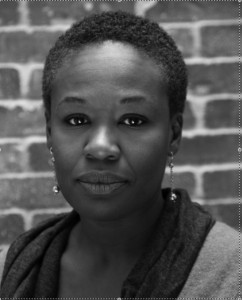 Professor of Anthropology Gina Athena Ulysse was recently invited to guest edit a double issue of the journal e-misférica on the theme of Caribbean rasanblaj, to which three of her Wesleyan colleagues also contributed.
The journal e-misférica is an online publication of New York University's Hemispheric Institute of Performance and Politics, a "collaborative, multilingual and interdisciplinary network of institutions, artists, scholars, and activists throughout the Americas. Working at the intersection of scholarship, artistic expression and politics, the organization explores embodied practice-performance as a vehicle for the creation of new meaning and the transmission of cultural values, memory and identity."
For several years, Ulysse has been involved with the Hemispheric Institute, where she has been invited to engage her performance practice. When Wesleyan became a member institution, she was elected to the Executive Committee and called attention to what she saw as a lack of representation for the Caribbean in the Institute's work. Based on her feedback, the e-misférica editors decided it was time to move toward greater focus on the Anglophone and Francophone Caribbean, and to publish a special Caribbean-themed double issue of the journal. Ulysse was invited to be a guest editor.
"When we sat down to talk about the issue, co-editors Jill Lane and Marcial Godoy-Anitava of NYU and I agreed we needed a new lexicon to discuss the Caribbean," Ulysse explained. "I wanted it to be a Haitian Creole word. I suggested 'rasanblaj' as an organizing principle to think through and talk about the Caribbean." This new concept clearly resonated with participants and inspired a volume of responses from artists, activists, scholars, and practitioners from the region and its diaspora, which resulted in a double issue. The managing editor Kerry Whigham, Ulysse said, was key to this operation.
In her introduction to the issue, Ulysse defines rasanblaj as a noun meaning "assembly, compilation, enlisting, regrouping (of ideas, things, people, spirits. For example, fè yon rasanblaj, do a gathering, a ceremony, a protest)." Ulysse approached the guest editing job as a performance artist, and wrote her introduction in a lyrical style. "I said, 'I'm not writing prose! That's what I do in my day job. Barely. Besides the concept of rasanblaj is about gathering fragments, the scattered, forgotten. It's about reassessing. So doing this in theory as in praxis was always central to my vision," she explained.
The editorial team put a call out for papers in five languages: English, French, Spanish, Portuguese and Creole. (While e-misférica is normally a multilingual publication, Creole was added just for this special issue.) Ulysse specifically solicited contributions from several of her colleagues at Wesleyan. The issue includes book reviews by Matthew Garrett, assistant professor of English, assistant professor of American studies; Katja Kolcio, associate professor of dance, associate professor of environmental studies; and Rashida Shaw, assistant professor of English.
"This was such a team effort and it was a wonderful opportunity to work with my colleagues who share similar interests. I'm proud of the strong Wesleyan representation in this issue," said Ulysse.