Loui Receives $200K Grant from Imagination Institute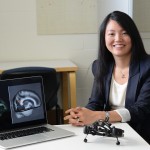 Psyche Loui, assistant professor of psychology, assistant professor of neuroscience and behavior, was awarded a $200,000 grant from the Imagination Institute's Advancing the Science of Imagination: Toward an "Imagination Quotient" initiative. She will use the grant for the first longitudinal neuroscience study on the development of aesthetic creativity through jazz improvisation.
Loui's was one of 16 projects to receive funding, out of an initial pool of 251 who expressed interest.
Learn more in this press release.