More than 800 Students Move in on Arrival Day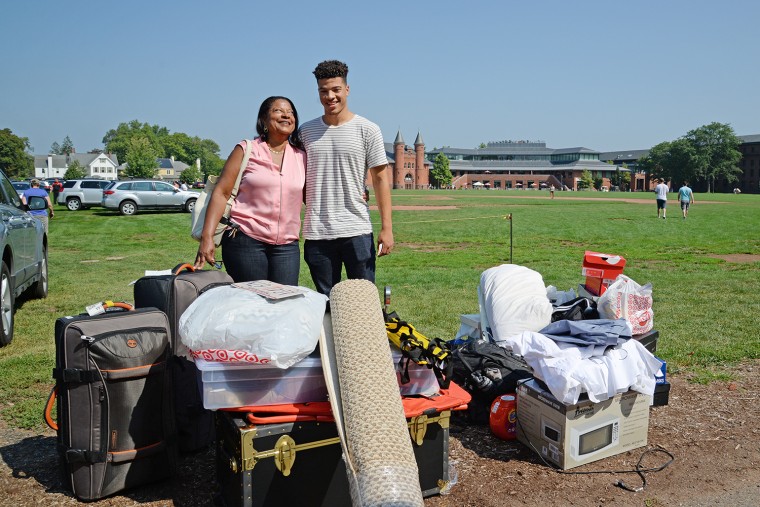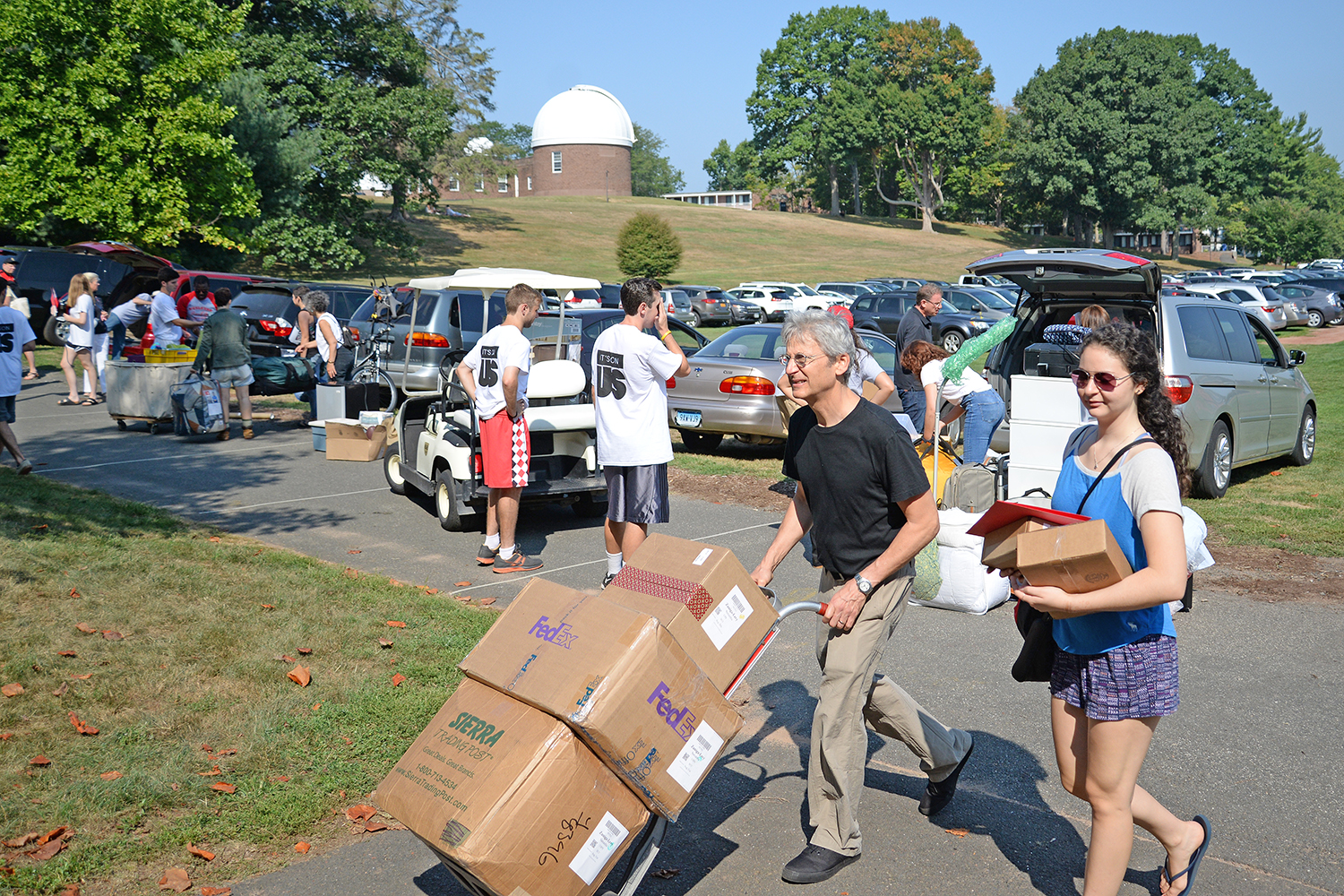 Wesleyan welcomed more than 800 new, transfer, visiting, international and exchange students to campus during Arrival Day activities Sept. 2. Several Wesleyan student-athletes, staff and faculty helped the new students and their families carry their belongings into the student residences.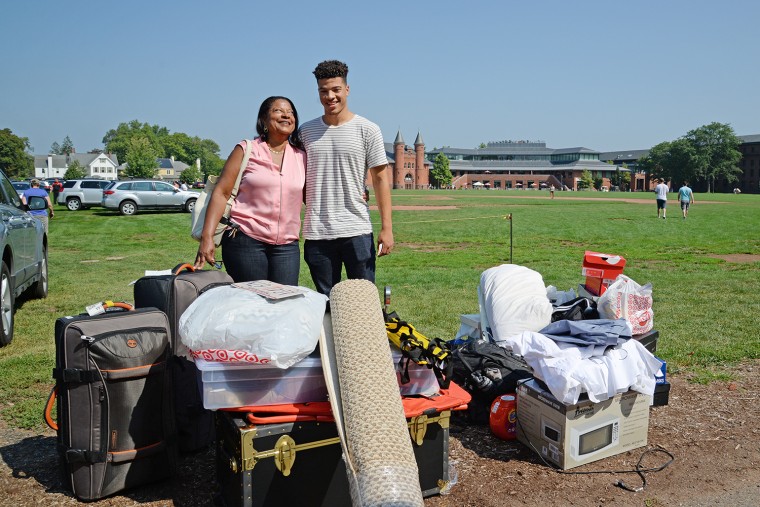 Allen and Zenola Harper P'19 of Westchester, N.Y. borrowed a friend's SUV to haul their son's belongings to campus. Salim '19, a basketball player, brought along a rug, microwave, laundry soap, printer, athletic apparel, a box of brownies, but most importantly his shoe collection.
"I can't believe how many shoes he has," Zenola said, looking over a heap of unpacked boxes, bins and bags. "Look at all this stuff. Does he need all those shoes?"
Angel Martin '19 of Brooklyn, Conn. looked at colleges in the Washington D.C. area, but ultimately decided Wesleyan's close proximity to home and the university's course offerings appealed most to her.
"I love how progressive Wesleyan is, and I already know that I want to double major in feminist, gender and sexuality studies and government, and focus on international politics," she said.
Martin, with help from her brother, parents and student-athletes, hauled her belongings to campus in two SUVs. It took 30 minutes to unpack items in her Bennet Hall residence.
"We came in two vehicles, but I saw another family who had a big U-haul, so we don't feel so bad," Martin's father, Byron, said.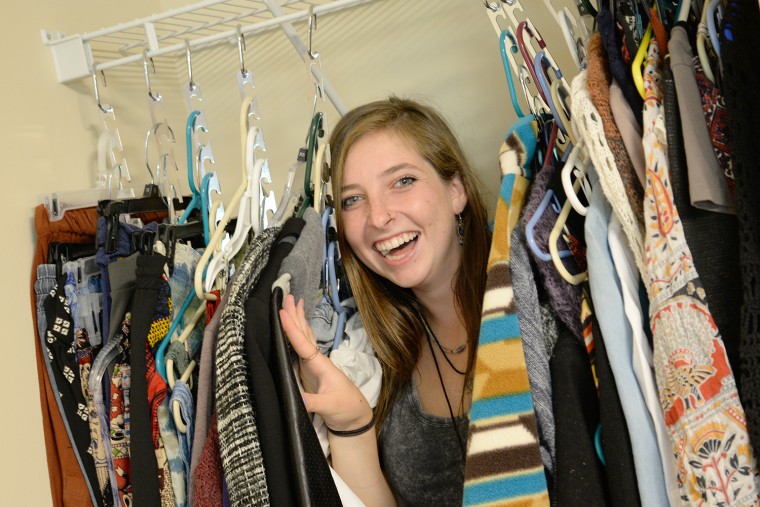 Angel Martin brought along a dresser, a string of photographs, posters, organic snacks, white holiday lights, a wall tapestry, rug and "tons of clothes," she said. "I'm really into fashion. See my closet? There are 75 hangers in here."
Jackie Leete '19 and her parents traveled 22 hours from Fairfield, Iowa this week and arrived on campus bright and early this morning. There, she received arrival day help from her uncle, Bill Herbst, the John Monroe Van Vleck Professor of Astronomy. Leete brought along a coffeemaker, mini fridge, two bins of household items, comfortable pillows and "lots of shoes."
"Coincidentally, I didn't even know my uncle was a professor here," Leete said. "I came to Wesleyan because my other friends were applying here and the neuroscience and behavior program looked really cool."
Dominic Oliver '19 of Butler, Pa. drove to campus Tuesday with his parents and brother. The trip took 7.5 hours. Oliver, who resides in Clark Hall, brought along hockey equipment, a mini fridge, fan, bedding, clothes and a Darth Vader action figure.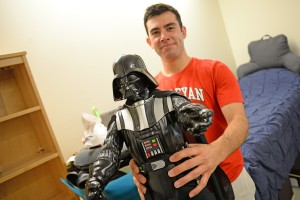 "Couldn't leave him at home," Oliver said. "He had to be here with me."
New students will spend the rest of the week participating in New Student Orientation. The NSO Program helps students build a foundation for their academic and co-curricular success. New students are introduced to the rigorous academic experience that awaits them through meetings with their faculty advisors as well as faculty lectures, discussions and skill-building workshops. Students build relationships with other students, faculty and administrators and have important discussions about the values, traditions and community standards at Wesleyan.
Learn more about the Class of 2019 in this News @ Wesleyan story.
View more photos of Arrival Day below: (Photos by Olivia Drake, John Van Vlack and Laurie Kenney)