Wesleyan Announces New Data Science Specialization on Coursera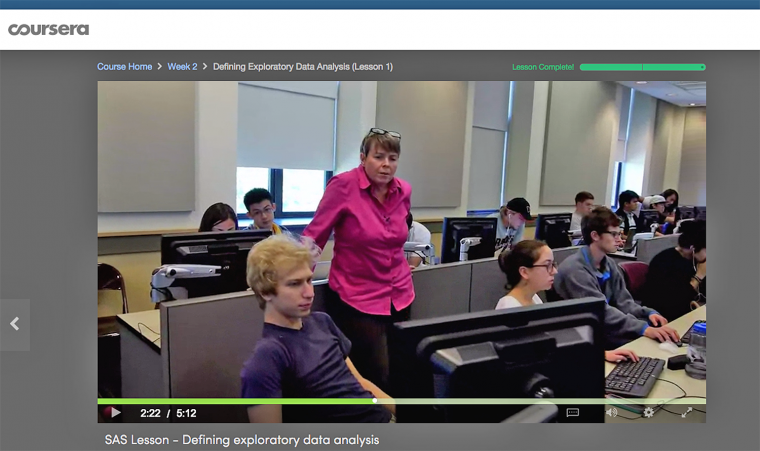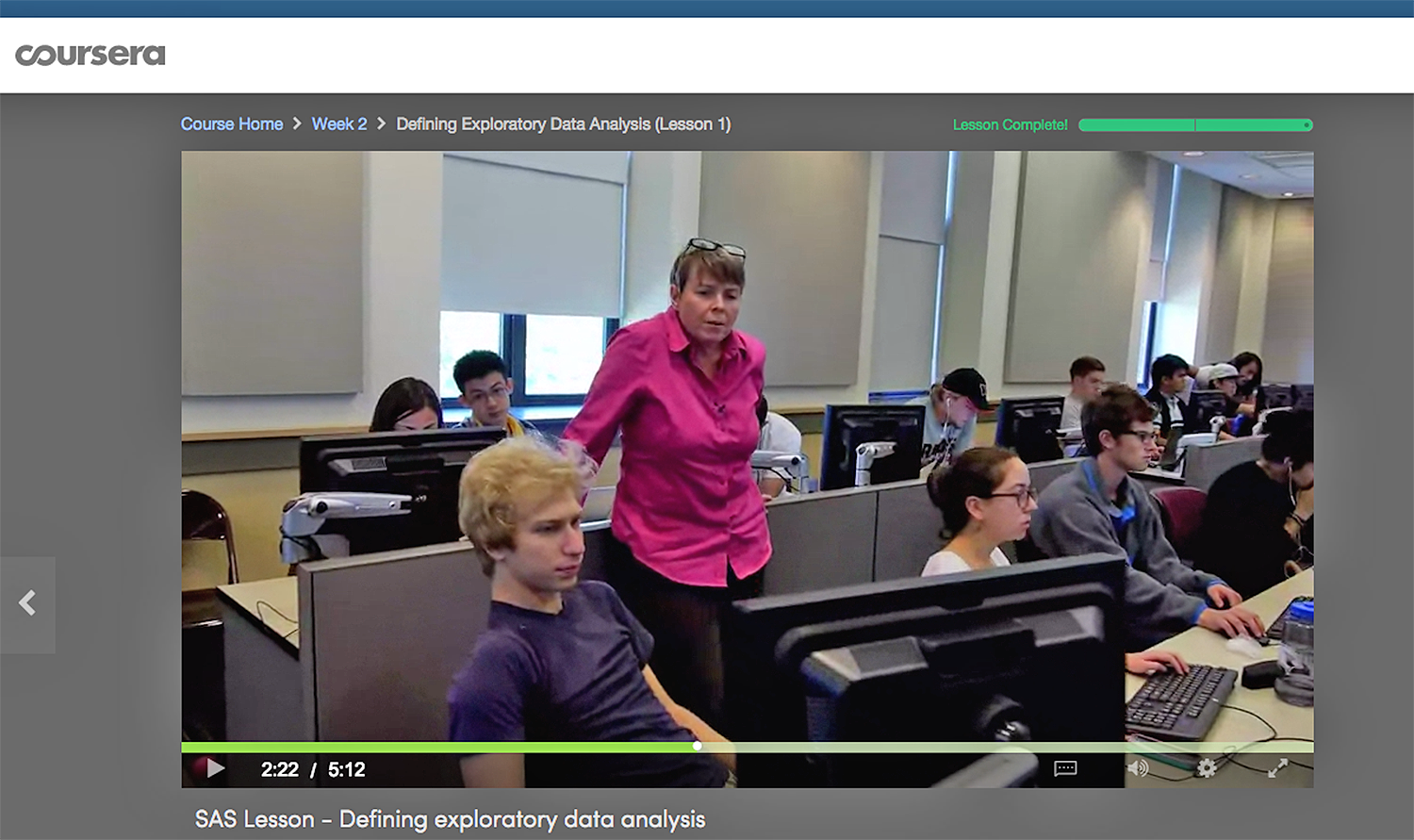 This month, Wesleyan will launch a new specialization on Coursera in the rapidly growing field of data science. The four-MOOC (massive open online course) sequence, together with a final capstone project, will offer learners a verified certificate of completion that they may share with prospective or current employers.
Wesleyan's specialization, Data Analysis and Interpretation, is one of more than 30 new business, computer science, and data science specializations starting on Coursera on Sept. 15. (Learn more on Coursera's blog.)
Wesleyan is continually expanding its offerings on Coursera, and in January 2016, plans to introduce a new Creative Writing specialization.
"Wesleyan is developing innovative data analysis instruction, both on campus and online. With this specialization, we're excited to offer true novices an in-depth, project-based introduction to data science—skills which are increasingly in demand in a wide range of career fields," said Jennifer Curran, director of Continuing Studies and the Graduate Liberal Studies Program.
The first course in the Data Analysis and Interpretation sequence will launch September 15, with additional courses coming online every few weeks after that. Each course will be available on-demand at no charge, or learners may pay $79 per course to receive a verified certificate of completion. To complete the full specialization, including the capstone, with a verified certificate of completion costs $395.
Though data science has historically been a male-dominated field, Wesleyan's specialization is being led by two women: Lisa Dierker, professor of psychology, director of pilot programs at the Center for Pedagogical Innovation, and Jennifer Rose, professor of the practice and research professor of psychology. Dierker previously offered a data science MOOC, "Passion Driven Statistics," on Coursera in 2013. With a passion-driven, project-based curriculum, the course enrolled more than 36,000 learners around the world. (Read more about it in this Forbes article.)
In the new specialization, Dierker will teach courses on Data Management and Visualization, and Data Analytic Tools. Rose will teach courses in Regression Analysis in Practice, and Machine Learning for Data Analysts. She also will lead the Data Analysis and Interpretation Capstone, in which learners will work with data from an industry partner—an actual corporation or non-profit organization, to be announced—to answer questions of interest.
"The expectation is that learners will complete the specialization with a project they can add to a professional portfolio, or share with employers," said Curran.
Despite increasing opportunities available for learning data science, and coding in general, Dierker said many people still don't feel welcome in the field.
"I was definitely one of those people 20 years ago, and I wish I had known then what I know now. We're really hoping to create a warm and welcoming place at the table, especially for women and members of other groups that are currently underrepresented in technical fields," she said. "There's substantial evidence that attracting women to these fields has a lot to do with making the material compelling—engaging them in real-world issues and using language connects people rather than creating isolated groups. The actual concepts are incredibly accessible when presented in a way that really speaks to a wide and diverse audience of people."
Key to this is a project-based approach to learning throughout the specialization. From the start, learners will be asked, "What kinds of questions do you want to answer with data?"
In each course, learners will be able to choose to work with one of a number of data sets from different disciplines, ranging from public health to political science to planetary science.
"One of the most empowering things is to understand that the tools are the same whether you're talking about Mars craters or adolescent health, for example," said Dierker.
She added that the specialization is "very adaptable," depending on a learner's background, interest, and familiarity with the material.
She hopes that learners who complete the specialization come away with a strong general understanding of how to make decisions with data. "When they're introduced to a new data set, they will know where to begin, how to dig in, and they will feel empowered to ask and answer questions that they care about."
Moreover, said Dierker, "I hope they come away with an understanding that data science is for everyone. Everyone is capable and worthy—more than worthy—of being here and participating."
In the future, she hopes to incorporate some lessons from her teaching on Coursera into her teaching on-campus. "I'm looking forward next year to thinking about how to apply a model of competency-based learning here on campus where students move at a pace that maximizes their learning, no matter where the starting point."
Links to the individual courses in the specialization are below. Learners may explore the courses for free at any time; a verified certificate of completion is not required.