Siry Honored by Frank Lloyd Wright Building Conservancy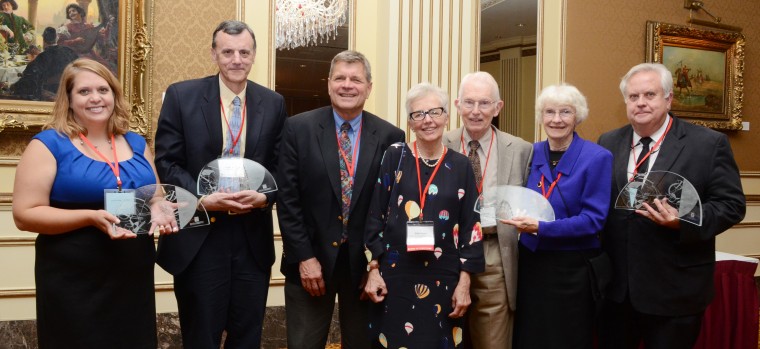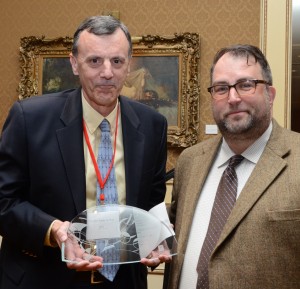 On Oct. 3, Joseph Siry, the Kenan Professor of the Humanities, professor of art history, received the Wright Spirit Award in the Professional category from the Frank Lloyd Wright Building Conservancy at its annual conference this year in Milwaukee, Wis. A prolific scholar of the venerable architect, Siry has written several books and scholarly articles about Wright. He also has contributed to the Frank Lloyd Wright Building Conservancy in many ways over the years, as a lecturer, panelist and contributor to the group's magazine.
A citation read at the ceremony by Scott Perkins, a conservancy board member and director of preservation for Frank Lloyd Wright's Fallingwater in Pennsylvania, began: "If one were to believe that Frank Lloyd Wright is the subject of more books and articles than any other figure in the visual arts, then among those responsible for that statistic would be Joseph M. Siry … I would also venture a guess that one could formulate a entire graduate seminar syllabus solely around Professor Siry's contributions to the scholarship on Wright and his circle, and throw in a second one dedicated just to the information found in his footnotes, as it is clear he delights in primary research."
Siry's books on Wright include Unity Temple: Frank Lloyd Wright and Architecture for Liberal Religion (Cambridge University Press, 1996) and Beth Sholom Synagogue: Frank Lloyd Wright and Modern Religious Architecture (The University of Chicago Press, 2012). Siry also contributed to three exhibition catalogues—two for the Guggenheim and one for the Price Tower—each showcasing Wright's architecture within late 1950s American modernism.
"Frank Lloyd Wright's legacy surely lives on in Joseph Siry's writing," concludes the citation.
At Wesleyan, Siry teaches courses in modern and American architectural and urban history. His research, primarily on the careers of Wright and Louis Sullivan, has been funded by the National Endowment for the Humanities, the Getty Research Institute, the Mellon Foundation, and the Graham Foundation. In 2003, the Society of Architecture Historians awarded Siry its Alice Davis Hitchcock Award for the best book by a North American author.