"Words after War" Symposium Offers Conversation, Workshops, Panel Discussions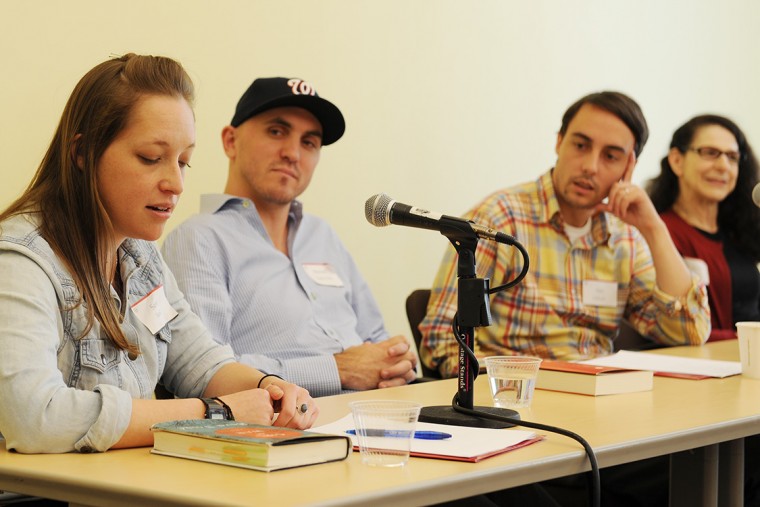 The Office of Equity and Inclusion sponsored a day-long writing symposium on "Words after War: Storytelling for Life, Business and Politics" Oct. 10 in Usdan University Center.
The symposium, which was open to military veterans, Posse Veteran Scholars, Wesleyan students and community writers, provided thoughtful, diverse conversation and writing about conflict and how to bridge the veteran/civilian divide. More than 45 people registered for the event.
The symposium featured panel discussions and breakout workshops with authors. Participants learned valuable and practical writing techniques and left with a newfound sense of empowerment and inspiration in producing art that builds community, makes an impact, and reaches a wider audience.
The event included panel discussions on "Art of the Interview," and "Elements of Craft," and breakout workshops on "Writing Your War (Memoir and Creative Nonfiction)," "Blogging, Social Media, Public Relations, and the Business of Writing" and "Writing in the Academy and Journalism, Politics and National Security."
Moderators from Wesleyan included Anne Greene, University Professor in English, director of the Wesleyan Writers Conference, and William "Vijay" Pinch, professor of history, professor of environmental studies, chair of the College of the Environment.
Other instructors included Brandon Willitts, executive director and co-founder of Words After War; Lauren Katzenberg, managing editor of Task and Purpose, a digital news and culture publication covering military and veterans issues; Kristen Rouse, the founding director of the NYC Veterans Alliance; Peter Molin, a retired West Point English faculty member and officer with deployment experience to the Sinai, Egypt, Kosovo and Afghanistan; Vanessa Gezari, managing editor of Columbia Journalism Review and an adjunct professor at Columbia Journalism School; Thomas Gibbons-Neff, national security journalist for the Washington Post and former Marine infantryman; and authors/editors Adrian Bonenberger, Sara Nović, Maxwell Neely-Cohen and Matt Gallagher. View the instructors' full bios here.
Photos of the event are below: (Photos by Will Barr '18)