Forster '18 Studies Makeup Effects, Prosthetics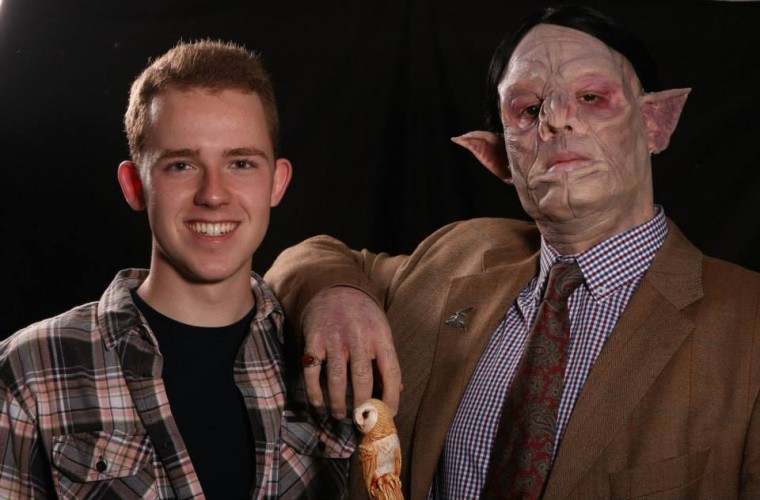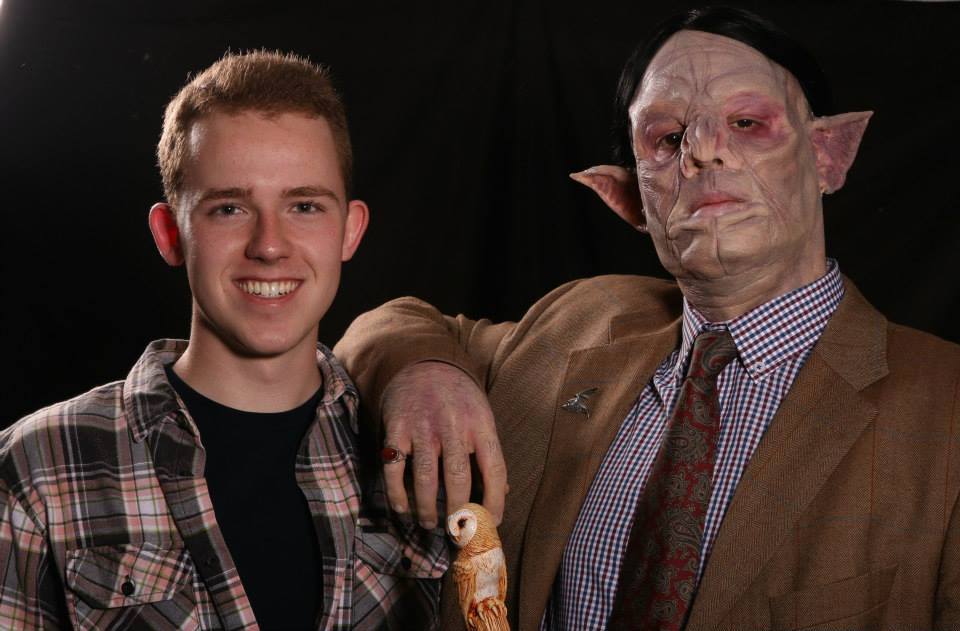 For seven weeks last summer, James Forster '18 learned how to transform a female classmate into a bat and mold an older gentleman into a pointy-eared creature named "Zerbei."
As one of six selected students enrolled in a "Make-Up FX and Prosthetics Creation" course at Groton Studios in the United Kingdom, Forster learned ways to work behind the scenes as a creative, workshop-based prosthetics artist. From concept designing through sculpting, moulding, casting and finishing, the curriculum focused on producing industry-ready craftspeople.
Forster, a potential English major with an interest in drawing and photo manipulation, got a taste for character creation while working in the costume shop for Second Stage during his freshman year.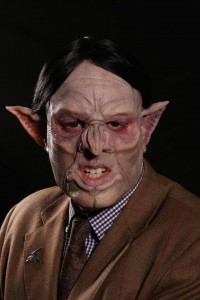 "Up until then, I didn't have much sculpting experience, so when I applied, I wasn't sure whether my almost entirely two-dimensional portfolio would be what they had in mind," he said. "I was overjoyed when I found out that they had admitted me."
Prior to departing to the U.K., Forster, of Rye, N.Y. took a sculpting class at nearby Westchester Community College where he learned the basics of sculpting facial anatomy and expression. Five weeks later, he arrived at Gorton Studios in Chesham, which turned out to be one of the most surreal experiences of his life.
"The interior of the building itself resembled some kind of extraordinary crossbreed between a normal artists studio and a wax museum," Forster described. "Dozens of busts, statuettes, costumes and small scale models from a variety of science fiction, fantasy, and horror films covered the walls, shelves, and floor – anywhere there was space, really. Mechanical components for animatronics were scattered in corners, and power tools covered the tabletops."
The six students received a staggering array of tools, including saws, files, chisels, brushes and paints. By the end of the first class, Forster had learned the basic steps of making a prosthetic appliance (such as a wound) – sculpting it, making a mold of it, and then casting it in silicon, followed by painting.
In the weeks that followed, the students began sculpting more complicated facial appliances to use on each other. One project included slathering a gel-like substance called alginate on each other's faces, which was cured and reinforced with plaster. Once they created this negative mold, they poured a stone-like substance called herculite into the molds to create impressions of our faces.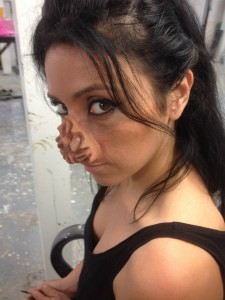 "Then, we traded faces, and began sculpting. I worked on a bat nose, while my partner created a furrowed, vampire-like forehead," Forster said.
For a final project, Forster spend four weeks developing an imaginary creature by using fiberglass molds, casts and paint. On the final day of class, Forster applied his creation to a model and was able to see his vision come to life, from a concept to a physical reality.
After a few hours of painstaking gluing, painting and touch-ups, Forster was able to step back and look at the creature that he had created.
"It was truly amazing to see how something I had conceptualized in my head, no more than an imaginary image, had come to life in my hands and actually been transformed into a physical creature," he said. "More than anything else, that is the lesson that I took away from Gorton Studio – that with patience, effort, and application, truly anything could be made a reality."
Although he hasn't taken any art classes at Wesleyan yet, he is anxious to enroll in courses that teach cinematography, writing for film and television, screenwriting, graphic design, and novel-writing.
"Wesleyan offers so many classes, so I have many potential options to try over my next three years," he said.