Wesleyan Seeks to Raise $120K for Middlesex United Way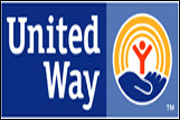 Wesleyan employees are once again being encouraged to participate in the annual Middlesex United Way campaign.
The university's goal this year is to raise $120,000 in donations and 50 percent participation. For the first time this year, all donations can be made online through employees' portfolios.
The campaign is being co-chaired by Gloster Aaron, associate professor of biology, associate professor of neuroscience and behavior, and Joyce Jacobsen, provost and vice president for Academic Affairs, Andrews Professor of Economics.
"At a time when secure funding for social safety net programs as well as community funds are under threat because of state budget problems it is ever more important that we do what we can to secure funding for these important services," Aaron said. "The United Way allocates the funds acquired by our fund drive in a studied manner, using teams of volunteers and staff that match the needs of the community to the available nonprofits that can best serve them, focusing on the areas of education, income, health, and housing. In addition to supporting your favorite nonprofit(s), I urge everyone to support the United Way to ensure that a broad coalition of services are supported, thereby ensuring that the complex needs of our communities are best served."
And while Jacobsen has always given to the Middlesex United Way, she says her admiration for the organization has increased since she started volunteering with Middletown's Volunteer Income Tax Assistance (VITA), which provides free tax advice for low-income families. Last year, this assistance resulting in over $950,000 in federal and state refunds for taxpayers. Their work would not have been possible without the United Way and NEAT volunteering their offices and computers on nights and weekends, and without having use of the United Way's 24-hour 2-1-1 hotline for appointment scheduling, she said.
All funds raised go to help people in Middlesex County. Learn more about the United Way's impact in each of the 15 towns in Middlesex County here. For example, last year right here in Middletown, the United Way supported:
The Amazing Grace Food Pantry,which fed which fed 2,933 Middletown residents
Boy Scouts of America, Connecticut Rivers Council, and the Girl Scouts of Connecticut, which served 346 boys and 426 girls
The Connection's Eddy Shelter, where 132 Middletown residents stayed
The Connecticut Health Center's Mobile Dental Program, which served 808 Middletown children
And the Northern Middlesex YMCA's Kids Korner, which enrolled 570 Middletown children
For more information, please visit wesleyan.edu/unitedway or contact Cathy Lechowicz, director of the Center for Community Partnerships, at clechowicz@wesleyan.edu.