Kennedy Odede '12 Tells His Story in David Brooks Column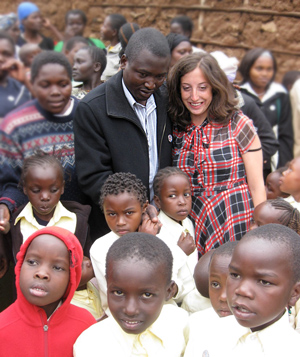 "Kennedy Odede is one of the most joy-filled people I've met," begins David Brooks in his regular New York Times column.
On November 10, Brooks turned his column over to Odede '12, who grew up in the Kibera slum in Nairobi, Kenya and attended Wesleyan. Together with his wife Jessica Posner Odede '09, Odede created the community organization Shining Hope for Communities (Shofco) and a school for girls in Kibera. Together, they've authored the new book, Find Me Unafraid: Love, Loss and Hope in an African Slum.
In the column, Odede tells his story in his own words. He describes a tumultuous childhood filled with hunger, violence, and the death of many loved ones. Brooks asks, "How did this delightful man emerge from this horrific childhood?"
"While I didn't have food, couldn't go to school, or when I was the victim or witness of violence, I tried to appreciate things like the sunrise — something that everyone in the world shares and can find joy in no matter if you are rich or poor. Seeing the sunrise was always healing for me, it was a new day, and it was a beauty to behold," Odede writes.
He learned to replace negative addictions with a positive one—to books—and to learn that no situation, no matter how dire, lasts forever. He writes:
For every bad person I encountered who hurt me and caused me suffering and pain, I also met a lot of good people. For the priest that abused me, I met a man of God who saved my life on the day I stole a mango and was almost beaten to death (he paid back the mango's price and more).

"My mom taught me that while there is a God, that one God might be very busy, so we have to rely on the people we encounter in our life who become what she called 'small gods.'