O'Connell Honored by Association for Women Geoscientists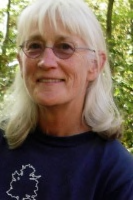 Suzanne O'Connell, professor of earth and environmental sciences, received the Exchange Award from the Association for Women Geoscientists at its annual awards breakfast on Nov. 2. The Exchange Award recognizes the contribution of those who exchange technical, education, and professional information in the field.
The award ceremony took place at the Baltimore Convention Center in Maryland in conjunction with the Geological Society of America's annual meeting. O'Connell is also faculty director of the McNair Program.
According to Blair Schneider, president of the Association for Women Geoscientists, O'Connell won the organization's Outstanding Educator Award in 2000. Since then, she has been an active member of the group's Outstanding Educator Award committee, and has continually written articles highlighting the winners for the group's quarterly newsletter. In explaining O'Connell's selection for the Exchange award, Schneider pointed to her rare "exemplary teaching" in which she uses "hands-on learning with research for undergraduates."
"Suzanne is also an incredible supporter of the organization and exchanges information about who we are to her own students and young professionals at every meeting. For example, she pays to bring her own students to the AWG awards breakfast so that they can learn about the organization and see women being recognized for their achievements," Schneider added.
O'Connell also recently co-edited the publication, "Women in the Geoscience: Practical, Positive Practices Towards Parity."