Jenkins Celebrates Indonesia's Cultural, Linguistic Diversity in International Simulcast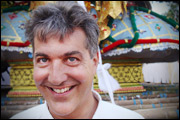 Ron Jenkins, professor of theater, will participate in an international simulcast on Nov. 27 to celebrate Balinese language and Indonesia's cultural and linguistic diversity.
The simulcast will take place at the Indonesian Embassy in Washington where Jenkins will be helping to celebrate Saraswati Day by reading from his new book, Saraswati in Bali. Saraswati Day is the Balinese day set aside for honoring wisdom, knowledge and culture.
The celebration will be streamed simultaneously to Indonesian diplomatic missions in New York, Tokyo, Sweden, The Netherlands, Germany, Belgium, and Australia.
The program also will include live simulcasts of a reading of a Balinese poem; greetings from Indonesian Ambassadors to the participating countries; introductory remarks from Professor Gabriela Perez Baez, director of Recovering Voices, Smithsonian National Museum of Natural History; a presentation of new books in Balinese; and dance, music and singing performances.
Jenkins will also be speaking about his book at the Indonesian Consulate in New York on Tuesday, Dec. 1 at an event featuring an exhibition of the Balinese paintings related to Saraswati analyzed in his text. To register for the free event, e-mail information@indonesianewyork.org.