Contemporary Chinese Art on Exhibit at Zilkha Gallery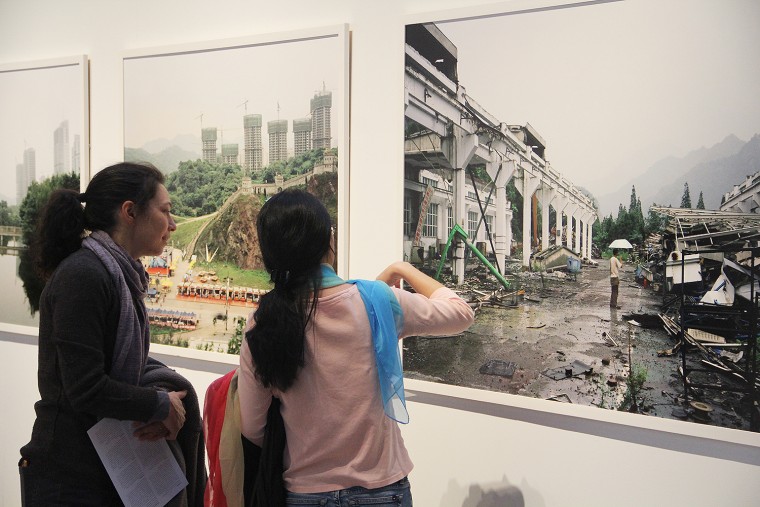 An exhibition titled "We Chat: A Dialogue in Contemporary Chinese Art" opened Jan. 26 in the Ezra and Cecile Zilkha Gallery.
In her introductory remarks, Center for the Arts Director Pam Tatge '84, MALS '10, P'16 noted that this was the first gallery exhibition of work by this generation of Chinese artists in this country. Born after the end of the Cultural Revolution, these young artists are challenging traditional notions of Chinese identity and inventing new ways to shout out in the global arena.
This exhibition debuts at Wesleyan and features works by Sun Xun, Jin Shan, Ma Qiusha, Lu Yang, Bo Wang, Pixy Liao, Liu Chuang, Shi Zhiying, Guo Xi and Yan Xing. The art reflects the state of China today, and raises questions about the sustainability of national and cultural identity in an increasingly globalized world. Three of these artists spoke at the opening: Bo Wang and Pixy Liao, who currently live in Brooklyn, as well as Jin Shan, who traveled from China to build his installation, "No Man City."
Curator Barbara Pollack, a writer, artist and journalist, said, "In this exhibition, I think you get a real dose of what China today is like. It is diverse, it is international, it's open to a world of influences, and it's sophisticated in its understanding of contemporary art. Relate to this exhibition as a window into contemporary China," she said.
The exhibit will be on display through Feb. 28. The gallery is open noon to 5 p.m. Tuesday through Sunday and is free of charge.
In a related event, Pollack, one of the leading experts on contemporary Chinese art, will moderate a panel discussion about issues facing the Post-Mao generation in China. The panel will include Eric Fish (author of China's Millennials: The Want Generation), Stanley Rosen (professor of Chinese politics and society at the University of Southern California), and Michelle Yun (curator at the Asia Society Museum). This event will be held at the Ring Family Performing Arts Hall at 1 p.m. Feb. 27.
The exhibition is sponsored by Wesleyan's College of East Asian Studies and Office of Academic Affairs, with additional support from Sha Ye MA '96, Andrew and Heather Rayburn, and Amy Gao. Media sponsors of this exhibition are Art New England and artscope.
Photos of the exhibit's opening are below: (Photos by Rebecca Goldfarb Terry '19)