Allbritton Center to Host Series of Panels on the Refugee Crisis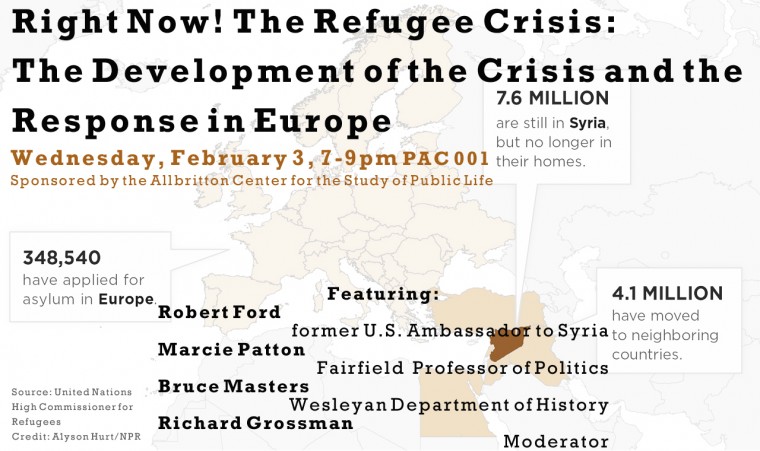 The Allbritton Center for the Study of Public Life will host a series of three panels in February and March on the refugee crisis. All events will take place in PAC 001.
The first panel, The Development of the Crisis and the Response in Europe, will be held at 7 p.m. Feb. 3. Moderated by Professor of Economics Richard Grossman, the panel is comprised of Bruce Masters, the John E. Andrus Professor of History; Robert Ford, former U.S. ambassador to Syria; and Marcie Patton, professor of politics at Fairfield University.
The second panel, The Refugee Experience, will be held at 7 p.m. Feb. 17. Moderated by Victoria Smolkin-Rothrock, assistant professor of history, assistant professor of Russian, Eastern European and Eurasian Studies, it will feature discussion between Steve Poellot, legal director at the International Refugee Assistance Project (IRAP); Mohammed Kadalah, of the University of Connecticut Department of Literature, Cultures and Languages, who was recently granted asylum after fleeing Syria in 2011; and Baselieus Zeno, a PhD candidate in political science at the University of Massachusetts–Amherst and a Syrian refugee.
The final panel, The U.S. Response, Locally and Nationally, will be held at 7:30 p.m. March 31. Moderated by Assistant Professor of Government Ioana Emy Matesan, the panel will include Christina Pope of Welcoming America; Chris George, director of Integrated Refugee and Immigrant Services; and Jen Smyers, director of policy and advocacy at Church World Service. It will also feature a video message from U.S. Senator Chris Murphy of Connecticut.
For more information, contact Rob Rosenthal, director of the Allbritton Center, at rrosenthal@wesleyan.edu.