Kleindienst Speaks on Wesleyan's Composting Efforts at CT Recyclers Coalition
Sustainability Director Jennifer Kleindienst spoke in January at the Connecticut Recyclers Coalition conference about Wesleyan's experience with composting (also called organics recycling).
Wesleyan's composting efforts began intermittently in 2010 through student initiative. Beginning in 2012-13, Kleindienst, her interns, Physical Plant staff, and Bon Appetit led regular residential and dining pre- and post-consumer collection. The vast majority of composed material comes from Usdan, but other participants include approximately150 wood frame, program houses, and apartment residences, seven of nine dorms, and a handful of offices. Finished compost is sent to Long Lane Farm. Wesleyan's trash, recycling and composting data can be seen below: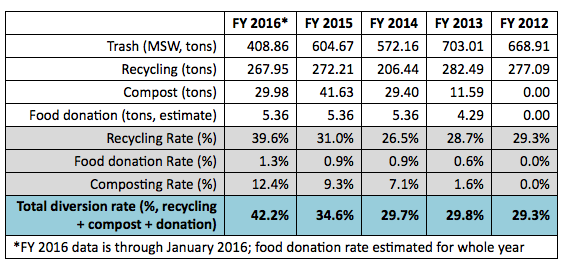 Kleindienst announced that Wesleyan is expanding its efforts with a pilot program at Alpha Delt this semester, as well as trying new waste reduction strategies in Usdan. She is also working with the city of Middletown to make composting more cost effective for Wesleyan, Middletown and Middlesex Community College, as well as advocating for state laws to make composting economically desirable.
A photo of Kleindienst and her presentation can be viewed here.