Free Drawing Workshops Offered at 5th Annual Big Draw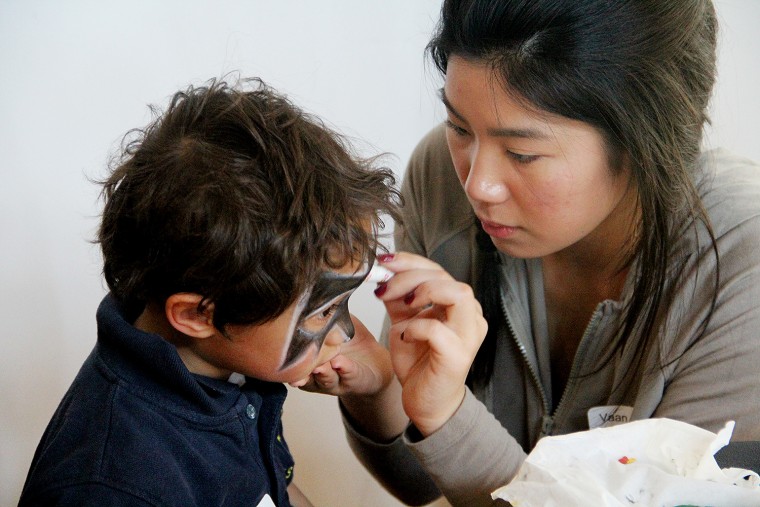 On April 16, the Friends of the Davison Art Center presented "The Big Draw: Middletown," the fifth annual community celebration of drawing with workshops designed for all skill levels, from beginning drawers to accomplished artists. The event took place at four locations across the campus including the Davison Art Center; the Center for the Arts; Fayerweather Beckham Hall; and the Usdan University Center.
"The Big Draw" included eight workshops facilitated by faculty and students from Wesleyan's Art Studio Program in the Department of Art and Art History. Activities included developing narrative through drawing, drawing with inked feet to music, drawing from elaborate still lives of taxidermy and skeletons, using giant Spirograph-style drawing tools, face painting and more. Drawing study of nude models was open to adults, and minors with parental permission.
This year, "The Big Draw: Middletown" also featured a special Koinobori Project workshop led by Japanese artist Taichiro Takamatsu, who founded the project in 2012, and has led workshops creating carp flags in Australia, Austria, Germany, Japan, Kenya, Sri Lanka and Uganda.
More than 375 local artists participated, up from 286 in 2015. Forty-nine Wesleyan faculty, alumni, students and community members volunteered to teach participants and help run the program.
"The Big Draw: Middletown" is organized and hosted by the Friends of the Davison Art Center, with grant support from the Middletown Commission on the Arts; and special funding for the Koinobori Project from the Community Foundation for Middlesex County in conjunction with the Center for the Arts "Feet to the Fire: Riverfront Encounter."
Other sponsors included Blick Art Materials, Community Health Center, CT Yoga Center, Middletown Framing, It's Only Natural Market, Kidcity Children's Museum, Middletown Toyota, Mondo Pizza, Munkittrick Associates, Nobul Apparel, Tesoro Artisan Gift Boutique & Gallery, and Ursel's Web.
WTNH Channel 8 featured the event as one of eight fun things to do in Connecticut on the morning news on Friday, April 15, with live broadcasts.
(Photos below by Rebecca Goldfarb Terry '19). View additional photos on the Big Draw Facebook page.