Stanton, Hoggard, Brown: 'Storied Places' Unites Dance, Music, Text of Collaborative Cluster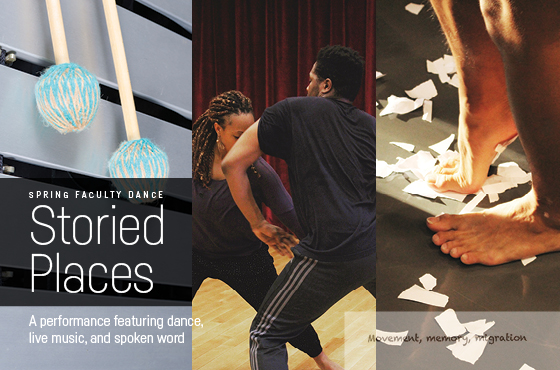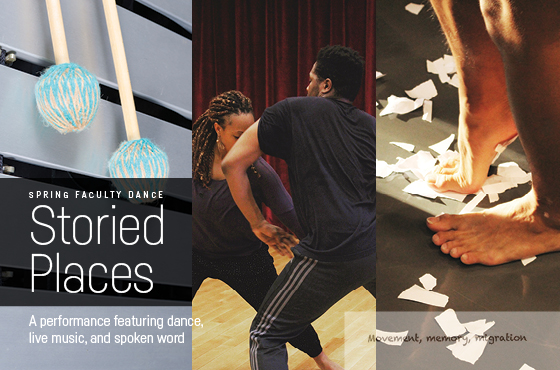 On the weekend of April 15-16, the CFA theater was home to the spring faculty dance concert, Storied Places. In addition to the dance, which was choreographed and directed by Chair and Associate Professor of Dance, Associate Professor of African American Studies, and Environmental Studies Nicole Stanton, the performance also featured original compositions and musical direction by Adjunct Professor of Music and African American Studies Jay Hoggard '76. Adding a further layer of texture was narrative text, written and performed by Chair and Class of 1958 Distinguished Professor of African American Studies, Professor of English and Feminist, Gender and Sexuality Studies, and Director of the Center for African American Studies Lois Brown.
Additionally, Visiting Assistant Professor of Public Policy L'Merchie Frazier created visual scenography and design—some based on the photographs that grace the cover of Hoggard's new two-CD set, Harlem Hieroglyphs.
The collaboration, which featured a host of musicians and dancers—including Visiting Assistant Professor of Dance Dante Brown '09 and Rick Manayan '17—had begun with Hoggard's compositions, which were inspired under the theme of "Migrations"—as he thought specifically of the migration his own family had made from the rural South to a new home in Harlem, as well as more generally about the movement of peoples throughout history and how that was illustrated in music, particularly jazz.
Nicole Stanton recalls that she had reached out to Hoggard, at the suggestion of Pam Tatge '84, MALS '10, P'16, who was then director of the Center for the Arts.
"I enjoy very much the idea of collaboration and collaboration across disciplines," Stanton explains. "I'm interested in dance and the total art form that engages a lot of different senses and a lot of different modes of expression."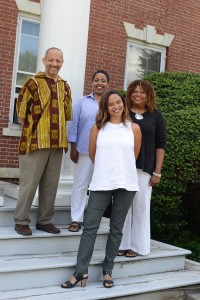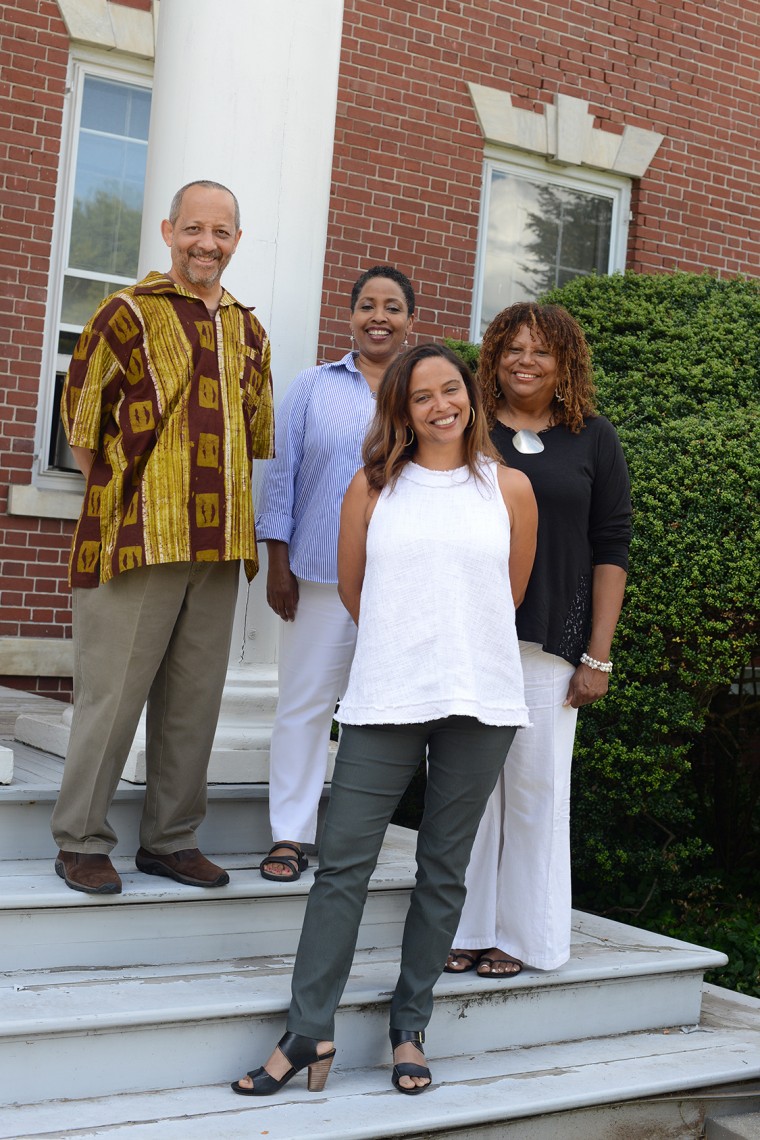 Stanton and Hoggard talked about the possibility of working together at some point and then, Stanton recalls, "Last summer Jay approached me with a project idea he was interested in—he was inspired by the Harlem Renaissance Ballroom, and ideas about how the African American music form had migrated from the rural south to the urban north and the history of Jazz. That was kind of where we started from. We'd been going back and forth, sharing resources, and then Jay suggested Lois as a possible partner for us, for bringing in more textuality and her sense as a historian. The three of us began working."
The team also received university support in what Stanton calls "an interesting grant sponsored for the Allbritton Center for the Study of Public Life, the Collaborative Cluster grant." Brown, Hoggard, and Stanton developed cluster of courses in their own disciplines that dovetailed under the theme of "Movement, Memory and Migration," which explored the histories of migrations through different art forms. Stanton notes that the students in the Cluster courses were engaged with Storied Places as performers, interns, documentarians, and they will also have their own separate interdisciplinary performance piece on May 10.
Brown notes that she was particularly primed to enjoy the collaboration. "One of Pam Tatge's greatest gifts to me was her invitation to merge the craft of teaching in the humanities with the craft of teaching in dance," she notes. "My time with choreographers Liz Lerner and Jawole Zollar during the fall of 2013 laid bare the power of interpretation and its multifaceted, corporeal qualities. That unforgettable connection certainly informed my collaboration with Jay and Nicole and with our Visiting Artist L'Merchie Frazier who worked on set design and taught the seminar Visual Storytelling: Race, (in)Visibility and the American Landscape this semester as part of our Collaborative Cluster." 
The faculty particularly enjoyed the process of watching the others work in their discipline. "I am amazed that Jay as a composer actually in his brain thinks of each part, writes it down on paper and then simply gets the musicians to come in and play the part as he has envisioned it," says Stanton. "That's not how I work as a choreographer. I need the people and the bodies in the space moving together to make formal and content decisions."
Brown concurs: "One of the most powerful journeys that I think we undertook together was the journey to and through our respective disciplinary languages. I still remember the sunny afternoon in Vanguard Lounge during one of our collaboration meetings when Jay declared, 'I think sonically!' It was a reminder then and throughout the process that we each hear, see, imagine, and respond in different keys even as we move around a supposedly singular object or theme. Watching us become more acutely aware of the different modes of interpretation—from the early days of conversation to the last moments of the actual performance—always will stay with me." 
Hoggard noted the challenge of his three-tiered role in the production—as a jazz musician performing, as the conductor for his Harlem Hieroglyphs ensemble, and as director of the choral group—keeping all in synch with dance and spoken word: "In doing live music for any show, we musicians use word and visual cues from the other performers. Conducting other musicians, as well as playing my vibraphone, adds a whole new level of complexity, particularly with jazz, which is by nature open to improvisation, in a live show, which will vary each time. I was watching the dancers very carefully to get internal cues—what we jazz performers usually do within our group with each other. It was a different level of complexity, merging the music with the dance unit, the choral unit, and the spoken word—when do you blend, when do you back off?"
His ultimate take-away: "I was only sorry that it ended after the second day. It was a good collaboration."
"I liken my interest in contemporary dance to poetry—a way of engaging the world that is deeply specific but also open to inviting different ways to interpret the experience," notes Stanton. "I'm interested in the idea of engagement, fellowship, inspiration—so I hope that people found themselves connected, invited to bring their own imaginations, their own selves, to this, which I call—not a story, but a 'story-ness' of experience. Storied Places revolves around this amazing group of artists exploring idea of movement, memory and migration."
Brown concludes, "There are powerful tensions in the piece—the call to go, and the yearning to stay; the effort to be rooted, and the reality that one must be separated from places that cannot be replicated. Migration and memory go hand in hand, and I think that what we produced and performed really grappled with the romance and the tragedies of these difficult gestures and movements." 
Additionally, the performance included dance and spoken word by Visiting Assistant Professor of Dance Dante Brown '09, Sydnie Liggett, Kellie Lynch, Rick Manayan '17, and Annie Wang; and live music by the Jay Hoggard Harlem Hieroglyphs Ensemble including pianist and organist Warren Byrd, bassist Belden Bullock, Visiting Assistant Professor of Music and Private Lessons Teacher Pheeroan akLaff on drums, and Wesleyan graduate music student Sean Sonderegger on saxophone; plus singers Janice Watson, Coordinator of International Student Service in the Dean's Office, Leta Watson, Jordan Watson, and Kim Burnett, all members of the Cross Street A.M.E. Zion Church Choir.
The project was sponsored by the Dance Department, the Allbritton Center for the Study of Public Life, and the Center for the Arts Creative Campus Commission program, with support from the Andrew W. Mellon Foundation, the Office of Academic Affairs, and the African American Studies Program.