Bachner, Eudell, Lipton Honored for Excellence in Teaching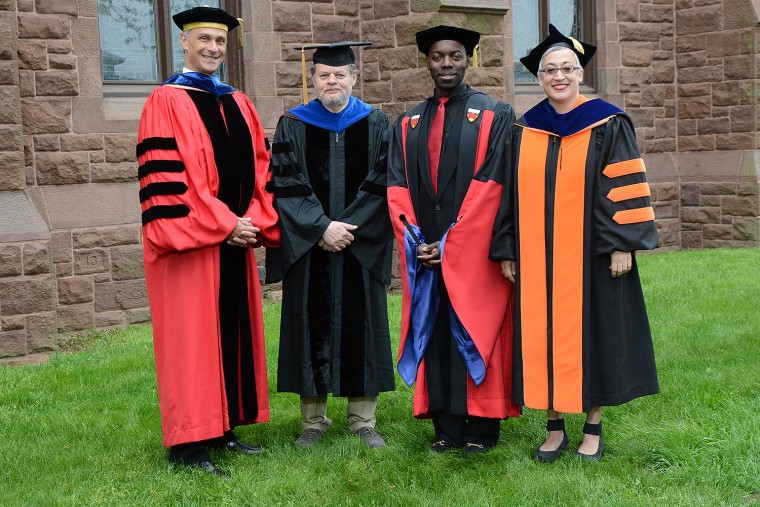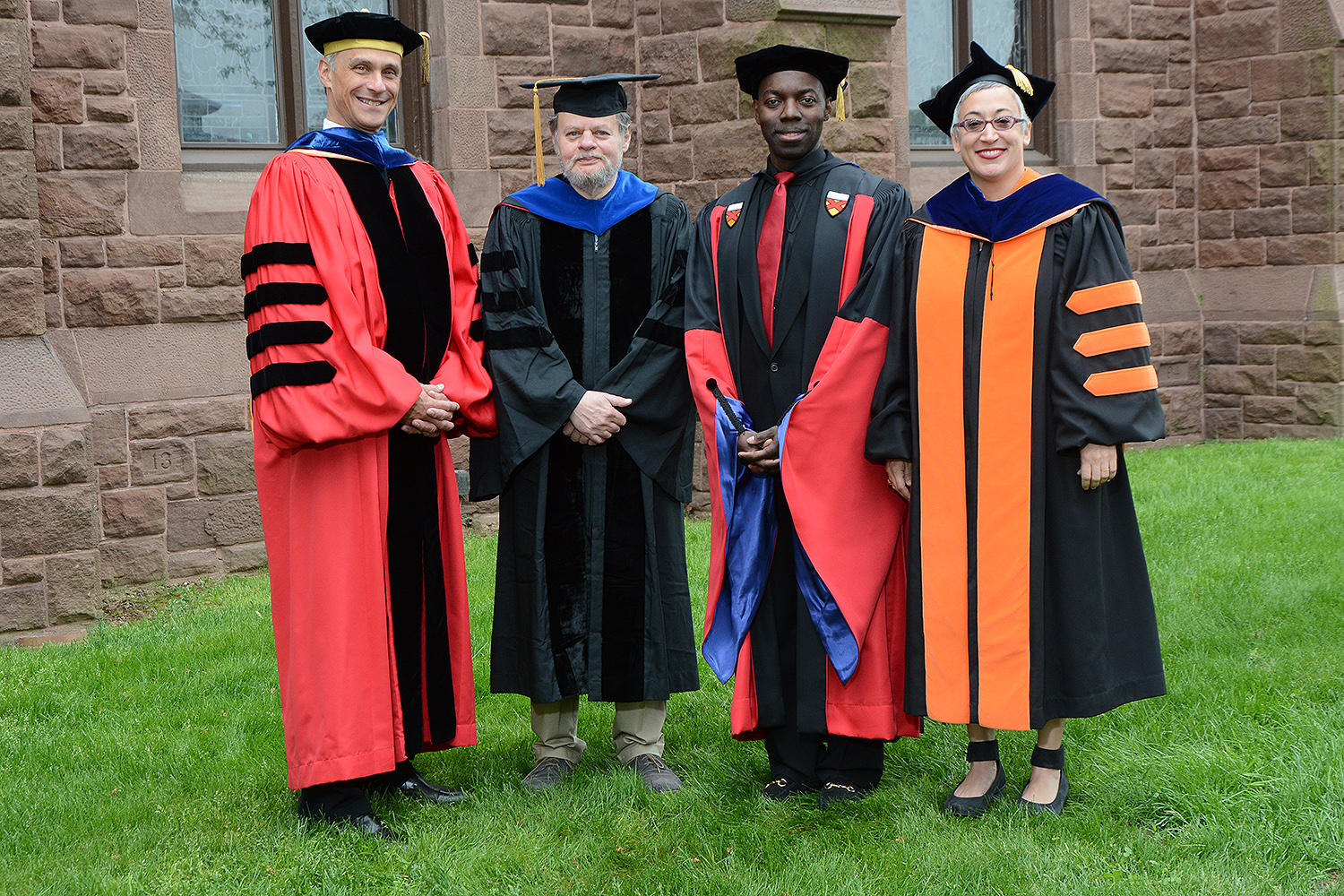 Sally Bachner, associate professor of English, Demetrius Eudell, professor of history, and James Lipton, professor of computer science, received Binswanger Prizes for Excellence in Teaching at Commencement on May 22. These prizes, made possible by gifts from the family of the late Frank G. Binswanger Sr., Hon. '85, underscore Wesleyan's commitment to its scholar-teachers, who are responsible for the university's distinctive approach to liberal arts education.
Recommendations were solicited from alumni of the last 10 graduating classes, as well as current juniors, seniors, and graduate students. Recipients were chosen by a selection committee of faculty and members of the Alumni Association Executive Committee.
Bios of the recipients follow: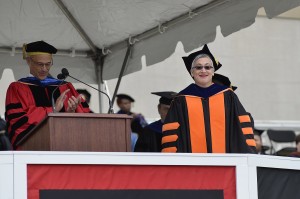 Sally Bachner, associate professor of English, came to Wesleyan as a visiting assistant professor in 2001 before officially joining the faculty in 2004. She has a BA in English literature from Reed College and an MA and PhD in English literature from Princeton University.
Professor Bachner teaches courses in British modernism as well as postwar American fiction. The author of The Prestige of Violence: American Fiction, 1962–2007 (University of Georgia Press, 2011) as well as several book chapters, her research interests include contemporary American literature, British modernism, and literary and critical theory. Her academic service includes participating on Wesleyan's Educational Policy Committee and serving as honors coordinator for the English Department and president of the Gamma Chapter of Phi Beta Kappa. She currently serves on the board of Wesleyan University Press. She has twice been a faculty fellow at Wesleyan's Center for the Humanities and is currently writing a book about the representation of women's labor in the wake of second wave feminism in the United States.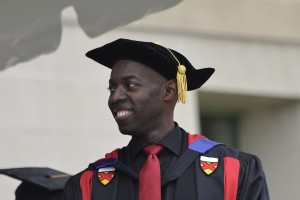 Demetrius Eudell, professor of history, joined the Wesleyan faculty in 2001 after teaching in the Department of African-American and African Studies at Ohio State University for four years. He has a BA from Dartmouth College and a PhD in history from Stanford University. He also completed post-baccalaureate study of African history and literature at Université de Dakar in Sénégal. Professor Eudell served as director of Wesleyan's Center for African American Studies from 2007 to 2010 and has twice been a faculty fellow in the Center for the Humanities. In 2015, he was a fellow-in-residence at The Göttingen Institute for Advanced Study in Germany.
Professor Eudell teaches courses in early and modern African American history, the U.S. Civil War, race discourse in the Americas, comparative emancipation, nineteenth-century U.S. history, contemporary historiography, topics in U.S. intellectual history, and more. His research interests include history and culture of the Americas, slavery, abolition, and emancipation. He is the author of The Political Languages of Emancipation in the British Caribbean and the U.S. South (University of North Carolina Press, 2002). In 2001, he co-edited a special issue of The Journal of West Indian Literature titled "Sylvia Wynter: A Transculturalist Rethinking Modernity." He is also the author of numerous articles, book chapters, review essays, book reviews and encyclopedia entries.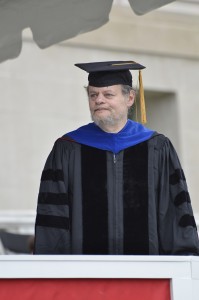 James Lipton, professor of computer science, joined the Wesleyan faculty in 1993. He previously served as an instructor at the University of Pennsylvania and as a postdoctoral research associate at Cornell University. He has a BS in mathematics from the University of Nebraska–Lincoln and an MS in mathematics, an MS in computer science, and a PhD in mathematics from Cornell University.
At Wesleyan, Professor Lipton teaches introduction to programming, programming languages, applied logic and logic programming and automata theory. His extensive publications and research interests bear on issues in logic programming, relational programming, categories and computer science, intuitionistic semantics, constructive set theory and linear logic.
Professor Lipton grew up in Madrid, Spain, and was resident director of the Vassar-Wesleyan program in Madrid from 1999 to 2005. He also has worked as a research consultant for Pitney-Bowes. Prior to earning his later advanced degrees, he worked for four years as a journalist in Madrid.