President Roth Makes Remarks to the Class of 2016 (with video)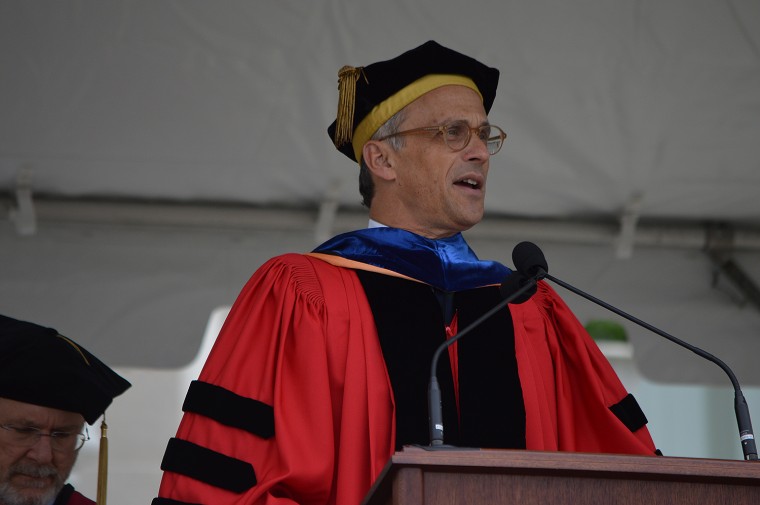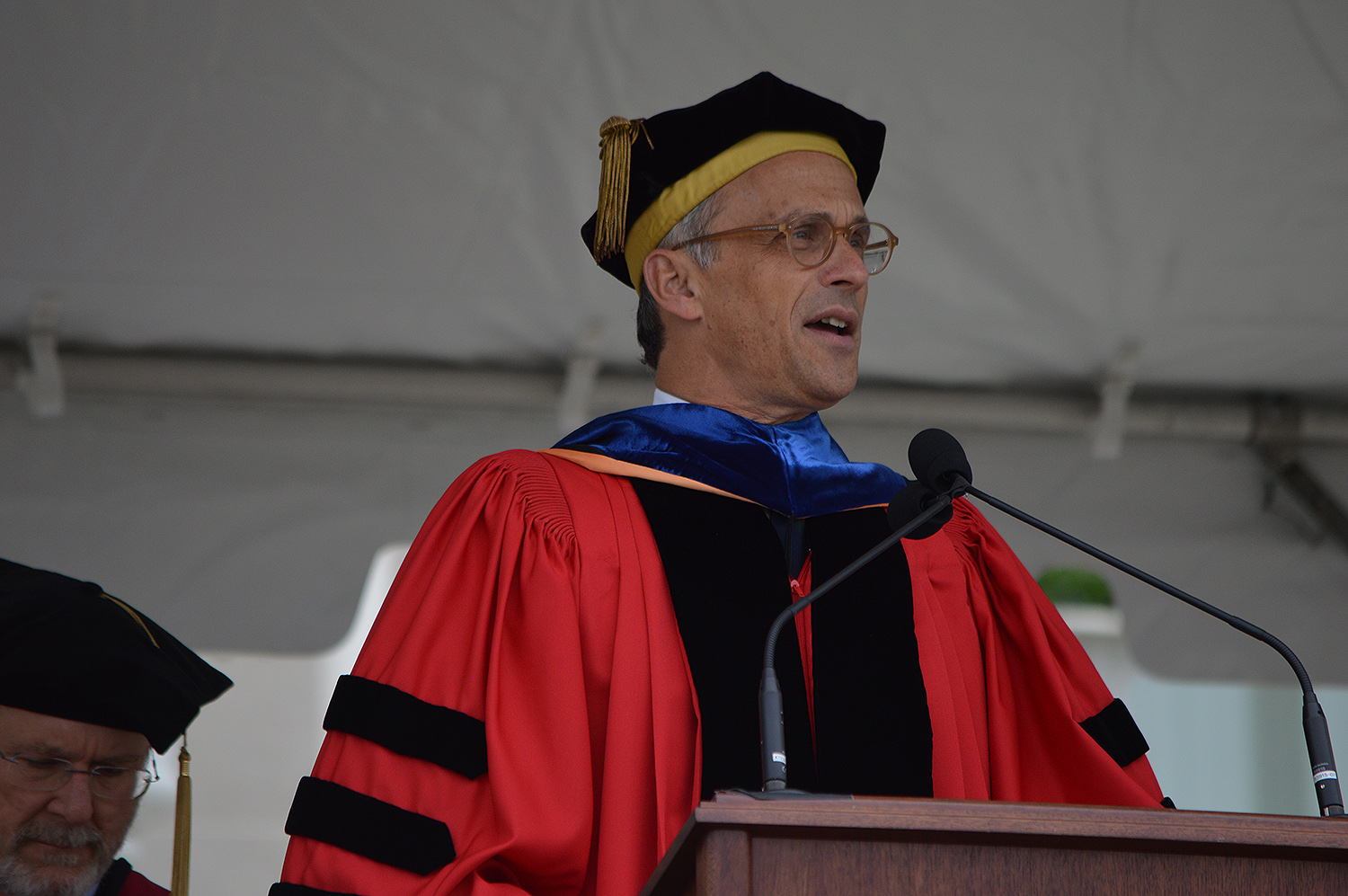 Wesleyan President Michael Roth made the following remarks during the 184th Commencement ceremony May 22: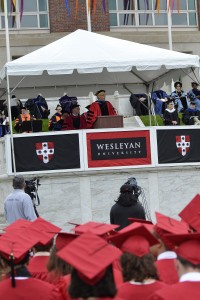 Members of the Board of Trustees, members of the faculty and staff, distinguished guests, new recipients of graduate degrees, and the very mighty Class of 2016, I am honored to present some brief remarks on the occasion of this Commencement.
When you began your time at Wesleyan in the fall of 2012, the presidential elections were moving into high gear. Barack Obama, who spoke from this podium eight years ago as a presidential candidate, was arguing for a renewed mandate for change, for finding ways to make even small amounts of progress on environmental issues, social justice concerns, and economic growth. There were many who opposed this vision, and they offered an alternative framework for imagining individual freedom, prosperity through work, and respect for tradition. Today you are graduating into another election cycle, and now differences in the visions for the future of this country seem greater than ever. Our politics have grown ever nastier, cruder, more vulgar, more juvenile. Many Americans, turned off by the triumph of vulgarity and corruption, seem ready to dis-engage from the political process. I trust this will not be the case for you. Resignation should not be an option. We so need your participation, your vision, your commitment to put justice, generosity, and care at the center of your lives and our communities.
Justice, generosity and care—these are core values here at Wesleyan. Students at this university demand that their school stand for justice—in words and in actions—and over the past four years your demands have included making the academic core more diverse and our residential life free from sexual violence that has become a scourge on college campuses across America. A homogenous academic core prevents many people from learning. And sexual violence is a kind of terrorism that makes equal opportunity for education an impossibility. Just as the aspiration for justice has been a powerful feature of campus culture, so too has recognizing that not everyone has the same view as to what constitutes justice, which means that part of the work of political engagement includes discussions in which we can build on our commonalities and explore our differences without fear. A university is a place to have one's opinions tested—not just protected.
As loud as calls for justice sometimes are, the soft but persistent voice of generosity has also been a feature of the student culture you have created. Many of you work in the community—tutoring at Traverse Square or the McDonough Elementary School, reaching out to the incarcerated through the Center for Prison Education, seeking to improve health care and food security for Middletown's most vulnerable. And a number of you gave your time and labor to ease the plight of refugees—helping those in camps in the Middle East and smoothing the way for refugee families settling here in the United States. I have been inspired by your efforts.
Linked to these acts of generosity—and to the calls for justice—is, I think, a deep ethics of care. That ethics of care is manifest in so many of your efforts—in the work of environmental groups, in Long Lane Farm, and in protests expressing solidarity with those who feel marginalized by mainstream culture. I very much admire the ways in which you have looked after one another, inspired one another, or simply cheered each other on. It may well be that the quest for justice and the impulse for generosity depend on this ethics of care, this commitment to seeing those around you fulfill their potential, flourish. This commitment can be seen all around the campus: in concert halls, science labs, theaters, and playing fields. It builds our community and makes the work we do relevant beyond the University.
Justice, generosity and care—these are key political values, if not ones much on display in this political season. But there is more to political seasons than elections. The voices of candidates are by no means the only ones to listen to. Let us listen to Claudia Rankine, whose recent book, Citizen: An American Lyric, is a powerful, poetic consideration of race, politics, and belonging. Writing about one of her sources for inspiration, Adrienne Rich, Rankine noted that the commitment to poetry is deeply political because the inspired use of words can be liberating.
"Poetry is liberative language, Adrienne Rich wrote, "connecting the fragments within us, connecting us to others like and unlike ourselves, replenishing our desire. . . . In a time of frontal assaults both on language and on human solidarity, poetry can remind us of all we are in danger of losing—disturb us, embolden us out of resignation."
Like poetry, education can connect us "to others like and unlike ourselves," and this is one of the reasons why those who want to reinforce established hierarchies often attack educational institutions. In truly exploratory learning, liberal learning, assumptions about privilege and entitlement are challenged—and that's why access to education remains such an important issue in this country and around the world. Like poetry, education "can remind us of all we are in danger of losing." Not all teachers enter their classrooms with books of poetry, but all of us carry the hope that through learning our students will be "emboldened out of resignation."
Generations of Wesleyan alumni would share this commitment to be emboldened out of resignation. As I say each year, we Wesleyans have used our education to mold the course of culture ourselves lest the future be shaped by those for whom justice and change, generosity and equality, diversity and tolerance, are much too threatening. Now we alumni are counting on you, Class of 2016, to join us in helping to shape this culture, so that it will not be shaped by the forces of violence, conformity, and elitism.
We are counting on you because we have already seen what you can do, what you are capable of when you have the freedom and the tools, the mentors and the friendship, the insight and the affection to go beyond what others have defined as your limits. We know that in the years ahead you will explore unfamiliar realms and see possibilities where others might not. We know that you will find new ways to make connections across cultural borders—new ways to build community, to join personal authenticity with compassionate solidarity. When this happens, you will feel the power and the promise of your education. And we, your Wesleyan family, we will be proud of how you keep your education alive by making it effective in the world.
It's been nearly four years since we unloaded cars together at the base of Foss Hill, four years since your parents shed a few tears or maybe tried to hide them as they left you here "on your own." It seems like such a short time ago. Now it's you who are leaving us, but do remember that no matter how "on your own" you feel  "out there," you will always be members of this campus family. Wherever your exciting pursuits take you, please, please come home to alma mater, come home often to share your news, your memories, and your dreams. Thank you, and good luck!