Campaign Celebrated at Grand Central in NYC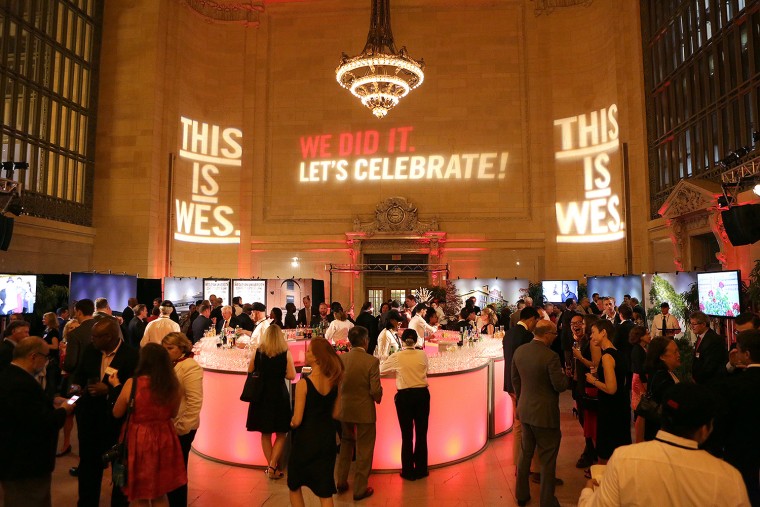 More than 200 members of the Wesleyan community—decked out in red and black—gathered in Vanderbilt Hall at Grand Central Terminal in New York City on June 16 to celebrate the success of the THIS IS WHY campaign, which draws to its end on June 30, 2016. The event was hosted by THIS IS WHY campaign chair John Usdan '80, P'15, P'18, P'18.
At the event, President Michael Roth '78 acknowledged some of the campaign leaders—including Usdan; Joshua Boger '73, P'06, '09, retiring chair of the Wesleyan Board of Trustees; Ellen Jewett '81 P'17, trustee emerita; Alan Dachs '70, P'98, Hon '07, chair emeritus of the Board; and Donna Morea '76, P'06, chair-elect of the Board—and thanked the entire Wesleyan community for its support.
"Thank you all for being generous donors to and supporters of this campaign," said Roth, addressing the crowd. "We have faculty here who have mentored for decades, coaches who have helped athletes thrive, and parents whose kids have discovered what they love to do at Wesleyan. We are a family of people who support one another—not just for the sake of alma mater but also to send people out into the world to do great things."
Photos of the event are below and the full gallery is in this Wesleyan Flickr album. (Photos by Robert Adam Mayer)