Swanson Called Wesleyan Coach of Running Elite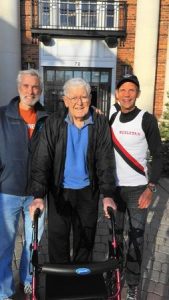 The list of athletes who ran on Elmer Swanson's teams over the 30 years he served as Wesleyan's track and cross-country coach "reads like a 'Who's Who' in elite running," observed Hartford Courant Sports Columnist Lori Riley. She remembered Swanson, who died Aug. 12, at the age of 92, in an piece rich with comments from some of his well known—and fleet-footed —alumni.
Riley's roundup notes: "He coached [Amby] Burfoot ['68], who won the Boston Marathon in 1968, his senior year, and went on to become the editor of Runners World magazine. He coached Bill Rodgers ['70], who won four Boston marathons and four New York City marathons and become one of the most recognizable runners in the world. He coached Jeff Galloway ['67], who ran the 10,000 meters in the 1972 Olympics and pioneered the Galloway Run-Walk-Run method, enabling many to start running and continue in the sport injury-free. He coached John Fixx ['83], son of Jim Fixx, who wrote the iconic "Complete Book of Running" during the height of the running boom in 1977. He coached Sebastian Junger ['84], who went on to become a filmmaker and author and wrote the best-seller The Perfect Storm (and also ran a 2:21 marathon)."
And, the praise from these runners for their college coach included these comments:  Junger, in a Facebook post, recalled Swanson as "such a source of calmness and love.' Burfoot called Swanson "a rock… a second father."  Galloway noted that "Elmer helped focus on that importance of running without making it overbearing," and Fixx concurred: "Elmer's runners seem to run longer after college, and continue to do better … It's as though he paced his coaching so, in fact, our best years weren't in college."
Swanson, who had been inducted into the Wesleyan, Portland, and Middletown Halls of Fame, also is remembered fondly by Adjunct Professor of Physical Education, Emeritus, John Biddiscombe, who served as Swanson's assistant in track and field for a decade. "Elmer was a leader in the Athletics Department in making the transition to the coaching of women when Wesleyan added women's teams in the mid-1970's," Biddescombe recalled. "He enthusiastically embraced the coaching of women, and his extremely successful early women's cross-country and track teams reflected his support for women athletes. His women's track teams in the late 1970s and early '80s were the best in New England and scored high in the national championships." 
Swanson was predeceased by his wife of 61 years, Patricia Ann Swanson, and survived by his daughter, Kristen, and husband, Andy Cohen, of Oak Hills, Calif.; his son, Jay, and wife, Martha, of Portland, Conn. He is also survived by his grandson, Dr. Chris Swanson, and wife, Maggie, of Jacksonville, Fla.; his granddaughter, Ingrid, and husband, William Moss, of Glastonbury, Conn.; his great-grandson, Callum Elmer Moss; his sister-in-law, and two nieces.