Tavernier Suggests Ways Students Can Establish and Maintain Healthy Sleep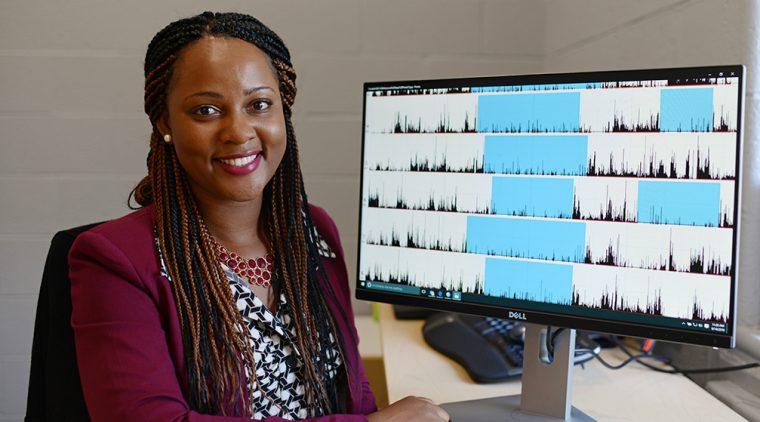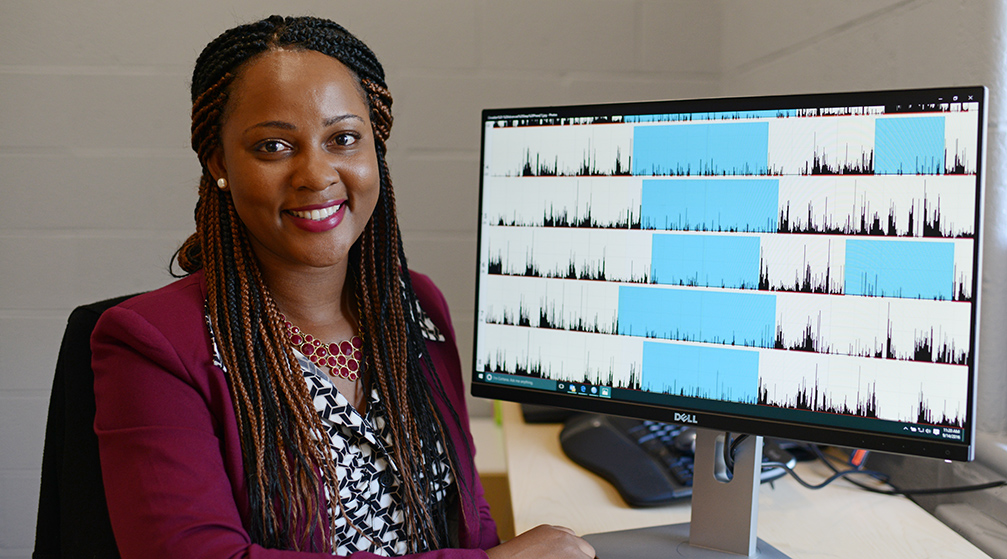 The new school year ushers in a wide array of emotions for both new and returning students – from feelings of excitement over leaving home for the first time among first-year students, to anxiety and nostalgia over post-graduation plans among seniors.
Amidst those emotions, students will face challenges in balancing their academic workload, socializing with friends, participating in extra-curricular activities, and maintaining family relationships — all within limited financial and time constraints. As the school year progresses, it may become increasingly challenging for students to strike a healthy balance across these various aspects of their university life. The unfortunate result for many students will be an ominous cloud of negative affect: levels of stress, anxiety, self-doubt, and rumination may increase over time. When students perceive that they are drowning in the sea of university demands, the first instinct is often to push themselves harder in order to stay afloat.
"Unfortunately, coping with the turbulent waves of university life inevitably results in compromises in one important human behavior – sleep," says Royette Tavernier, assistant professor of psychology. Tavernier is a developmental psychologist whose research examines the link between sleep and psychosocial adjustment among adolescents and emerging adults.
The National Sleep Foundation recommends that emerging adults (18-25 years) get between seven and nine hours of sleep each night; however, university life can strain this well-needed shut-eye.
Tavernier says the issue of inadequate and poor quality sleep is especially pertinent to the university setting for a number of reasons. First, university students generally do not have direct parental supervision when it comes to setting bedtimes and wake times and thus may be more likely to adopt unhealthy sleep-wake patterns. Second, university students have more rigorous academic schedules, which require significant time commitment, resulting in compromises in sleep time. Third, there is a high prevalence of late-night activities on campuses (e.g., parties, club meetings, study groups), which fosters a culture of irregular sleep-wake timing.
"For these reasons, it is critical for university students to be vigilant of their sleep-wake patterns and to understand the various ways in which sleep may be implicated in their overall university adjustment," she says.
Tavernier suggests eight ways students can establish and maintain healthy sleep while in college:
When you have the option, opt for classes that match your chronotype.
There are significant individual differences in preferences for early versus late sleep-wake timing – researchers refer to this as your chronotype (or morningness-eveningness preference). Some individuals are morning-types, who prefer to go to bed early in the evening and wake up early in the morning. Other individuals are evening-types, who prefer to go to bed late at night and wake up later in the morning. Evening-types work best later in the day and have little trouble working on assignments or studying late at night. Most individuals, however, are neither-types, who fall somewhere in between these two extremes. Notably, your morningness-eveningness preference is a behavioral manifestation of your circadian timing – do your best to obey it! It is important to be aware of your own optimal timing for activities that demand a high level of physical and cognitive resources (e.g., exercising, studying) and listen to your body. If you tend to be more morning-oriented, you should opt for earlier classes; if you tend to be more evening-oriented, you should opt for later classes.
"Syncing your class schedule with your chronotype will allow you to perform at your peak and improve your sleep quality," Tavernier says. "You will be engaged in the most demanding parts of your day when you have the most energy and will get to sleep more easily at night, in line with your natural biological clock."
Make plans to socialize during the day
Late-night activities are a significant part of the college experience. Some of these late-night activities include socializing with friends – a very important aspect of university adjustment.
"However, instead of piling your day-time schedule solely with academic work and leaving the night (especially the weekends) for socializing with friends, try to strike a balance and schedule some of your social activities for the day time in order to free up time for sleep," she says.
Be vigilant of changes in your sleep-wake patterns
Researchers consistently have found a link between poor sleep and emotional maladjustment. The link is bidirectional (i.e., poor sleep affects your emotions, and, in turn, negative emotions affect your sleep). Be aware of any changes to your sleep, including whether you are experiencing more difficulty falling asleep, the number of times you wake up throughout the night, the amount of sleep that you get on an average night, and how refreshed you feel in the morning.
"Negative changes in any of these aspects of your sleep could provide insight into your emotional health – so be vigilant," Tavernier says.
Tavernier suggests that students keep a sleep diary to help keep track of their sleep behaviors at night, as well as certain aspects of their daytime lifestyle (e.g., diet, exercise, mood) that may contribute to sleep. She also suggests investing in a sleep/activity monitor to track sleep-wake patterns (e.g., bedtime, wake time, and sleep duration).
Do your best to maintain a regular week-weekend sleep-wake pattern
University students are notorious for having highly variable sleep-wake patterns across the week, Tavernier explains. The term weekend delay refers to the difference in bedtimes between week and weekend sleep. On the other hand, weekend oversleep refers to the discrepancy in total sleep duration between the week and weekend. Some studies have found that first-year students sleep in more than 90 minutes on the weekend than they do during the week.
"While catching up on sleep during the weekend sounds like a good idea, highly variable bedtimes and wake times across the week negatively impact sleep behaviors through disturbances to the body's natural circadian timing," Tavernier says. "Maintaining a regular sleep-wake schedule facilitates easier sleep onset and allows for more restful sleep. So, it is not just enough to get adequate sleep; you should also try to minimize the degree to which you vary your bedtimes and wake times on weekdays and weekends.
Take time to unplug
The excessive use of technology can negatively impact sleep. Technology use, particularly at bedtime may increase arousal, depending on the content of what we engage with via screens, making it more difficult to fall asleep and stay asleep throughout the night. Notifications from phones can also disrupt sleep – turn them off or set your phones to silent or sleep mode at least 1 hour before you are ready to go to bed. This will allow your brain and body to transition into a less aroused state and prepare you for an easy transition into more restful, undisturbed sleep. Furthermore, the blue-light emitted from some devices (e.g., TV, smartphone, laptop, tablet) suppresses the production of melatonin, which is one of the hormones that regulate sleep.
"Taking time to unplug during the day allows you to accomplish more, freeing up time for adequate sleep at night. Taking time to un-plug at nights facilitates the onset of sleep and may reduce night awakenings due to distractions from electronic devices," Tavernier says.
Be mindful of your diet and exercise habits
Good sleep goes hand in hand with a balanced diet and good exercise habits. Specifically, consuming caffeine – particularly in the afternoon and evening – interferes with the body's circadian rhythm and results in compromised sleep duration and quality: A highly alert individual is less likely to ease into restful sleep. Furthermore, research shows that exercise promotes good sleep, so adopting a more active lifestyle may result in immense health benefits in the bedroom.
"There are many opportunities to get involved in sporting and extra-curricular activities at Wesleyan. Moreover, if there is a particular sport or activity that is not available, don't be afraid to take the initiative and start a group/club," Tavernier says. "Additionally, talking walks — even as short as 10 minutes per day — is not only a worthwhile physical activity but can be a good way to clear the mind and regulate your mood, indirectly having a positive influence on sleep.
Nap smart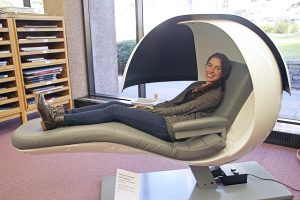 Taking short naps during the day is one way to assist with combatting daytime fatigue. Tavernier encourages students to try an EnergyPod, located in Olin Library and the Science Library, or find a quiet, comfortable place to nap away from direct sunlight.
Previous research indicates that 10-minute power naps were most effective in combating sleepiness and improved vigor and cognitive performance, relative to 5-minute, 20-minute, and 30-minute naps. Recently, however, research indicates that naps that range between 60-90 minutes were highly effective in improving procedural memory.
"Napping for longer than 90 minutes may negatively interfere with nocturnal sleep, leading to irregular bedtimes and wake times," she says.
Take a course on sleep
The underlying mechanisms of how exactly sleep improves our day-to-day wellbeing remains somewhat mysterious. Nevertheless, significant strides have been made in the field to illuminate our knowledge on sleep and its role in our lives.
As sleep research is becoming increasingly common in fields like developmental psychology (beyond neuroscience and clinical programs), more courses on sleep will become available to students.
"Learning more about sleep will only serve to improve your knowledge and appreciation of what has been considered one of the most critical behaviors for overall health and wellbeing," Tavernier says. "I recommend PSYC 343 for students at Wesleyan University!"