McGill '16 Screens Short Film at Princeton Film Festival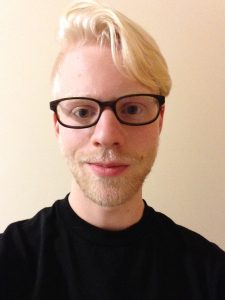 Film studies major Adam McGill '16 screened his short film Punked! at the Princeton Student Film Festival this summer. McGill's comedy is about a punk rock singer and guitarist named Dale, whose allegiance to his music is challenged when a new romance enters his life.
McGill filmed the short in the fall of 2015 as a senior thesis project at Wesleyan. During his time at Wesleyan, McGill was taught by Jeanine Basinger, the Corwin-Fuller Professor of Film Studies, who said, "I'm happy to see his work recognized outside the classroom. He joins a long line of Wesleyan film majors who have gone on to great things after they leave Wesleyan. It's lots of fun to watch this happen."
Since graduating in May, McGill worked on small sets in the New York City area and he's currently interning at Sony Pictures Classics, a film distributor, working with their marketing team.
Punked! also will be playing later this September at the Golden Door International Film Festival in Jersey City, N.J. View his film online here.