Brown University Provost Locke '81 Receives Society for Progress Medal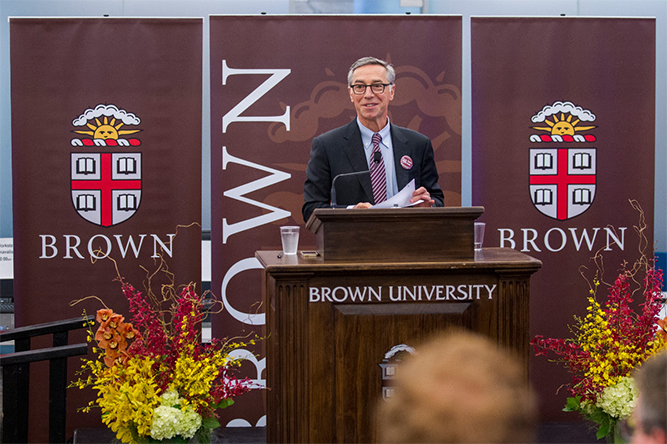 Richard Locke '81, Brown University provost and professor of political science and international and public affairs, was recently awarded one of only five inaugural Progress Medals from the Society for Progress. The Society, a group of scholars and leaders both independent and academically diverse, selected an international cohort to receive the four medals in scholarship and one in leadership with the "hope and hypothesis…that these medals will help attract and accelerate intellectual and practical attention to the moral dilemmas emergent in our modern economy."
Locke, a scholar and authority on international labor relations and worker rights, and comparative political economy, was recognized "for work on labor justice in global supply chains and the influence and limits of private standards in integrating equity and efficiency," as the Society stated in their announcement.
"I am both honored and humbled to be a recipient of this award," Locke said in a news release from Brown University.
"Throughout my career, I have been challenged and inspired by issues of fairness, justice and human rights, and I have had the great privilege of engaging in research focused on understanding and improving working conditions and labor rights. It is particularly gratifying that, through this new award, the Society for Progress is emphasizing the role and value of university-based research in addressing some of society's most pressing issues."
Others who received these awards included Klaus Schwab, former professor of business policy at the University of Geneva and founder of the World Economic Forum, as well as Indra Nooyi, chair and CEO of PepsiCo, who received the leadership award.
In addition to the gold Progress Medal, each award winner received $100,000 from the Society. Locke used the funds to contribute to endowed scholarships he had established at Brown and at Massachusetts Institute of Technology. Locke, who holds a doctorate from MIT, served on the faculty for 25 years. He joined the faculty of Brown University in 2013, serving as the Howard R. Swearer Director of the Watson Institute for International and Public Affairs, and he was appointed provost in July 2015.