Schorr's Flying Carpets Paintings on Display Oct. 27-Dec. 11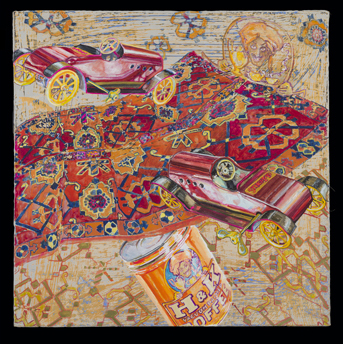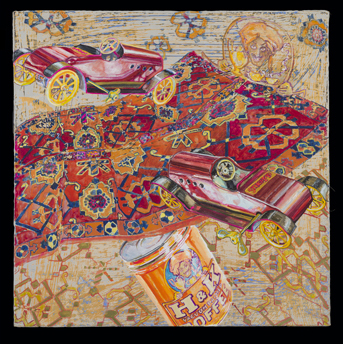 Flying Carpets: New Paintings by David Schorr, a solo exhibition and site-specific installation by Professor of Art and Chair of the Art and Art History Department David Schorr, will be on view in the Main Gallery at the Ezra and Cecile Zilkha Gallery from Oct. 27 through Dec. 11. Gallery hours are Tuesday through Sunday from noon to 5 p.m. Gallery admission is free.
In this latest body of work, Schorr revisits childhood days spent playing on his grandmother's Persian rugs. Vibrantly colored taxis and race cars drive over paisley designs, while model planes soar midst coffee cans and mailing labels. In his practiced technique of combining gouache with silverpoint drawing on linen, he recreates the richly colored world of his young imagination.
In each of the paintings, the artist contrasts familiar toys from the mid 20th century with images that hint at the exotic and expansive world beyond his Chicago home. Trains and dump trucks traverse floating prayer rugs next to the turbaned man from a coffee company's logo. The steel models recall an era before plastic, during an earlier day of commercial travel when the possibilities of exploration and discovery felt infinite and even exotic.
The public is invited to attend the Opening Reception from 4:30 to 6:30 p.m. Nov. 1 in the Ezra and Cecile Zilkha Gallery, with a gallery talk by David Schorr at 5 p.m.
Schorr also will speak during a preview of his exhibit from 2 to 4 p.m. Oct. 29 in the gallery. This talk is held in conjunction with Family Weekend.
The works in this exhibition are courtesy of Ryan Lee Gallery in New York. Schorr is represented by the gallery, who will present Flying Carpets in January 2017. For more information see the Center for the Arts website.