Students Help Local Residents Prepare for a Thanksgiving Day Feast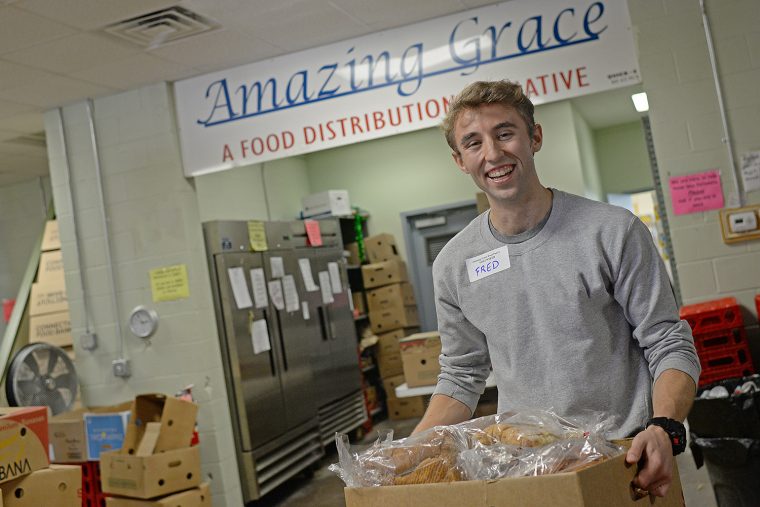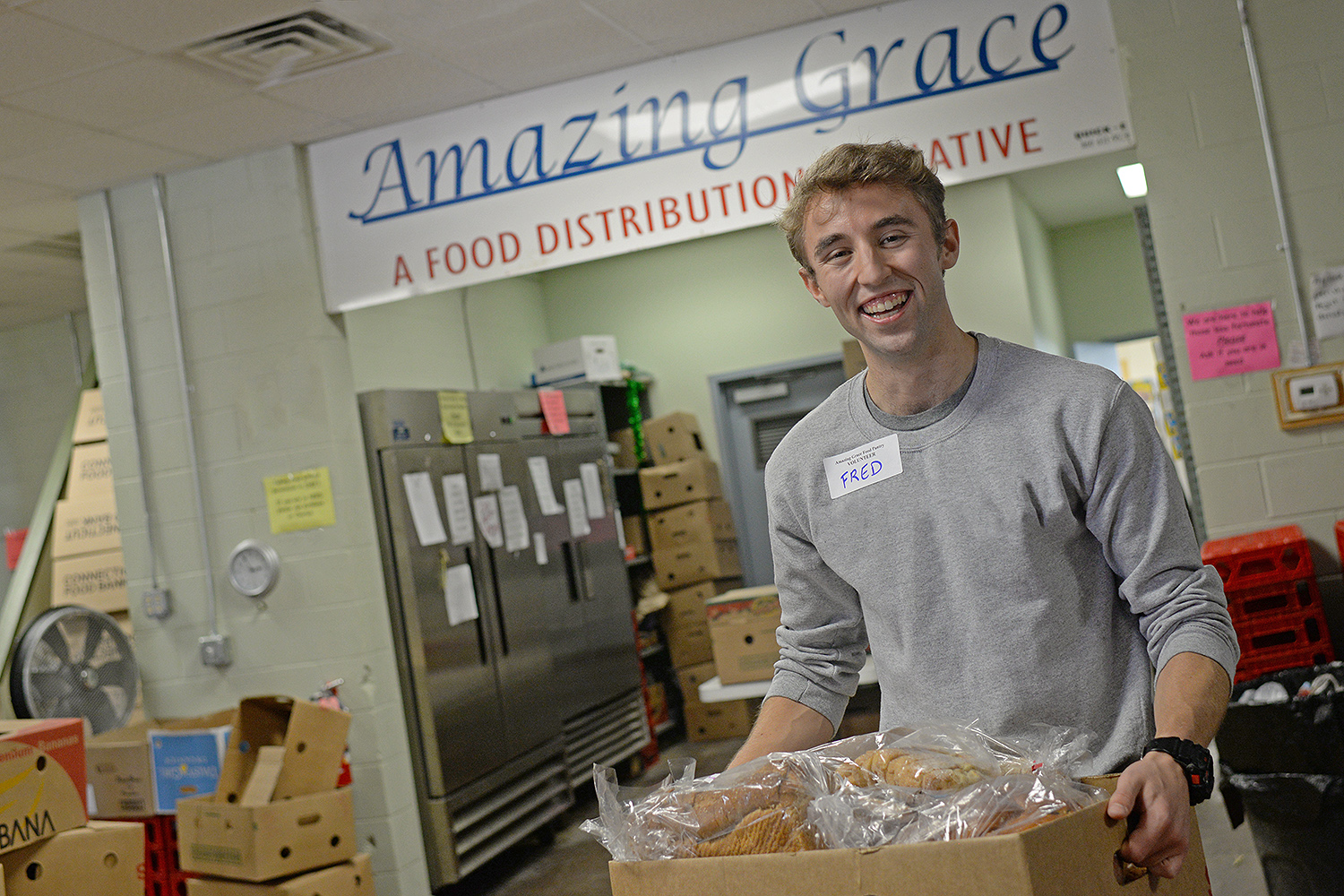 On Nov. 24, dozens of low-income Middletown families will enjoy a Thanksgiving Day feast courtesy of a local food pantry and the Jewett Center for Community Partnerships at Wesleyan.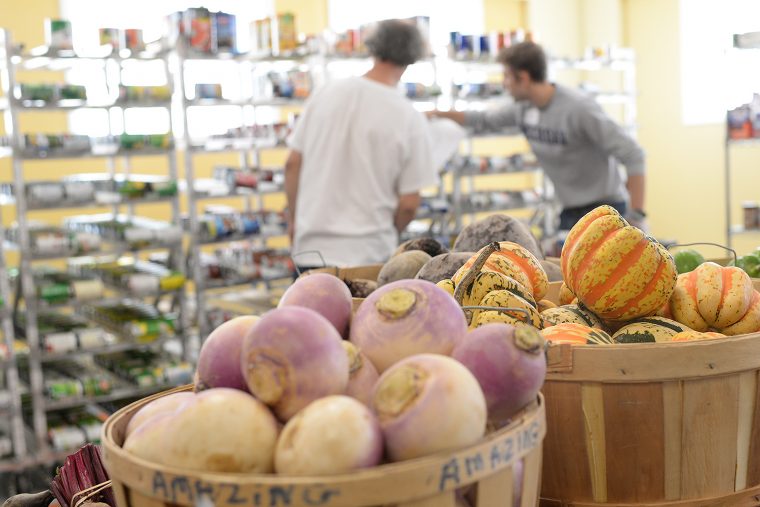 From Oct. 31 to Nov. 18, four Wesleyan students, three alumni and JCCP staff are hosting Middletown Community Thanksgiving Basket Project registration at Amazing Grace Food Pantry in Middletown. Families who sign up will receive a baked turkey and traditional fixings on Thanksgiving Day.
In addition, the JCCP is hosting a Stuffing and Gravy Drive (jars or cans) from now until Nov. 18. Boxes are placed in North College, Usdan, Olin, Freeman Athletic Center and Allbritton. Wesleyan volunteers also will assist Middletown Police Department with a turkey drive on Nov. 18 and 19. They also hosted fill-a-bus events at local supermarkets on Nov. 5 and 6.
Volunteer Fred Ayres '17, a neuroscience and economics double major, has served as an intern for the St. Vincent de Paul Middletown group, which includes Amazing Grace, throughout the fall semester. In addition to directly volunteering with families who shop at the pantry, he has also learned how Amazing Grace stocks their shelves, how they raise funds and collect donations, and the role of the food pantry as an intake center to provide further services, such as housing and transportation assistants to guests.
"I wanted to specifically volunteer for the Thanksgiving project because few events allow for collaboration between such a diffused group of community-based organizations and students at Wesleyan," Ayres said. "As a resident of Middletown during my time at Wesleyan, I wanted to give back to my community as well as promote a lasting sense of volunteerism among my peers."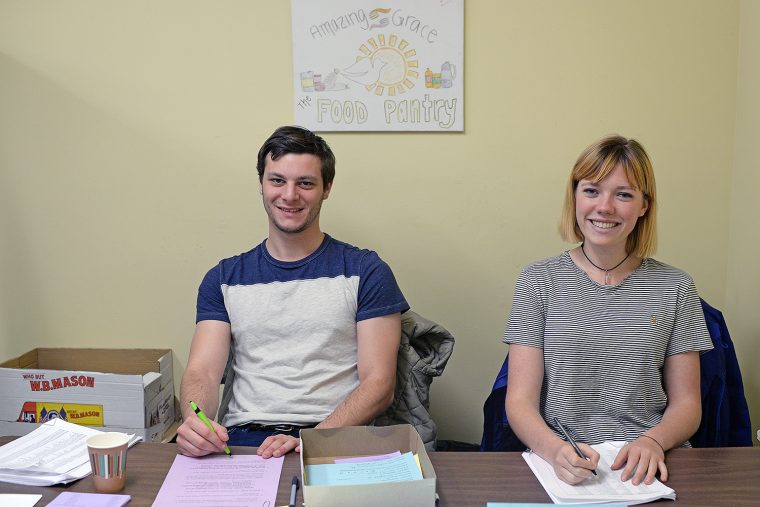 Ayres also spends part of his internship at the St. Vincent de Paul Soup Kitchen, where upwards of 100 individuals in need are served every day.
The Thanksgiving project allowed Celeste Smith '19, a earth and environmental sciences major, to volunteer in the Middletown community. She's previously volunteered at the food pantry and meal service Church Street Eats in Hartford, Conn.
"I wanted to volunteer at Amazing Grace because I feel that it is important to be part of the community in which you reside and not just exist on the fringes for four years," Smith said.
Other Jewett Center for Community Partnerships volunteers who are participating in the Thanksgiving project include Makaela Kingsley '98, Diana Martinez '07, Rebecca Jacobsen '15, Gabe Weinreb '18 and Lydia Ottaviano '17. Guided by the principles of mutual respect and collective responsibility, the JCCP focuses on developing and maintaining local partnerships with schools, nonprofit organizations, government agencies and the community at large through the Office of Community Service and Volunteerism, the Green Street Teaching and Learning Center, the Center for Prison Education, and WESU 88.1FM.