Mitchell Scholar Treuhaft-Ali '17 Will Continue Theater Studies in Ireland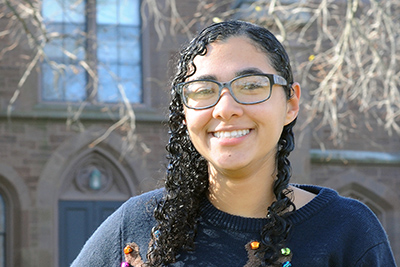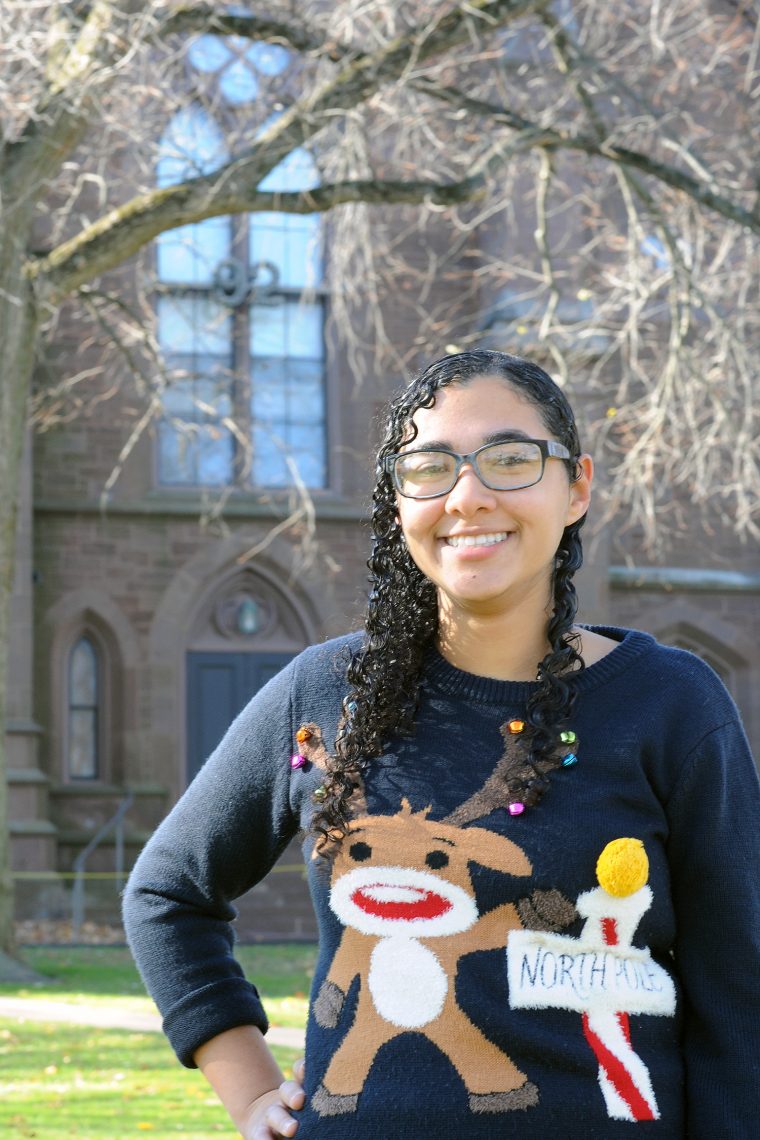 Next spring, May Treuhaft-Ali '17 will graduate from Wesleyan with a degree in theater, but that won't be her final curtain call. As a Mitchell Scholar, Treuhaft-Ali will have the opportunity to advance her studies on theater and performance at Trinity College in Dublin.
The George J. Mitchell Scholarship Program is a nationally competitive award for U.S. citizens sponsored by the U.S.-Ireland Alliance. Named in honor of the former U.S. Senator's pivotal contribution to the Northern Ireland peace process, the Mitchell Scholarship is designed to introduce and connect future American leaders to the island of Ireland, while recognizing and fostering academic excellence, leadership and a commitment to public service.
The scholarship will allow Treuhaft-Ali to return to Ireland; she studied abroad there in 2015 and "completely fell in love with Irish theater and the city of Dublin."
"So many of the plays and playwrights I studied there are fascinating not just from an artistic standpoint, but because they were directly in dialogue with Irish politics," Treuhaft-Ali said. "For example, it's one of the only countries I know of where the content of a play has caused a riot to break out in the theater!"
At Wesleyan, Treuhaft-Ali wrote and directed plays for the Theater Department and Second Stage. Her plays were twice selected by the Los Angeles-based Blank Theatre Company's Young Playwrights Festival, a national competition for young writers. In 2014 and 2015, she was selected to attend the Young Playwrights Inc. National Playwrights Conference and recently served as an apprentice to the director of Sarah DeLappe's The Wolves, an off-Broadway play that was selected as a New York Times Critic's Pick. She also is the founder and coordinator of AnyStage at Wesleyan, a play development program that provides resources such as table reads and workshop productions for student playwrights.
Following her time abroad, Treuhaft-Ali will pursue her interest in Irish culture. Her thesis, a site-specific staging of James Joyce's Ulysses, "is in some ways an attempt to bring together two communities I love, Wesleyan and Dublin," she says.
At Trinity, Treuhaft-Ali will work toward a MPhil in theater and performance. The research-based program focuses on performance studies in the context of contemporary Irish theater.
"The Wesleyan Theater Department taught me that when you immerse yourself in theater theory, you are more capable of making theater that challenges aesthetic and social conventions. As an aspiring playwright and director, I hope to build on my theoretical understanding of theater in order to push boundaries in my own plays," she said.
Kate Smith, associate director of fellowships, internships and exchanges at Wesleyan's Center for Global Studies, said scholarship applicants are interested in fellowships for a number of reasons, one being that they were influenced by their study abroad experience. "The more students engage with their academic studies and discover what interests them, the more purposeful they can be in exploring fellowships and scholarships," she said.
The last Wesleyan student to win the Mitchell Scholarship was Gabe Paquette '99, who is now a professor of history at Johns Hopkins University. While a Mitchell Scholar, Paquette earned a MA in culture and colonialism from the National University of Ireland in Galway.