Jasper '98 Writes/Directs Sundance Hit Patti Cake$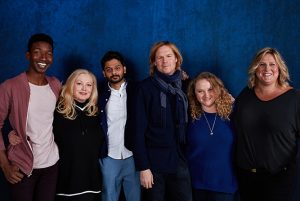 Patti Cake$, the debut film from writer-director Geremy Jasper '98, has earned the second-highest deal of Sundance so far this year, with a bid of $9.5 million for distribution rights from Fox Searchlight. Producers are Dan Janvey '06 and Michael Gottwald '06; Matthew Greenfield '90 is senior vice-president of production at Fox Searchlight—all Wesleyan film majors.
Jasper's film tells the story of Patricia Dombrowski, (played by Danielle Macdonald)—also known as Killa P and Patti Cake$—an aspiring rapper in New Jersey. In his review, IndieWire's Eric Kohn called the film the "best hip-hop movie since Hustle & Flow."
The film premiered at Sundance's Eccles Theater on Monday afternoon, receiving two standing ovations, rave reviews—and the Fox Searchlight deal.
Indiewire's Chris O'Falt '99, who was also a film major, interviewed Jasper for "How Patti Cake$ Director Geremy Jasper Went from Indie Rocker to Breakout Filmmaker" and Jasper told him, "It's probably about as autobiographical a story as I'm capable of telling." O'Falt described Patti Cake$ as "one of the most-anticipated films hitting Sundance this year, " which" has put Jasper on Hollywood's director watchlists."
In tracing Jasper's biography, from boyhood in a New Jersey suburb, O'Falt notes the similarity to that of the fictional Patricia Dombrowski.
Jasper, who was an American Studies major, had returned to his parents' home after college. After touring with his band, Fever, Jasper was introduced to Benh Zeitlin '06—a Wesleyan film major—through a mutual friend. Zeitlin, who was headed to New Orleans to make his first short film, Glory at Sea, invited Jasper to star in the 2008 project. (Zeitlin's first feature film, four years later, was Beasts of the Southern Wild in 2012, which won the Grand Jury Prize: Dramatic, at that year's Sundance Film Festival—among numerous other awards.)
Hurricane Sandy in 2012 again brought Jasper back to parents' house—this time to help with cleanup—and he began writing rap lyrics, along with the initial version of the Patti Cake$ screenplay. Accepted into the Sundance Writing Lab, with Quentin Tarantino as his first advisor, Jasper wrote nearly a dozen more drafts of his screenplay and was invited back to their Directors Lab.
Reflecting on the process, Jasper told O'Falt, "This has been the most fun, intoxicating and rewarding year of my life making this film….I'm so thankful for the winding path that got me here, but there's something about it that feels so right about it."