Fowler, Gollust '01 Author Paper on News Coverage of Obamacare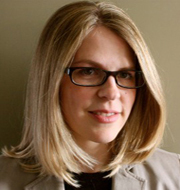 Associate Professor of Government Erika Franklin Fowler and Sarah Gollust '01, associate professor at the University of Minnesota School of Public Health, are authors of a new paper published Feb. 16 in the American Journal of Public Health examining local TV news coverage of the Affordable Care Act rollout in 2013 and 2014. Though television news played a key role in providing information about the ACA when Americans were first learning about the details of new insurance options open to them, this is the first analysis of public health-relevant content of this coverage during the ACA's first open enrollment period.
In an analysis of 1,569 local TV news stories aired between October 1, 2013 and April 19, 2014, the authors found that less than half of the coverage focused on the health insurance products available through the law. They note that key policy aspects of the ACA were surprisingly uncommon even among these stories, with Medicaid mentioned in only 7 percent of them and the availability of subsidies mentioned in only 8 percent. More than a quarter of the stories in the sample focused solely on the politics of the ACA, not mentioning any information about health insurance products.
Fowler and Gollust note that journalistic coverage of the law tended to focus on which side was "winning" and "losing," with attention to enrollment expectations and achievement, as well as problems with the websites, over policy substance. It also relied heavily on partisan sources, while few news stories included any public health, medical, research, or health advocacy perspectives. They argue that this framing of the law by the local TV media limited citizens' exposure to the substance of ACA policy content, increasing the likelihood of the public perceiving the law through a politically charged lens.
"Coverage of strategy in news is nothing new, but I was surprised by how little coverage some basic information–such as mentions of subsidies being available–got in local television news," said Fowler.
The research was supported by a grant from the Robert Wood Johnson Foundation's SHARE program, which is managed by SHADAC (State Health Access Data Assistance Center). The project began in October 2013, and a group of about 25 students with the Wesleyan Media Project worked on coding local TV news stories from March to July 2015. Two students, Alison Mann '17 and Courtney Laermer '17, are acknowledged in the paper for their work developing coding protocols and training other students.
"This is certainly an exciting time to be doing research on the ACA and how the media has impacted it over the years," said Learner. She is currently working on a senior thesis that is also looking at how local broadcast media (advertisements and news coverage) surrounding the ACA during the first open enrollment period influenced viewers' opinions of the law.
"In my thesis, I am analyzing whether or not specific content within the media has an impact on viewers' perceptions, so I am definitely looking forward to investigating this topic further and seeing whether or not the results are consistent and where differences are seen," she said.