Creative Campus Fellow's Performance Explores Personal Communication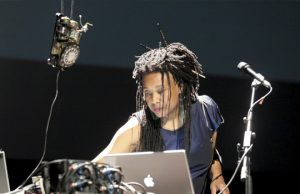 Wesleyan's 2016-2017 Creative Campus Fellow in Music Pamela Z, a composer and performer, is performing Correspondence, a work in progress, tonight (March 9). Her ensemble performance includes voices, electronic processing, sampled speech sounds, gesture-controlled MIDI instruments, projected image, and an array of mechanical and digital communication gadgetry.
Ms. Z's performance looks at the history of personal communication from hand-written letters and telegraphs to electronic messaging and video chats in Correspondence, a sonic and visual exploration of the ever-evolving modes of personal communication.
More than 20 students are involved in the performance as members of the chorus, playing viola, bassoon, percussion, and operating typewriters.
As a Creative Campus Fellow, Ms. Z is commissioned by Wesleyan to create new works in collaboration with faculty and students across disciplines and conducts substantive research on campus for creative development. The Creative Campus Fellowship is made possible by a grant from The Andrew W. Mellon Foundation.
The performance is free and open to the public, and will take place on Thursday, March 9 at 8pm in the Ring Family Performing Arts Hall.
Ms. Z is a composer/performer and media artist who makes solo works combining a wide range of vocal techniques with electronic processing, samples, gesture activated MIDI controllers, and video. She has toured extensively throughout the U.S., Europe, and Japan. Her work has been presented at venues and exhibitions including Bang on a Can (New York), the Japan Interlink Festival, Other Minds (San Francisco), the Venice Biennale, and the Dakar Biennale. She's created installations and has composed scores for dance, film, and chamber ensembles. Her awards include a Guggenheim Fellowship, the Doris Duke Artist Impact Award, Creative Capital, the Herb Alpert Award, MAP, the ASCAP Award, an Ars Electronica honorable mention, the NEA/Japan-US Fellowship, and a Djerrassi Resident Artist Program residency.