McGuire '17, Araki '17 Receive Seed Grant to Spearhead MindScope Health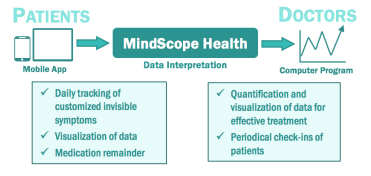 MindScope Health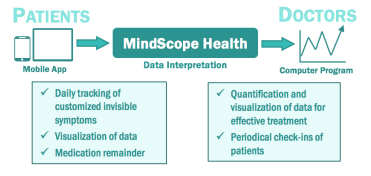 , an organization led by Siri McGuire '17 and Taiga Araki '17 has won the $10,000 Connecticut College Aetna Foundation seed stage grant—a branch of InnovateHealth Yale and the Aetna Foundation.
MindScope works to improve the quality of life for patients with brain diseases and mental illnesses. Founded by patients of brain diseases and mental illnesses, MindScope Health aims to transform the way that invisible diseases and symptoms are communicated and treated. By allowing patients to alternatively communicate their symptoms to their doctors through the use of an app, symptoms can be recorded overtime, as patients rate the severity of their symptoms throughout the day. That information is then compiled and displayed for doctors, creating a patient-led and patient-centered design process.
Stemming from personal health experiences that McGuire and Araki have gone through—McGuire being diagnosed with a pituitary tumor after her freshman year in college and Araki, as an international student, developing a social anxiety disorder from a number of social struggles he encountered—both saw an opportunity to improve the quality of life for patients.
By June, McGuire and Araki hope to have the organization based in Cleveland, Ohio where one of their goals includes establishing a relationship with a local health clinic. They will use the grant funds to provide a stipend for a programmer, obtain legal counsel and accounting services, purchase a domain name and cover web hosting fees. In order to avoid placing additional financial burden on low-income patients, MindScope Health will provide the MindScope Health app and computer program to patients and hospitals at no cost to them. Anonymized data from their program will be sold to research institutions and medical companies that are developing new treatment options and medications.
More information on MindScope Health and the other seed grant winners is online here.