NASA Supports Planetary Origin Research at Wesleyan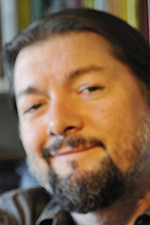 Jim Greenwood, assistant professor of earth and environmental sciences, and Bill Herbst, the John Monroe Van Vleck Professor of Astronomy, professor of integrative sciences, have received a research award from NASA in the amount of $550,000 for a program titled "Experimental simulations of chondrule formation by radiative heating of hot planetesimals."
The grant will allow Greenwood and Herbst to hire a post-doctoral fellow who will work in Greenwood's lab in Exley Science Center to reproduce chondrules — small spherules of melted rock that formed early in the history of the solar system and hold clues to the origin of the planets.
"The origin of chondrules has been a cosmochemical mystery for many decades," Herbst said.

Herbst and Greenwood received the support to test a new theory that they have proposed, known as the "flyby" model. In a paper to the journal Icarus published in 2016, the scientists showed that primitive solar system material irradiated by hot magma during a close flyby of a planetesimal with incandescent lava on its surface could be responsible for the formation of at least some chondrules.
The grant, which comes from the NASA program "Emerging Worlds," will allow them to test this theory in detail.
Their interdisciplinary research grew out of a seminar series sponsored by the Planetary Science group, which is rooted in the Astronomy and E&ES departments, but has a wide following among faculty in other science and non-science departments at Wesleyan.