Students Learn about Global Poverty at Hunger Banquet Fundraiser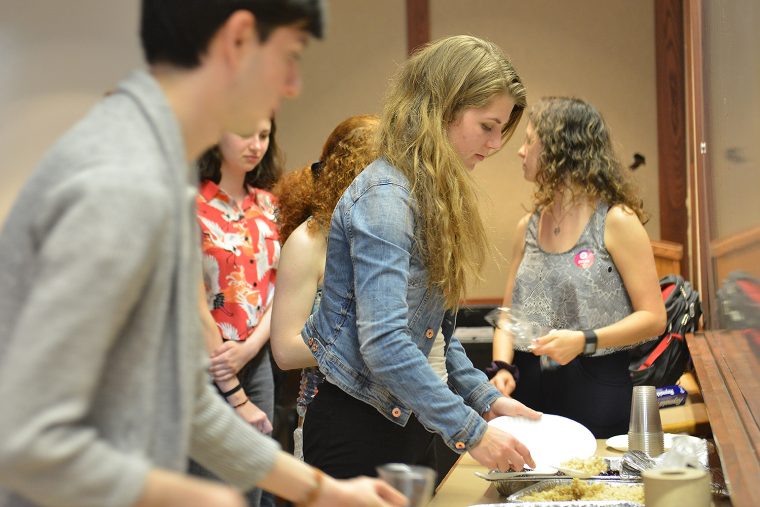 On April 12, the Hunger and Homelessness student group in the Office of Community Service raised more than $500 at the Wesleyan Hunger Banquet, an interactive simulation of global poverty rates. The funds will be donated to the Amazing Grace Food Pantry in Middletown.
More than 35 Wesleyan students and Class of 2021 admitted students and their parents, visiting for WesFest, attended the event. Participants were placed into an income bracket at random and then provided a seating arrangement and meal indicative of that income level.
Anthony Hatch, assistant professor of science in society, assistant professor of African American studies, assistant professor of sociology, served as master of ceremonies.
"By attending this semester's hunger banquet, you have deepened your awareness of world hunger and poverty. The test is how you put this knowledge to use," he said. "Together, we can change the world. Rise up. Join the fight."
The high-income meal was donated by Haveli Indian Restaurant, while two of the coordinators, Fred Ayres '17 and Abby Matlack '20, provided the middle- and low-income meals. Ron Krom of St. Vincent de Paul also spoke at the event.
"The Wesleyan Hunger Banquet is a simulation of the magnitude of global poverty and hunger that allows attendees to visualize and grasp its severity," said Ayres, who leads the Hunger and Homelessness group. "Through sharing a meal with others, attendees learned about the misperceptions and solutions that surround income inequality."