Poet Reece '85 and Honduran Orphans Are Subject of James Franco Documentary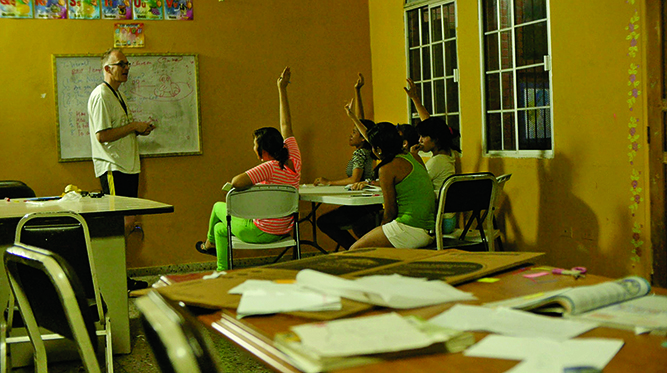 The film, Voices Beyond the Wall: Twelve Love Poems from the Murder Capital of the World, documents the experiences of poet, priest, and teacher Spencer Reece '85 in the year he spent teaching poetry at Our Little Roses, a home for abused and abandoned girls in San Pedro Sula, Honduras.
Executive produced by Hollywood actor James Franco and directed by Brad Coley, the film had its world premier at the Miami Film Festival in March. Sherri Linden, in the Hollywood Reporter, called it "eloquent," adding that "[i]t captures an inspiring connection between Reece and his students, whether they're discussing love and loss or exploring meter through Auden and salsa dancing. It's the connection between language and life."
Reese, whose debut collection, The Clerk's Tale, (Houghton Mifflin, 2004) was chosen for the Bakeless Poetry Prize, had been ordained as an Episcopal priest in 2011, and first visited Our Little Roses as a three-month-long Spanish language immersion program to help him serve his community. He told Joan Crissos of the Washington Post (The Priest Who Healed Orphans with Poetry) that over the course of these months he was struggling to learn Spanish and did not spend much time with the girls. But the night before he returned to America, he noticed one of the girls outside his room. Speaking in a language he was just beginning to understand, she told him, "Don't forget us."
And he didn't. Back in the States, he applied for a Fulbright to return to teach poetry to the girls, "using the lines of meters and verse to help them excavate the layers of emotional scars left behind after their parents abandoned them." The Fulbright, he admitted to Crissos, might have seemed an unlikely stretch: "'The whole thing didn't look very good on paper…. I hadn't taught before, I wasn't a priest that long, and I hardly spoke Spanish.'
"'But poetry was what I knew…. It gave me a place where I could find solace, feel that I was loved.'"
With the grant—and a film crew to help tell his story—Reece returned in 2013. His curriculum included a variety of English language poets such as Shakespeare, W.H. Auden, and Langston Hughes, and he encouraged the girls to write their own poetry, which they would translate from Spanish into English. He had planned to publish these poems, and the book, Counting Time Like People Count Stars (Tia Chucha Press), will be published in time for Christmas, he notes on the Little Roses Facebook page.