Wesleyan Team Takes Second Prize in Investment Contest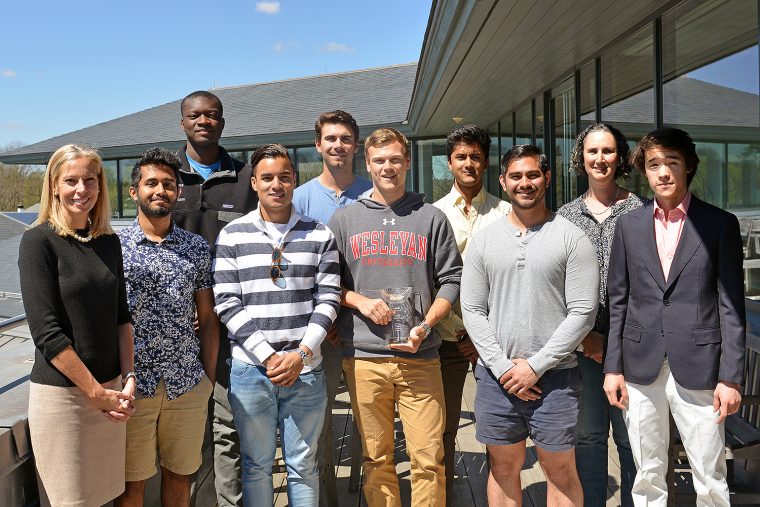 A team of Wesleyan students took second place with a 24.28 percent return in the 2017 Adirondack Cup, a stock picking contest for college students interested in the investment field. This is the sixth year that Wesleyan has fielded a team, and represented the best performance to date. The contest offers a unique setting for students to test their investment research skills using businesses not widely covered by analysts and the news media.
Over 160 students from 22 colleges and universities participated in the contest this year, which focuses exclusively on "small cap" public companies, the expertise of the contest's sponsor, Adirondack Research & Management, Inc. This firm is an advisor to The Adirondack Small Cap Fund (ADKSX), an SEC registered no-loan mutual fund established in 2005. A team from Union College took first place. See the final results here.
Wesleyan's team members included Eddie McCann '19, Nikolas Ortega '19, Daniil Plokhikh '19, Attul Jakkampudi '20, Sonja English '20, Mitchell Motlagh '20, Sahil Shah '19, Kofi Ofori-Darko '20, Dan Tran '20, Allesandro Lorenzoni '20 and Daniel Lombardo '19.
The competition began in October 2016. Teams were expected to research and allocate a hypothetical $1 million portfolio among five small cap stocks (defined as companies with market caps between $50 million and $3 billion). Students create a thesis on their picks and industry diversification is required. To encourage a long-term focus, teams are only allowed to change their portfolio once during the competition.
"Our group worked together to select a number of stocks, focusing more on the technicals than the fundamentals, given the goal and timeframe of the competition. Group members individually researched different industries, and we collaborated to make our collective selections. Overall our success was attributable to solid research and collective decision making that, in hindsight, fit market conditions very closely," said McCann.
"The Wesleyan team assembled an interesting collection of growth stocks and concentrated most of their assets in a couple of positions. In the end, it was a combination of two technology focused companies—the high flying iRobot Corporation (IRBT) and the Cray Inc. (CRAY) turnaround story—that drove results," said Greg Roeder, co-founder and co-portfolio anager at Adirondack Funds. "Congratulations on great picks and timely trades."
"Wesleyan Investment Group (WIG) gives students a chance to learn about economic and financial principles while handling a small amount of money linked to the endowment," said Associate Professor of Economics Abigail Hornstein, who advises the group. "The competitions allow a smaller number of students to find out the limits of their knowledge in a friendly, competitive environment. Some of the students enroll in economics classes to better understand their experience, and some of these are also economics majors. My financial economics classes have always involved project-based learning where the project is the outgrowth of classroom lectures. The WIG teams in the competitions are essentially creating their own syllabi to help them understand the project as they figure out where their holes lie in a given year."