Jenkins Interviewed on BBC About New Play 'Islands'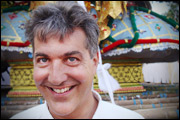 Professor of Theater Ron Jenkins was a guest on the BBC program "Sunday" to discuss his new play, "Islands: The Lost History of the Treaty That Changed the World." The play, commemorating the 350th anniversary of the Treaty of Breda in which the Dutch ceded Manhattan in exchange for the tiny spice island of Rhun, premiered April 21 and 22 at Wesleyan's Center for the Arts.
Jenkins' interview begins about four-and-a-half minutes in. Or, on the BBC page, scroll down and select the "Islands" chapter.
"We're performing the actual text of the 1667 Treaty of Breda. In this treaty, if you look closely at the words, you'll see that the English and the Dutch were ending their war," said Jenkins told the BBC.
"As part of the agreement, they were also trying to erase from history all the awful things that they had done during the war. And among those awful things were the massacre of the indigenous Muslim population of the island of Rhun. And we have the Dutch character singing the words of the treaty, and then the indigenous characters question that. […] Those murders did occur and we can't forget that. There's a back and forth dialogue between the colonial masters and the indigenous victims of colonialism."
Jenkins describes visiting Rhun. In the 17th century, Rhun was as valuable as Manhattan because it was the world's primary source of nutmeg which, at the time, was worth its weight in gold. They met nutmeg farmers and were shown the nutmeg trees, which are still there.
The radio feature includes Wesleyan students singing songs written for the play by John Spencer Camp Professor of Music Neely Bruce and Artist-in-Residence in Music I. Harjito.