Badr '20 Runs Website to Empower Youth to Tell Their Stories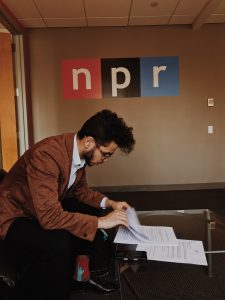 Ahmed Badr '20, who was born in Iraq and came to the United States as a refugee in 2008, was profiled recently on NPR. According to the story, Badr used writing to figure out what it meant to be an Iraqi-American kid:
Over time, Badr realized that writing on his personal blog helped other people understand who he was and where he came from.

"There was this feeling of empowerment that was just overnight, all of sudden people were interested in my story," Badr says. "… And so with that in mind, two years passed, and I thought, 'OK, well this was great, but this is only helping me. This is only helping my own expression. So how about I take that feeling and that space that I created for myself and turn it into something that allows youth, refugee or otherwise, all over the world to do the same exact thing.' "
Badr founded the website Narratio to empower other young people from around the world to tell their own stories. He curates essays, poems and stories submitted by young people, and also runs youth writing workshops.
Badr tells NPR he feels guilty when he sees family still living in Iraq, and feels a sense of personal responsibility to give the millions of youth in that country an outlet to express themselves.
"I want to be able to turn that guilty feeling that I had when my cousins asked me, 'What are you up to?' into a responsibility … and make it possible for them to be able to answer that question as freely as they would like to," he says. "And so, if I can do that by giving them a website that they can share their stories on, that's a step in the right direction."
At Wesleyan, Badr is both an Allbritton Fellow and a Patricelli Center Fellow.