Alumnae Collaborate on Play that Debuts Aug. 10 in NYC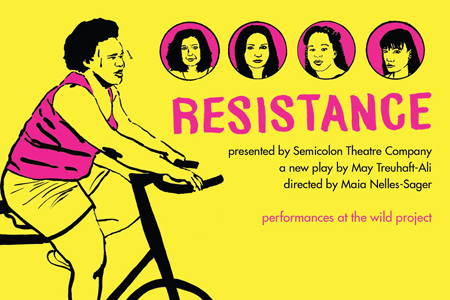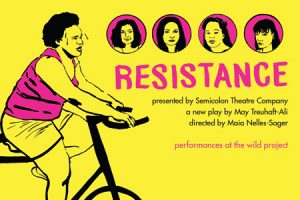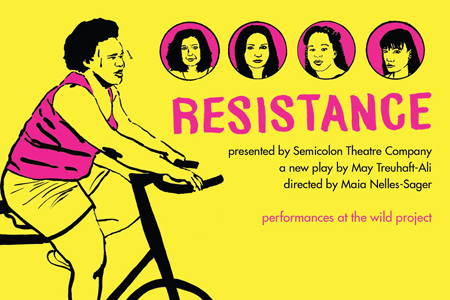 Five alumnae and one student are collaborating on a play that will debut Aug. 10-13 in New York City.
Resistance, written by May Treuhaft-Ali '17 and directed by Maia Nelles-Sager '17, is about Libby, a 15-year-old girl from Queens struggling with her weight. Everyone in her life from her mother to her "specialist" is trying to help her lose weight, but none of them seem to understand the underlying issue. When her favorite spin teacher is fired, Libby discovers that violent revenge fantasies makes her feel better. But every time she has a violent revenge fantasy, she gains 16 pounds.
"Resistance touches on themes such as weight-loss culture, female relationships, and gentrification. The cast is entirely female-identifying, as is the production team," said Nelles-Sager, a film and theater double major.
Nelles-Sager and Treuhaft-Ali are assisted by set designer Nola Werlinich '17; properties designer and assistant set designer Jess Cummings '17; graphic designer Caitlin Chan '17; and sound designer Hope Fourie '19. At Wesleyan, Nelles-Sager directed four shows with Second Stage and wrote a playwriting thesis; Treuhaft-Ali completed a directing thesis with the Theater Department.
Resistance will be performed at the Wild Project, a theater, film, music, and visual arts venue in New York's East Village. Showtimes are at 8 p.m. Aug. 10-12 and at 2 p.m. Aug. 12-13. Tickets are available for purchase online.