Documentary by Magruder '17, DuMont '17 to be Screened Sept. 18 on Campus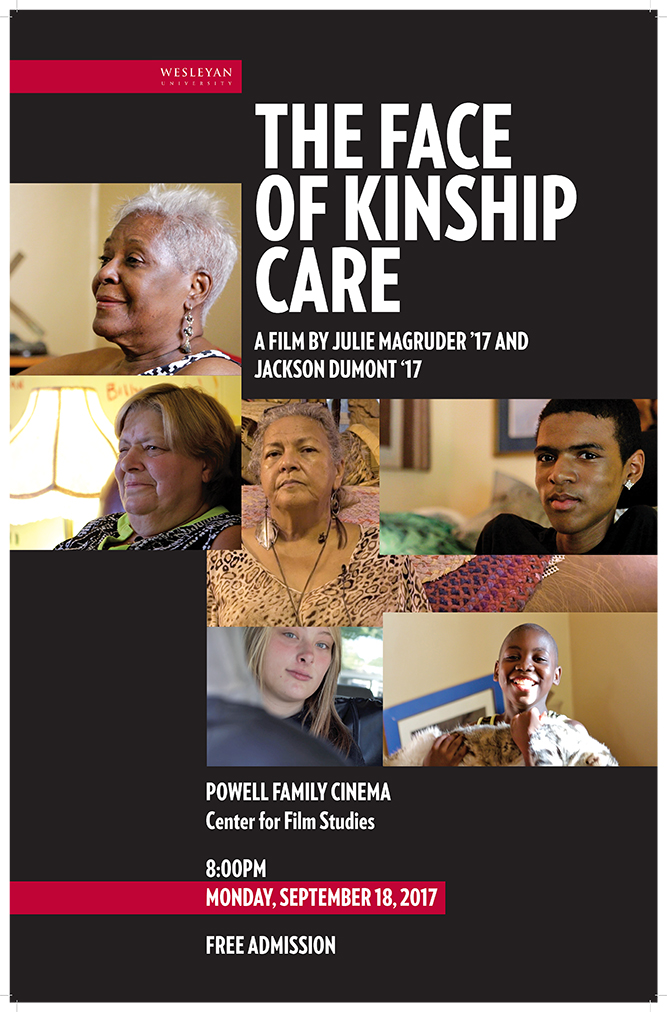 While still undergraduates, Julie Magruder '17 and Jackson DuMont '17 began filming The Face of Kinship Care, a documentary highlighting the important role that familial, but non-parental, caregivers provide in the lives of children. The documentary will be will be shown at Wesleyan—as well as more widely—at 8 p.m., Monday, Sept. 18, at the Powell Family Cinema. September, notes Magruder, is Kinship Care Month in a number of states. Through her work on this film, Magruder has become an advocate for highlighting the importance of kinship caregivers in all states.
The project began more than a year ago, when Christine James-Brown, president of the Child Welfare League of America (CWLA), requested a documentary on the topic. Through the W. T. Grant Foundation, DuMont was put in touch with James-Brown. DuMont knew of Magruder's particular interest in nonfiction storytelling, and once the idea had been solidified, he reached out to collaborate.
Both DuMont and Magruder were eager to craft a film that would appeal to a general interest audience. Their first step was to meet Gerard Wallace, director of New York State Kinship Navigator, who offered the two a list of possible caregivers to profile. They decided to follow three stories: Wendy assumed care for her granddaughter, Summer, who was born addicted to heroin, and adopted her when she turned 7. Cynthia and her husband, Jeffrey, have cared for nine grandchildren, two of whom have muscular dystrophy; they consider their kinship care arrangement in the context of their Native American tradition. Gloria not only cared for her grandson, but also is now caring for her great-grandson.
The two filmmakers fell into a rhythm: Magruder interviewed and directed, DuMont was the cinematographer and assisted in editing—but at times both held a camera and both were likely to ask questions. To capture an intimate portrait of kinship care, the two stayed with each family for a cumulative week of preliminary shooting. They caught birthday parties, pick-ups from school, swimming trips, dinners, chores and moments of contemplation. The goal, says Magruder, was to complete the film in time to screen at the annual CWLA National Conference last March, so they began the editing process last fall—which Magruder describes as "putting together a 1,000-piece puzzle when you don't have all the pieces." In fact, she spent time last winter break with Gloria's family, filling in details and scenes that she realized were missing as she constructed the film.
Magruder also found challenges in putting together a film where much of the action had happened in the past, leaving "talking heads" to explain events. "I learned to emphasize the moments that don't have words," she says. "Moments in which I can show photos—with no voice-overs—allow the audience a chance to get their thoughts together and breathe. As I edited the film I thought about creating a rhythm that would bring the audience along with me. It's like we're riding a wave, and whether it goes up and crashes, or whether it re-fizzes and goes on back up, the film keeps us on that wave."
Nothing, however, could have prepared Magruder and DuMont for the experience of watching the effect their film had on its audience at the national convention. "I saw every single reaction," Magruder says. "I felt the laughter and I felt each tear." She and DuMont were particularly pleased with the response from Ali Caliendo, the executive director of Foster Kinship in Las Vegas, Nevada, who called the film, "An honest and touching portrayal of the joys and challenges faced by kinship caregivers and the children they selflessly step up to protect." More than that, though, Magruder says, "Through this process, I've gained friends of a different age. We've stayed in touch."
DuMont notes that, as a cinematographer, he saw so many more details and sacrifices that were part of each day. "The film gives only a small glimpse into the lives of these women: the pain, the joy and the sheer exhaustion required to cultivate the futures of their loved ones." He is hopeful that viewers will come to understand the depths of the choices that Wendy, Cynthia and Gloria have made. "They carry their values at the forefront of their beings, with humility and honesty."
The film will screen at Wesleyan as a fall entry into the AWARENESS series of socially relevant documentaries offered by the Film Department.
Scott Higgins, professor of film studies, chair of the Film Studies Department, and curator of the Wesleyan Cinema Archives, notes that Magruder and DuMont were both film majors "and both great students who come at filmmaking from different directions. Jackson's senior thesis was a horror film; Julie's was a very personal documentary. I love that they collaborated on this, it shows real creative flexibility and initiative—exactly what we aim for at Wesleyan."
DuMont adds: "Film is as much a tool as it is an art: a conduit of interest, an expression of values, defining the world by the hand wielding the camera. I'm thankful I had the opportunity to point the camera at Kinship Care."
(To see the trailer on Vimeo, click here.)