Nasta '07 Presents Beman Triangle Research at CAAS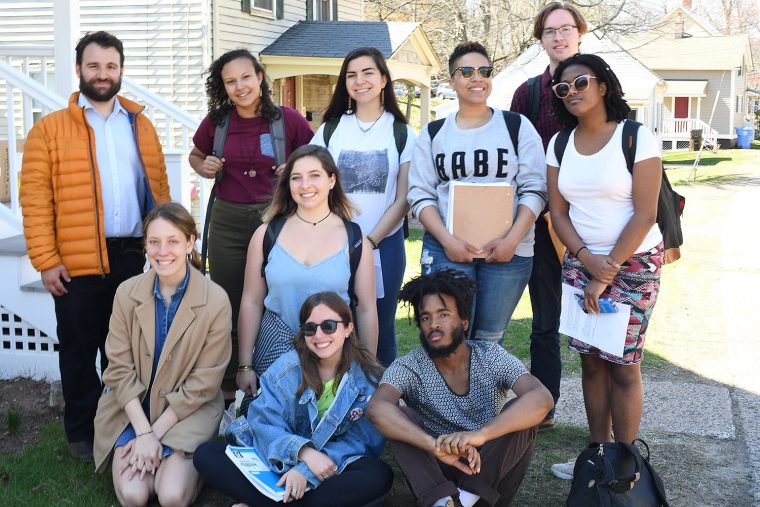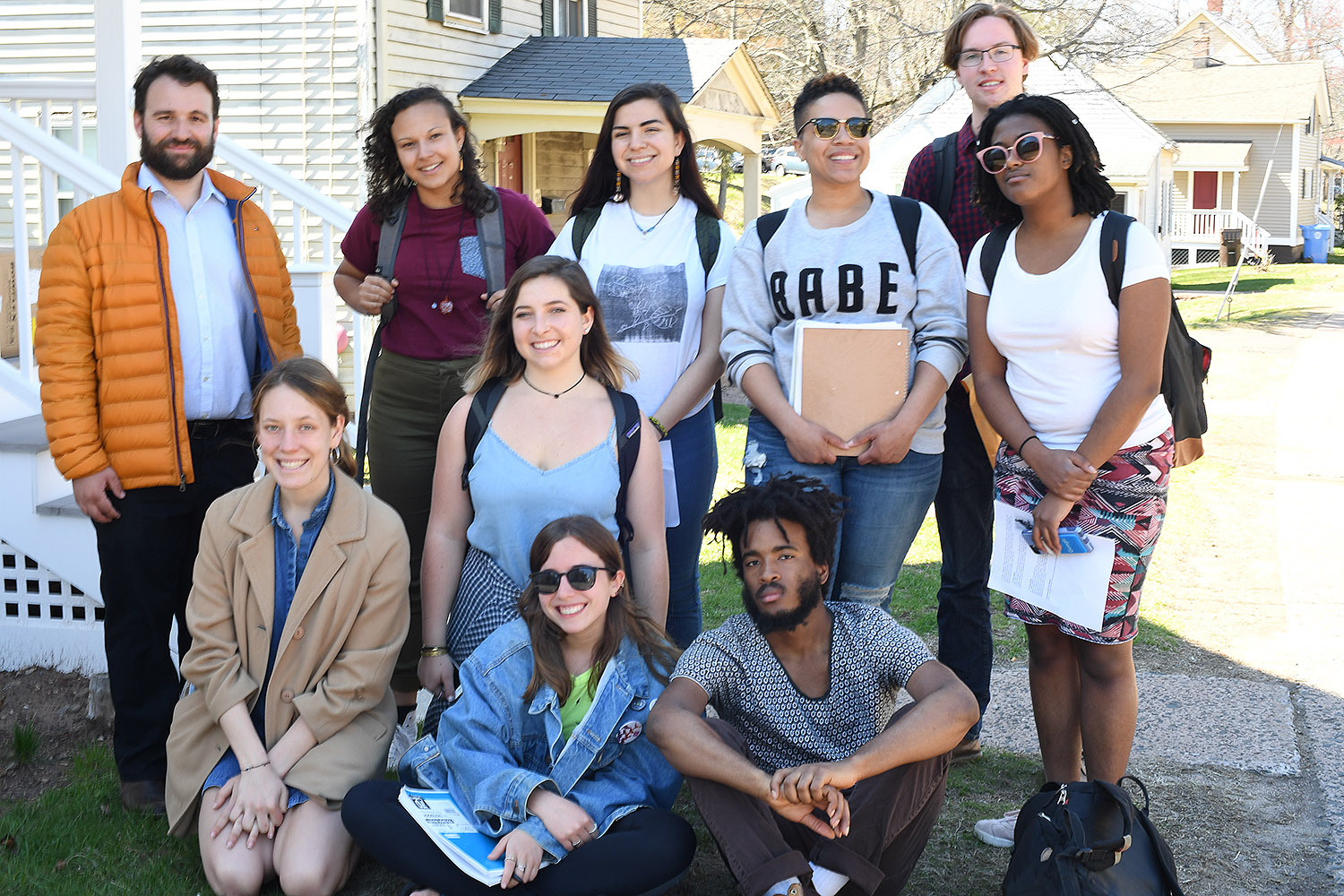 "This is the history of right here," said Visiting Assistant Professor of African American Studies Jesse Nasta '07, speaking of his work with Black Middletown Lives, his service-learning class. "We venture deep, but no farther than two blocks." He and his class of 13 students are doing firsthand archival research on individual projects, documenting the lives of those African Americans who lived in the area now called "The Beman Triangle," after the most prominent black property owner in that five-acre patch of land bordered on one side by Knowles Avenue to the corner where Neon Deli now stands at Cross and Vine.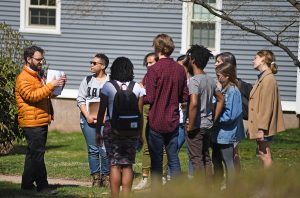 On Tuesday, April 17, Nasta spoke about this work at the Center for African American Studies, noting that almost a dozen years ago, he was standing in the same spot, presenting his honors thesis, "Their Own Guardians and Protectors: African American Community in Middletown, Connecticut, 1822–1860." Nasta, a Middletown native, is delighted to return to Wesleyan and pursue this project that captured his scholarly interests at a young age.
In his talk, he provided historical context for the development of this area, recounted brief biographies of some of the residents of the area, and discussed the work of the class in light of the Beman Triangle today.
"Part of the purpose of this project is commemoration," he said. "It's to look at Middletown's role in slavery and the Triangle Trade, to look at those who were enslaved in Middletown, and to look at this community post-emancipation." He notes that in the 1700s, Connecticut had one of the largest populations of enslaved people in New England, but partially through the Gradual Emancipation Act of 1784 and mainly through black resistance and black abolitionist movements, by the 1820s slavery had almost entirely crumbled in Connecticut. Thus in the 1820s, Middletown had a population of free blacks who were eager to own property and solidify their standing as citizens within the community.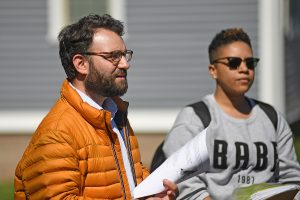 Free African Americans began buying property on the Beman Triangle in 1828. By the Civil War, three decades later, African Americans had built 10 houses on the small triangle of land. Now part of Wesleyan's campus, this neighborhood served as a stop on the Underground Railroad, hosted abolitionists such as Frederick Douglass and William Lloyd Garrison, and founded one of the first independent black churches in the state in 1822. Nearly two centuries later, the Cross Street AME Zion church celebrates its rich past while looking to the future.
The community built and founded the AME Zion Church, with Jehiel Beman as their first pastor, on the site where Shanklin Hall now stands. Nasta told his listeners that Jehiel's father, Caesar, was one of 289 African Americans from Connecticut who fought in the American Revolution, many of whom gained emancipation from slavery as a result. He took the name "Beman," declaring "I want to be a man, not a slave." And in 1829 Middletown's first black church, one of the first three in Connecticut, was dedicated. The congregation—residents of the Beman Triangle—set about involving themselves in promoting emancipation legislation, forming a temperance society, earning their livings, and shoring up their church. At one point, says Nasta, 10 houses sat on the five acres of land. Of those, only five survive—and serve as student housing.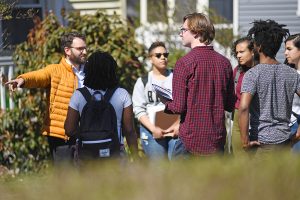 "Nine Vine Street is the oldest of the surviving houses on the Beman Triangle," he notes. "It was owned by Eunice Cambridge; built in 1840. When I was a student here, I actually ended up living in that house," says Nasta, who had learned about Cambridge by that time. "She willed the house to her four children," he adds. "This community did so much with such a small amount. This little home sheltered three generations."
Additionally, Nasta paid tribute to previous work done through the Archaeology Department, which excavated the area around some of these homes. Included in that work was 21 Vine Street, a home owned by Mennominee L. Miami, who was a doctor or healer. "Through the study of his life and artifacts, we learn something of the history of medicine in this era," said Nasta.
The class, he says, is doing a photographic census of the homes, which also includes 11 Vine Street. "Isaac Truitt was an antebellum resident; his photo came down to us because he happened to be the chimney sweeper at Wesleyan. He was born in the South, had bought his own freedom and came north. He fought in the Civil War. Until we did some research, he was only known in Wesleyan archives as 'The Chimney Sweep.'"
Reminding the audience that Memorial Chapel was built to commemorate the service of students who had fought and died in the Civil War, Nasta charges his audience to view these homes as memorials—even as they exist as student housing, with bicycles on the porch and weekend parties. The fact that the University owns them is actually what helped them survive, he notes. Still, he imagines a higher purpose for them: "I want you to think of these five homes as the homes of Black Civil War veterans," he says.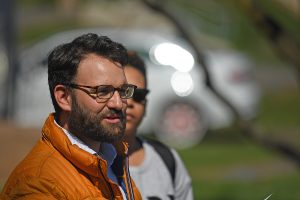 "This is about passing on that story; I want everyone who sees the Beman Triangle to know what those houses were and what they represent. Students in this service-learning class are joining me in paying tribute to this community by doing this research."