Wesleyan Awards 745 BA Degrees at 186th Commencement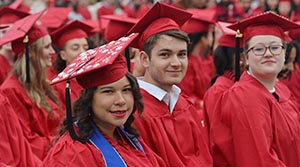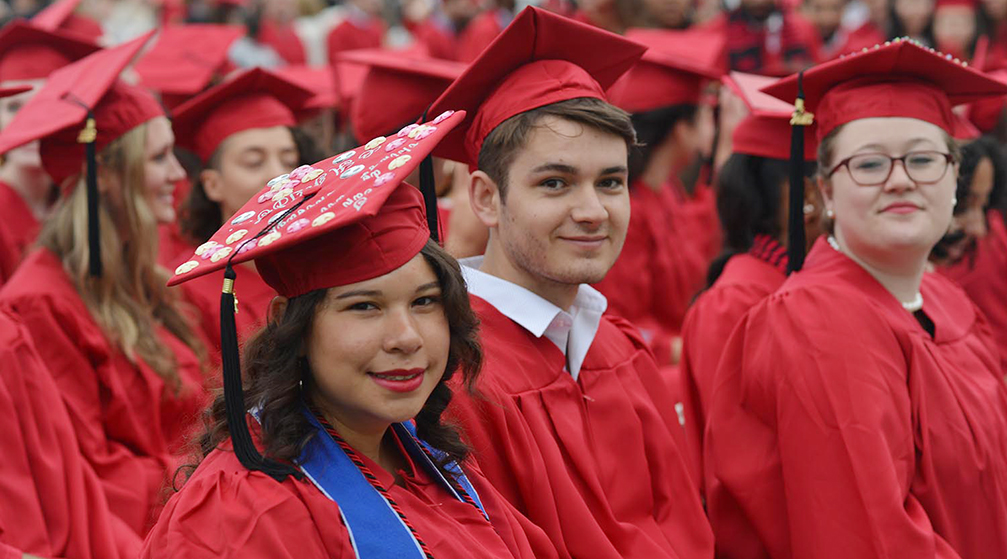 Graduates, their families, and other members of the Wesleyan community gathered on Andrus Field for the 186th Commencement ceremony on Sunday, May 27. Wesleyan conferred 745 bachelor of arts degrees; 41 master of arts degrees; 21 master of arts in liberal studies degrees; and 20 doctor of philosophy degrees.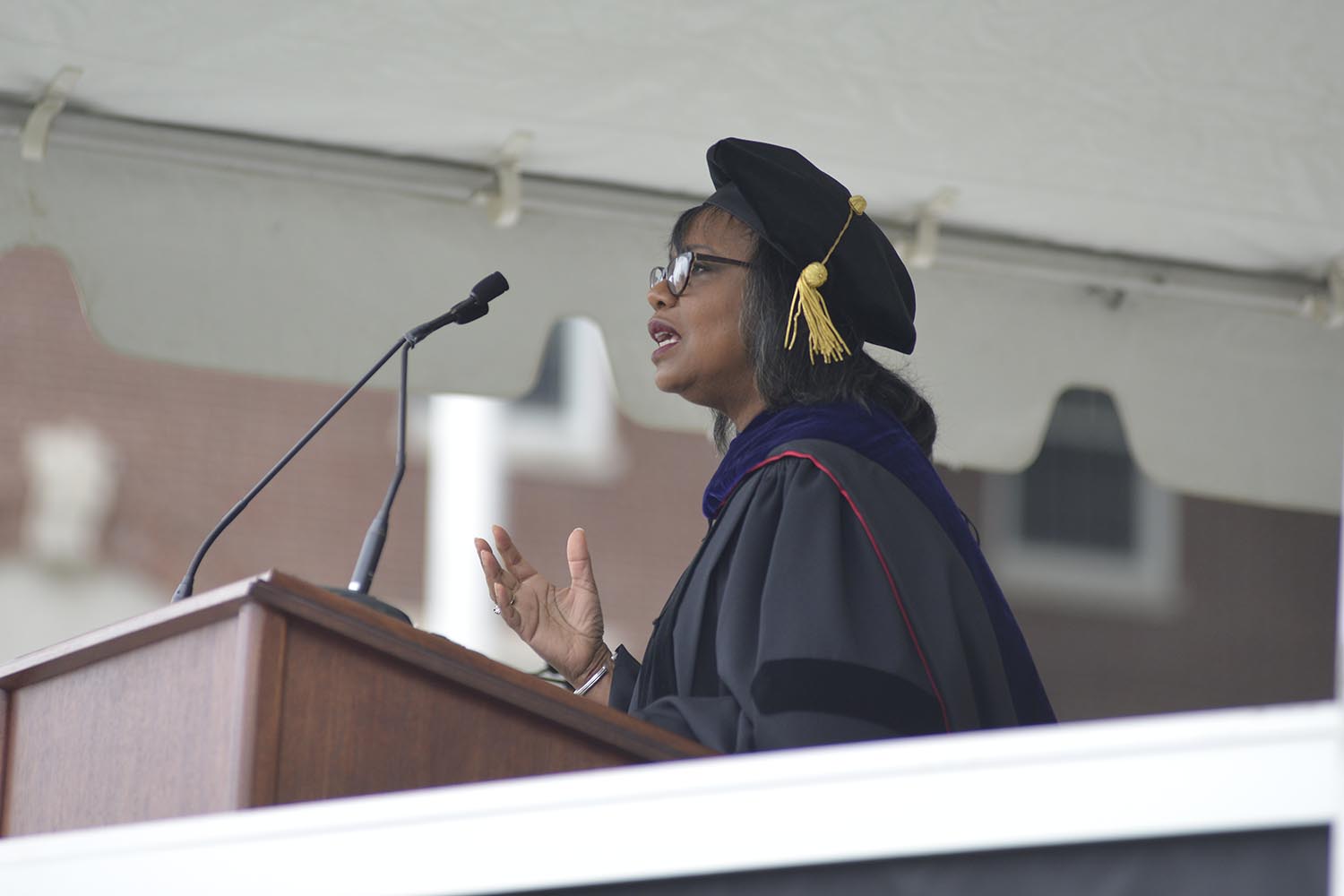 Anita Hill, University Professor of Social Policy, Law, and Women's, Gender and Sexuality Studies at Brandeis University—and a frequent commentator on gender and race issues—delivered the Commencement address and received an honorary degree. She recently was selected to head the Commission on Sexual Harassment and Advancing Equality in the Workplace, intended to address sexual abuse and harassment in the media and entertainment industries. She also served as chair of the Human Rights Committee of the International Bar Association.
"In 2018 I have new heroes—heroes and sheroes—all of whom represent courageousness," Hill said. "And some of whom sit right here in this audience today. You have shared the truth about sexual assault and harassment, privately and publicly. Throughout the country, women and men have demanded that universities and workplaces take action to end sexual violence. Even today, however, silence breakers face backlash—often delivered instantly, harshly, and anonymously, with the click of a mouse. But speaking out, despite the hardship, can be self-liberating and can empower others."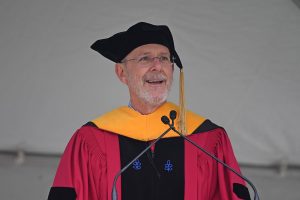 An honorary degree also was presented to Joshua Boger '73, P'06, '09, founder and former chief executive officer of Vertex Pharmaceuticals, who led the discovery and development of new pharmaceuticals for treating some of medicine's most daunting challenges, including HIV, hepatitis C infection, and cystic fibrosis. Boger was chair of the Board of Trustees at Wesleyan and helped ensure the success of Wesleyan's $482 million THIS IS WHY campaign. He continues to contribute his skills and wisdom to various scientific, cultural, educational, and political ventures.
In his address, President Michael S. Roth said: "One doesn't need to believe in some absolute Truth in order to commit oneself to inquiry, compromise, and reflection, although many of us here today surely do have such beliefs. One does need to consider the possibility that one might be wrong, that one might be blind to other possibilities, other ways of living. If you think you might be wrong, you need other people with ideas different from your own in order to consider a wide range of alternatives. That's one of the reasons why diversity, including intellectual diversity, is so important. Listening seriously to others, trying to understand why they hold the views they do without immediately judging those views, this is at the core of liberal education."
Zenzele Price '18 delivered the senior class welcome, in which she said: "I'm leaving, but not empty-handed. I'm taking the person I created while I was here, the idealism that I cultivated. A belief in a better world that I will wear proudly—not as a weakness, but as my secret weapon."
Lisa Dombrowski '92, associate professor of film studies; Iddrisu "Iddi" Saaka, artist-in-residence in dance (unable to attend); and Erika A. Taylor, associate professor of chemistry, received the Binswanger Prize for Excellence in Teaching. These prizes, made possible by gifts from the family of the late Frank G. Binswanger Sr., Hon. '85, underscore Wesleyan's commitment to its scholar-teachers, who are responsible for the University's distinctive approach to liberal arts education.
In addition, nine Wesleyan faculty, who announced their retirement in 2018, were honored at the ceremony. Those faculty include: David Bodznick, professor of biology; Mary Ann Clawson, professor of sociology; Susan Lourie, adjunct professor of dance; Clark Maines, the Kenan professor of the humanities; Peter Mark, professor of art history' Priscilla Meyer, professor of Russian, East European and Eurasian studies; Robert Rosenthal, the John E. Andrus Professor of Sociology, Nancy Schwartz, professor of government; and Philip Scowcroft, the Edward Burr Van Vleck Professor of Mathematics.
The full Commencement photo gallery is here.
The full Reunion photo gallery is here.
The  text and video of Anita Hill's remarks are here.
The text and video of Joshua Boger's remarks are here.
The text and video of President Michael S. Roth's address to the Class of 2018 are here.
The text and video of Zenzele Price's remarks are here.
Information on the Binswanger Awards for Excellence in Teaching is here.
Information on the honorary degree recipients is here.
Information on alumni receiving Distinguished Alumni, Outstanding Service, and McConaughy awards is here.
The 186th Commencement ceremony was held in conjunction with Wesleyan's Reunion & Commencement Weekend. Watch a time-lapse of R&C highlights below: