Hüwel's Book Examines the Physics, Technology of Timekeeping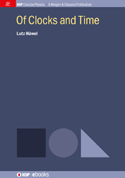 Lutz Hüwel, professor of physics, is the author of the book Of Clocks and Time, published by Morgan & Claypool Publishers in April 2018.
According to Hüwel, Of Clocks and Time takes readers on a five-stop journey through the physics and technology—and occasional bits of applications and history—of timekeeping. He offers conceptual vistas and qualitative images, along with equations, quantitative relations, and rigorous definitions.
The book includes discussion of the rhythms produced by the motion of sun, moon, planets, and stars, a summary of historical theoretical insights that are still influential today, examination of the tools that allow us to measure time, as well as explanations of radioactive dating and Einstein's theories of relativity.
The book is available for downloading and for Kindle.